Susan Miller, Ph.D.
Postdoctoral Scholar
Specialty: systems of care for older adults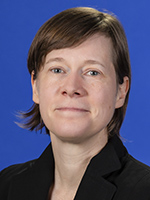 Susan Miller is a Heather M. Young Postdoctoral Fellow at the Betty Irene Moore School of Nursing at UC Davis. With mentors Associate Professor Carolina Apesoa-Varano and Professor Sheryl Catz, she conducts research related to systems of care for older adults.
Prior to joining the School of Nursing, Miller earned a doctoral degree in sociology from UCSF and completed a master's in social science at the University of Chicago. During that time, she worked on clinic- and community-based research projects on end-of-life issues, access to and quality of health care, relationships of clinical teams, and neighborhoods and health.
Miller's research has focused on the growth and function of health care and social services organizations, primarily using ethnographic and historical methods. Her dissertation explored changes over time in hospitals' organization and in their patient populations. During the fellowship she will explore the implications of the dissertation for studies of aging.