Robotic-assisted surgery can offer unique benefits to gynecology patients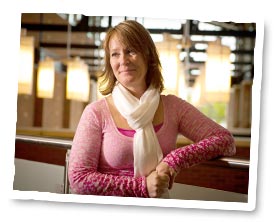 Kim Hughes had never had surgery before. She had never even broken a bone or had stitches. So when her gynecologist suggested major surgery to remove the uterine fibroids that had been causing Hughes menstrual distress for more than 10 years, she naturally was tentative.
Hughes also was concerned about returning to her daily routines and workplace as soon as possible. As the only human resources representative for a county public works department in Northern California, major surgery potentially meant being out of the office for a significant amount of time.
Fortunately, Hughes' physician, Bahareh Nejad, an assistant clinical professor of obstetrics and gynecology, recognized that Hughes was a good candidate for robotic-assisted surgery. This state-of-the-art procedure gives surgeons like Nejad a precision tool that requires only small incisions similar to those found in other minimally invasive surgeries known as laparoscopies. Using robotic-assisted equipment generally offers other advantages to patients, including faster recovery times.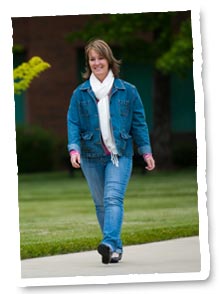 Hughes learned that the robotic procedures at UC Davis Medical Center combine the best of both laparoscopic and conventional "open" surgery techniques. Since 2005, UC Davis surgeons have performed more than 1,500 robotic-assisted procedures, treating everything from throat tumors and prostate cancer to gastrointestinal and cardiothoracic problems.
A robotic-assisted hysterectomy typically requires two incisions of about a third-of-an-inch in length and two other incisions of less than a half-inch in length. Expected blood loss is about six percent of the conventional abdominal or "open" procedure. Patients can often return home within 24 hours after surgery, and not need any major narcotic pain medication. A return to normal, daily routines can be expected within two to three weeks, about half the time of a traditional hysterectomy.
"That meant a lot to me because of my job, and who I am," says Hughes, who has anemia and wanted a procedure that also minimized blood loss. "I don't like to be down for any length of time."
"Dr. Nejad was awesome, very personable and thorough," says Hughes. "She explained the whole procedure and was very clear on what I would experience.
Robotic-assisted surgery also offers advantages for surgeons. "It offers us much better visualization of the operating field and a 360-degree range of motion with the robotic arms that I control," says Nejad, who plans to take on complex hysterectomy cases and use the robotic- assisted device in place of the traditional open incisions. "The robotic equipment also gives us better suturing capabilities because of the incredible range of motion in the robotic instruments."
After serious consideration, Hughes decided to have the robotic-assisted surgery. She spent one night in the hospital, and went home the next day. Although she was given pain medication, she needed only one pill, and that was for the residual shoulder pain that often results from the gas used in most robotic-assisted procedures to expand the abdomen and provide better visual acuity.
"Dr. Nejad was awesome, very personable and thorough," says Hughes. "She explained the whole procedure and was very clear on what I would experience. Because of that, it went a lot easier than I expected. It's pretty fascinating that this is major surgery and, except for some minor discomfort, you don't feel too bad at all afterward."