Anna Maria Romanelli, Ph.D.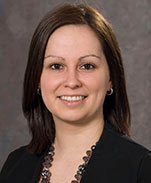 Health Sciences Associate Clinical Professor
Department of Pathology and Laboratory Medicine
UC Davis Medical Center
Specialty Testing Center
3740 Business Dr.
Sacramento, CA 95820
Ph: 916-731-3855
Pager: 916-816-6489
e-mail
Diagnosis of infectious diseases through utilization of laboratory testing
Diagnosis of invasive fungal infections
Rapid diagnosis of infection in the setting of meningitis and sepsis
Medical Education
Molecular Diagnostics
Optimization of molecular assays for the identification of microbial pathogens
Development of novel molecular methods for diagnosis of infections directly from patient specimens
Identification of invasive fungal infections through molecular methods for transplant and burn patients
Determine the relatedness of populations of strains recovered from outbreaks using fingerprinting techniques
Dr. Romanelli received her Bachelor of Science degree with a double major in Biology and Chemistry in 2003 from Texas A&M International University. She continued her education at the University of Texas in San Antonio, where she received a Master of Science degree in Microbiology in 2005 and finished second in her class. Dr. Romanelli stayed in San Antonio to complete her doctorate degree in Microbiology and Immunology from the University of Texas Health Science Center where she developed a special interest in medical mycology and fungal diagnostics. Dr. Romanelli was awarded with a Scholarship from the School of Biomedical Sciences for her contribution to the medical field through her doctoral research. She won numerous awards for her research at annual meetings and finished her dissertation with twelve publications. During her graduate training, Dr. Romanelli served on the interview committee for the School of Biomedical Sciences for new faculty recruitment. Dr. Romanelli moved to Pennsylvania where she began a highly competitive two year fellowship in Medical Microbiology and Public Health at the University of Pennsylvania, serving as the Acting Assistant Medical Director of Virology during her second year. Dr. Romanelli was involved in the development and implementation of molecular assays for the diagnosis of viral infections and provided her expertise in fungal diagnosis throughout her fellowship.
Currently, Dr. Romanelli serves as an Assistant Professor of Clinical Pathology in the UC Davis School of Medicine and as the Associate Director of the Clinical Microbiology Laboratory at the UC Davis Medical Center.
Dr. Romanelli is a member of the American Society for Microbiology, and serves on the editorial committee on the Mycopatholgia Journal for her expertise in fungal diagnostics and molecular testing. Dr. Romanelli has also recently been appointed for a three year term to the American Society for Microbiology (ASM) Clinical Microbiology Portal Committee where she will serve as feature content administrator for the website.