New funding for firearm violence research in California
Projects range from mapping firearm injuries to exploring how violence moves between generations
(SACRAMENTO)
The University of California Firearm Violence Research Center (UCFC) awarded more than $250,000 in firearm violence research grants this month to teams of investigators at UC Berkeley, UCLA, UC San Diego and UC Davis.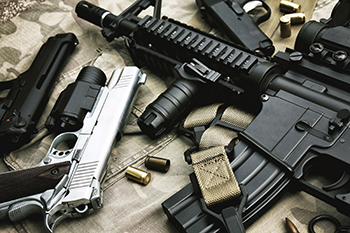 The grants are designed to assist new and early-stage investigators in California, as well as established investigators in other fields, as they develop research programs to address firearm violence. The center received 10 applications, and 7 studies were selected for funding.
"We were very impressed by the sophistication and rigorousness of these projects and by their potential to provide practical evidence that will help California and the nation prevent violence," said Garen Wintemute, professor of emergency medicine at UC Davis Health and director of the research center. "We are grateful to the State of California for creating UCFC and supporting its work, which includes facilitating research at other universities around the state."
Primary Research Grants -- Awards of up to $75,000 for 2-year studies were made for the following research projects:
UNITE: Understanding links between social determinants and firearm violence in California communities (Principal Investigator (PI) Rochelle Dicker, Division of General Surgery, UCLA): This project will establish a University of California trauma consortium and map fatal and non-fatal firearm injuries in trauma center catchment areas. It will link injuries with social determinants of health, based on location of residence and injury location, to better understand vulnerable populations and root causes of violence.
Advancing Peace: Credible Messengers & Community Gun Violence Reduction (PI Jason Corburn, Institute of Urban and Regional Development, UC Berkeley): Researchers will explore how community outreach workers in the cities of Richmond, Sacramento and Stockton act as credible messengers to interrupt gun violence. The study will also focus on how the outreach workers mentor young people and sustain themselves while working for a community-based violence reduction program called Advance Peace.
Pilot testing the Lethality Assessment Program to reduce gun related intimate partner homicides in Los Angeles (PI Jennifer Wagman, Fielding School of Public Health, UCLA): This project will adapt and pilot the Lethality Assessment Program, a tool for preventing intimate partner homicide, in four Los Angeles Police Department divisions. Researchers will use its findings to develop a full-scale study to evaluate the program's impact in Los Angeles.
Secondary Research Grants -- Smaller grants were awarded to:
Exposure to Family Violence in Adolescence on Firearm Carrying in Young Adulthood (PI Anita Raj, Center on Gender and Health, UC San Diego): This research aims to expand knowledge about the etiology of firearm-related intimate partner violence. It plans to conduct a secondary data analysis on a large sample of Los Angeles parent-child dyads and neighborhoods to examine links between violent family conflict and future adolescent weapon carrying. The findings could have important benefits for understanding the intergenerational transmission of violence.
Development, Implementation, and Evaluation of a Firearm-Safety Counseling Module for Medical Students (PI Gary Holland, UCLA): This project will develop, implement and evaluate an evidence-informed educational module designed to teach medical students how to counsel patients about firearm-safety in a clinical setting.
EMS Data Modeling to Identify Patients at High Risk for Firearm-Facilitated Suicide (PI Christopher Kahn, UC San Diego): Investigators will analyze nearly one million emergency medical services (EMS) patient encounters to determine if risk factors can be identified that are associated with later EMS encounters involving firearm-facilitated suicide. If risk factors are identified, these pilot data will be used to support additional studies focused on creating a model for proactively identifying these high-risk persons.
Gun Safety: Starting the Conversation after Trauma (PI Alana Beres, Department of Surgery, UC Davis): This project is designed to increase gun-safety discussions for patients presenting with gunshot injuries. It will offer an educational program to trauma-care providers.
"Firearm violence is increasing across the country. These projects, along with UCFC's own work, will help us find solutions to the problem," Wintemute said.
He added that the grants may also help improve the ability of the researchers to compete for funding at the national level, from entities such as the National Institute of Justice, the National Institutes of Health, the Centers for Disease Control and Prevention, the National Collaborative for Gun Violence Research, and others.
The UC Firearm Violence Research Center is based at UC Davis' Sacramento campus, and is the first state-funded center for firearm violence research. It was founded in 2017 to address gaps in data and knowledge about firearm violence and its prevention. UCFC has a broad research agenda of its own and also hosts the state-funded BulletPoints project, which supports health professionals in their work to prevent firearm violence.