Physical rehab services named among the nation's best
UC Davis Health's physical rehabilitation program #1 in Northern California
(SACRAMENTO)
Newsweek has named UC Davis Health's physical rehabilitation services among the nation's best. The health system's program ranks fifth among Newsweek's "Best Physical Rehabilitation Centers" in California, and #1 in Northern California.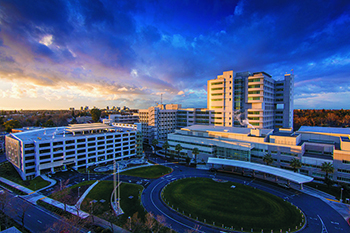 The highly regarded clinical services are part of the Department of Physical Medicine and Rehabilitation.
While other national rankings often look only at reputation data, the Newsweek distinction includes patient outcomes for a more comprehensive score. With such strong outcomes for physical rehabilitation, UC Davis Health is planning an expansion, in partnership with Kindred Health, into a new stand-alone rehab hospital on our Sacramento campus. The goal is to provide these services to more patients who need them.
As the magazine pointed out, about half of all Americans over the age of 18 will sustain a musculoskeletal injury that lasts longer than three months, and more than a million people undergo surgeries each year to replace a knee or hip joint. Physical therapy plays a key role in the healing and recovery process for these conditions.
The Physical Medicine and Rehabilitation Program at UC Davis Medical Center provides a wide variety of rehabilitation services for adults and children. It offers both inpatient and outpatient services. The overall goal of rehabilitation is to help patients become as independent and self-reliant as possible. Each aspect of the program focuses on helping the patient function more independently at home, in the community, and at work or school.
The methodology used this year to determine the best physical rehabilitation centers was based on quality of care, quality of service, quality of follow-up care and accommodation and amenities relative to in-state competition. Facilities in the 20 states with the highest number of physical rehabilitation centers, according to the Centers for Medicare & Medicaid Services (CMS), were included in the survey.
Newsweek's rankings were also based on an online survey that was sent to thousands of medical experts (physicians, therapists, medical doctors and staff working in physical rehabilitation facilities) who were invited to rate facilities on the above-mentioned quality criteria.
The new rehab facility with Kindred Healthcare will be able to care for twice as many patients as currently can be treated at UC Davis Medical Center, further advancing its rehabilitation services. The $60 million hospital will create 200 new jobs and offer convenient care for local patients and families. Contract details are still being worked out, and construction on the new, stand-alone rehabilitation hospital is expected to begin later this year.