Sue Bodine, Ph.D.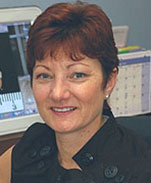 Professor
187 Briggs Hall
Davis Campus
530-752-0694
e-mail
Dr. Bodine is a Neuromuscular Physiologist whose general field of study is Skeletal Muscle Plasticity. Her primary research interests are in understanding the cellular and molecular mechanisms that regulate skeletal muscle size under growth and atrophy conditions. Currently her lab is studying the role of mTOR-mediated pathways in the regulation of muscle growth and adaptive hypertrophy in young and aging animals. In addition, her lab is investigating the physiological function and transcriptional regulation of two muscle specific E3 Ubiquitin Ligases: MuRF1 and MAFbx, in both skeletal and cardiac tissues.
Hwee, DT, Baehr, LM, Philp, A., Baar, K and Bodine, SC. Maintenance of Muscle Mass and Load-Induced Growth in Muscle Ring Finger 1 Null Mice with Aging. Aging Cell 2013 (accepted August 9, 2013).
Bodine, S.C. Disuse-Induced Muscle Wasting. Invited Review: International J. Biochem Cell Biol. 45: 2200-2208, 2013.
Gomes, A.V. Waddell, D.S., Siu, R., Stein, M., Dewey, S., Furlow, J.D., and Bodine, S.C. Upregulation of Proteasome Activity in Muscle Ring Finger-1 Null Mice Following Denervation. FASEB J Jul; 26(7) 2986-2999, 2012 (Epub 2012 April 16).
Bodine, S.C. and Baar, K. Analysis of Muscle Hypertrophy in Models of Skeletal Muscle Overload. Methods Molecular Biology 798: 213-229, 2012.
Baehr, L.M., Furlow, J.D., and Bodine, S.C. Muscle Sparing in Muscle Ring Finger-1 Null Mice: Response to Synthetic Glucocorticoid. Journal of Physiology (Lond). 589: 4759-4776, 2011.
Hwee, DT, Gomes AV and Bodine SC. Cardiac proteasome activity in Muscle Ring Finger 1 null mice at rest and following synthetic glucocorticoid treatment. Am J Physiol Endo Metabo. 2011 Aug 9 (Epub ahead of print)
Baehr, LM, Furlow, JD and Bodine SC. Muscle sparing in Muscle Ring Finger 1 null mice: Response to synthetic glucocorticoids. J. Physiol. 2011 Aug 1. (epub ahead of print).
Sitnick, M., Bodine, S.C. and Rutledge, J.C. Chronic high fat feeding attenuates load-induced hypertrophy in mice. J. Physiology London 587: 5753-5765, 2009.
Hwee, D.T. and Bodine, S.C. Age-related deficit in load-induced skeletal muscle growth. J. Geron. Biol. Sci. 64: 618-628, 2009.
Waddel, D.S., Baehr, L.M., van den Brandt, J., Johsen, S.A., Reichardt, H.M., Furlow, J.D., and Bodine, S.C. The glucocorticoid receptor and FOXO1 synergistically activate the skeletal muscle atrophy associated MuRF1 gene. Am. J. Physiol Endo Metabo 295: E785-E797, 2008. Epub 2008 July 8.
Spangenburg EE, Le Roth, D., Ward, CW., and Bodine SC. A functional insulin-like growth factor receptor is not necessary for load-induced skeletal muscle hypertrophy. J. Physiol. 586: 283-291, 2008. Epub 2007 Nov.1.
Cohen, T.J., Wadell, D.S., Barrientos, T., Lu, Z., Feng, G., Cox, G., Bodine S.C., Yao, T-P. The histone deacetylase DHAC4 connects neural activity to muscle transcriptional reprogramming. J. Biol. Chem. 282: 33752-9, 2007. Epub 2007 Sept 16.
Chair, NIH Grant Review Panel: Skeletal Muscle and Exercise Physiology (July 1, 2013- June 30, 2015)
Councilor, Environmental and Exercise Physiology Section, American Physiological Society (May 1, 2013- April 31,2016)
Associate Editor, American Journal of Physiology, Endocrinology and Metabolism
Associate Editor, Journal of Applied Physiology
Reviewing Editor, Frontiers in Skeletal Muscle Physiology
Regular Member, Veteran's Administration Merit Grant Review Study Section: Neurodegenerative Diseases and Aging
Regular Member, NIH Grant Review Panel: Skeletal Muscle and Exercise Physiology
EXB 101 Exercise Physiology
EXB 110 Exercise Metabolism
MCB 210A Cellular Physiology