Teri Korvin, Esthetician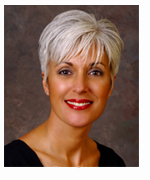 All are invited to meet with Teri, as a member of the UC Davis Plastic and Reconstructive Surgery Clinic.
Teri provides guidance for attaining healthier skin and assists cosmetic facial patients with preoperative preparation, postoperative support and make-up enhancements.
Having earned her esthetician license in 1979, she trained at Schulte-Goatley in San Jose, California. It was among the first programs to offer an esthetician curriculum under the direction of a medically trained esthetician who practiced extensively with physicians in Europe.
Teri continues to expand her knowledge, focusing attention to the medical aspects of skin care. In 2000, she began working in a clinical environment, under the direction of plastic surgeons and esthetic dermatologists. Her training and experience allows her to work with many pharmaceutical grade products and services.
Teri is a Certified Oncology Esthetician focusing on specific care and treatment of the compromised sensitive skin care needs of cancer patients.
Skin care services include:
Skin care consultation and customized programs
Medical grade microdermabrasion (Diamond Tome tipped)
Rejuvenating peels: TCA, glycolic and salicylic acid
Progressive facial treatments
Camouflage and general makeup applications and lessons
Jane Iredale mineral makeup - Complimentary Colormatch - Application
90 Minute Makeup Lesson— includes step by step instruction and application guidance
Brow Design—Shaping, tints for brows or lashes, care
Click here for a complete list of our services.
To meet with Teri, call 916-734-7844
3301 C Street, Suite 1100, Sacramento, CA 95816
For questions and comments regarding Plastic Surgery procedures, skin care or cosmetic services please email us at
plasticsurgery@ucdmc.ucdavis.edu