NEWS | November 29, 2017
Pathology professor receives UC Davis Distinguished Emeritus Award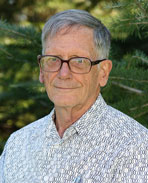 Robert Cardiff, renowned pathologist who specializes in the diagnosis of breast and mammary cancer in both human and animal models, has been selected to receive the UC Davis Emeriti Association's 2018 UC Davis Distinguished Emeritus Award.
The award recognizes outstanding scholarly work or service performed since retirement by a UC Davis emeritus. It is administered by the UC Davis Emeriti Association.
Cardiff's distinguished career, based almost exclusively at UC Davis, has led to significant and meaningful effects on the lives of countless women, physicians and scientists around the world.
Since his retirement in 2012, he has continued to provide professional and collegial service to the fields of mammary gland biology and breast cancer research with a fervor that would be unmatched by the youngest of faculty. He continues to be a faculty mentor, a champion for his colleagues and a driving motivator.
More information about the recognition is available at the UC Davis Emeriti Center.
All News Releases