Daniel T. O'Connor grant recipient aspires to establish clinical lactation center focused on precision medicine
Student known for social entrepreneurship chose UC Davis for its dual degree M.D./Ph.D. program to study lactation in humans and animals
(SACRAMENTO)
A UC Davis School of Medicine student who aspires to become a leading physician-scientist specializing in breastfeeding medicine and mammary gland biology has been named this year's Daniel T. O'Connor, M.D., Memorial Research Grant recipient.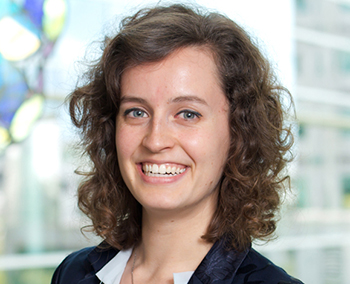 Anna Sadovnikova, in her fifth year of the M.D./Ph.D. program, will use the grant funding to support her Ph.D. studies this year.
Daniel T. O'Connor was a 1974 UC Davis School of Medicine graduate. In partnership with the School of Medicine, O'Connor's widow, Kellie Evans-O'Connor, along with other members of his family, and friends and colleagues, established the endowment following his death in 2014.
"I'm honored to receive this grant, which will allow me to focus 100 percent of my time on research," Sadovnikova said.
"I am most humbled by the vote of confidence from Ms. Evans-O'Connor and the committee in my future potential to make a lasting positive impact through translational research," Sadovnikova added. "Dr. O'Connor was a catalyst for the field of blood pressure regulation. I look to Dr. O'Connor for inspiration on the personality traits and experiences that I need to achieve my career goal of building a precision medicine research institute in clinical lactation."
Sadovnikova has attained bachelor's degrees in comparative literature and molecular and cell biology (with honors) from UC Berkeley; she has two master's degrees, one in public health and the other in Russian, Eastern European and Eurasian Studies, from the University of Michigan, Ann Arbor. She speaks Russian fluently and can communicate in eight other languages.
She enrolled at UC Davis in 2015 and has completed two years of medical school. She is in the middle of her five-year Ph.D. in nutritional biology, then will finish her final two years of medical school in 2023.
"Obviously, she's very intelligent, incredibly energetic, and is able to multi-task and really be effective in all of her roles as a mother, a scientist, entrepreneur and physician-in-training," said Saul Schaefer, director of the M.D./Ph.D. program.
"Every student has different qualities and strengths, but she clearly has the qualities that we look for in the recipient of the O'Connor grant," said Schaefer. "We're trying to train the leaders of tomorrow and I think she easily qualifies based on her leadership skills, her intelligence and drive."
Sadovnikova was born in Moscow, Russia, and moved to California when she was five. She wasn't sure what she would do after graduating from high school in Silicon Valley, or even after starting college, though she was drawn to maternal-child health and nutrition while studying abroad in Chile.
She finally got some career clarity during her master's program when she came across a brochure describing the University of Michigan School of Public Health's Innovation in Action Competition. "I was really intrigued by the opportunity to learn about mission-driven entrepreneurship," she said.
Sadovnikova co-founded LiquidGoldConcept, a company specializing in simulation-based training in clinical lactation, after winning the Michigan competition in 2014. The company this past spring won the Big Ideas 2020 "Scaling Up" pitch contest at UC Berkeley, an innovation competition that comes with a $25,000 prize.
In her role as the chief executive officer, Sadovnikova realized there were many unanswered questions in breastfeeding medicine and few scientists and clinicians dedicated to answering them. This is, in part, because there is a dearth of physicians with basic science training in mammary gland biology. Likewise, there are no lactation physiologists who are dually trained in human medicine.
Sadovnikova had engaged in basic science research as an undergraduate and master's student but realized that she needed to develop expertise in molecular biology and genomics specific to the mammary gland.
There was no better place to become an expert in breastfeeding medicine and mammary gland biology, she concluded, than UC Davis, for its School of Medicine and diverse opportunities for lactation research. She joined the Hovey Lab because she wanted to build upon the research skills she gained in public health and social entrepreneurship to become a leading physician-scientist in the lactation field.
With the support of Professor Russ Hovey, Sadovnikova will develop research expertise in comparative mammary gland biology, specifically in the genetic regulation of milk production.
"Low milk supply is a primary reason that 75% of infants in the United States do not exclusively receive breast milk from birth to 6 months," says Sadovnikova, "That's why I wanted my dissertation project to address an unanswered question in perinatal and pediatric medicine: Why does maternal stress, obesity, and exogenous glucocorticoid therapy result in low milk production?"
Sadovnikova hopes that her work will serve as the critical biologic foundation for developing clinical guidelines and pharmacotherapies for the prevention, management, and treatment of low milk production.
Sadovnikova is married to Kishor Kapa, who completed a residency in internal medicine at UC Davis and is now a nephrology fellow at the UC Davis Medical Center. They have a son, Max, who is 21 months. Although Sadovnikova is a board-certified lactation consultant, she didn't fully realize until Max was born how challenging breast feeding can be.
The combination of personal, professional, and clinical lactation experiences convinced Sadovnikova that there's an enormous amount of research and education to be done in the field of lactation that will benefit women and children around the world.
"By completing my M.D./Ph.D. training in the Hovey laboratory, a world leader in cross-species hormonal regulation of mammary gland development and lactation, I will acquire the diverse research skillset needed to answer critical questions in breastfeeding medicine," Sadovnikova said.
The grant is designed to support deserving medical students whose research and passion for academic medicine reflect the values and interests of Dr. O'Connor who became an internationally renowned physician-scientist and distinguished alumnus for his work at UC San Diego into hypertension and renal disease.
O'Connor's research gave trainees invaluable skills in medical investigation, and many fellows and junior faculty who trained with him at UC San Diego went on to success in pharmacology, biotechnology, nephrology and other areas of academic medicine.
The award helps provide a one-year research stipend and supports high-quality translational work that emphasizes a multi-disciplinary, collaborative, "bench to bedside" approach to developing new treatments and therapies.