Partner With Us
We're proud to support the research and interprofessional education needs of UC Davis Health nursing and medical students, faculty, staff and alumni — but that's not all we do.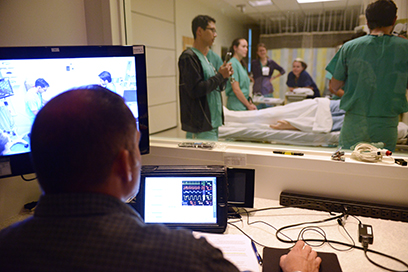 Hospitals throughout the state send their teams to our facility for specialized training in areas such as emergency medicine, labor and delivery, and pediatric care. We even host training sessions for elite military teams, such as Northern California's Airforce Pararescue Jumper Unit.
From mass casualty drills to trauma codes, NICU codes and "Code Blue" sessions, we're known for providing realistic team trainings. Being housed within an academic medical center means we also have access to a wide variety of resources, such as the UC Davis Body Donation Program and the UC Davis School of Medicine's Standardized Patient Program.
We look forward to working with you to design the perfect simulation session for your team. Schedule an event today or give us a call at (916) 734-4708.
Top Ways to Partner With Us
Hold an event or course in our 10,000-sqaure-foot simulation center.
Host an in-situ training session where we bring our equipment to you.
Apply to be part of our internationally renowned fellowship program.
Design and conduct a research project with us — and get it published.
Collaborate on clinical curriculum that incorporates interdisciplinary, integrative case-based learning scenarios.
Tour our facility

—

we've got lots to share!