Nurse training reimagined as escape room activity at Center for Simulation and Education Enhancement
Session enhances critical thinking skills in pediatric asthma scenarios
(SACRAMENTO)
As dramatic music played and a countdown clock flashed its bright, red numbers on a screen in the darkened room, nurses searched for clues to help them assess and treat an asthmatic child. A few puzzles, hidden messages and a lockbox later, the nurses successfully cared for the child and beat the clock in their escape room-style skills session.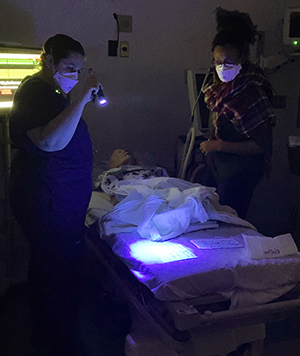 The session is part of a training program for pediatric intensive care unit (PICU) nurses who are new hires at UC Davis Children's Hospital. PICU Training Program sessions are held throughout the year by the UC Davis Center for Professional Practice of Nursing and routinely take place at the UC Davis Center for Simulation and Education Enhancement, where learners can hone their skills through the use of various infant, child and adolescent-sized mannequins.
UC Davis Children's Hospital Nurse Educator Michelle Linenberger said the session held last week at the simulation center focused on helping pediatric nurses improve and enhance their respiratory assessment skills and nursing interventions for patients with bronchiolitis, septic shock and asthma.
"The pediatric asthma scenario used to be a traditional simulation education session and I've transformed it to incorporate an innovative activity to promote learner engagement through the application of knowledge from the didactic portion of the course," Linenberger said. "It's now a hands-on escape room activity that encourages the nurses to use their problem-solving and critical-thinking skills."
Clues are stashed around the nearly pitch-black room in creative ways thanks to the help of puzzles, special ink, black light flashlights and a lockbox provided by Linenberger. As small groups of nurses search for clues to help them intervene and care for the patient, the mannequin's patient monitor responds accordingly. Feedback forms from the pediatric nurses involved in the PICU escape room said it was "amazing" and that they "loved it."
Ian Julie, associate professor of emergency medicine and medical director for the simulation center, said the escape room is a novel and fun idea that promotes active learning.
"Studies have shown that active learning often produces better educational outcomes than traditional lectures," Julie said. "That's why this type of immersive, hands-on learning is so important and one of the reasons why we are so passionate about what we do at the simulation center."
The UC Davis Center for Simulation and Education Enhancement is a state-of-the-art health care simulation center focused on interprofessional medical education and research activities. Since its humble beginnings on the first floor of the UC Davis Medical Center, the simulation Center has grown to include more than 10,000 square feet of dedicated simulation space on the third floor of the UC Davis Center for Health and Technology. In addition to patient simulators with advanced lifelike physiology, the Center features a trauma bay, operating room, inpatient unit, six-bay patient ward area, task training room, technology enhanced classrooms and standardized patient exam rooms. It's accredited as a Comprehensive Education Institute by the American College of Surgeons. For more information, visit health.ucdavis.edu/simulation.