Pediatric end-of-life simulations prepare nurses for tragic situations
Scenarios focus on compassionate care and communication
(SACRAMENTO)
When tragedy strikes and a child's life comes to an end, nurses are there to guide family members through the challenging process of saying goodbye. Navigating these heart-wrenching situations is no simple undertaking, but practicing such scenarios in simulation sessions helps nurses prepare for those difficult end-of-life conversations.
Pediatric intensive care unit (PICU) nurses at UC Davis Children's Hospital participate in end-of-life simulation scenarios as part of a special training program for new hires. Sessions are held throughout the year on a variety of topics and take place at the UC Davis Center for Simulation and Education Enhancement.
Empowering nurses through training
UC Davis Children's Hospital Nursing Professional Development Specialist Michelle Linenberger initially developed the end-of-life training sessions in 2018 after conducting a needs assessment and receiving feedback from the annual Children's Hospital education survey that nurses wanted additional education on this topic.
"Nurses witness a tremendous amount of human suffering, particularly when withdrawing care from a dying pediatric patient, but often receive little to no training on how to provide competent and compassionate care at the end-of-life," Linenberger said. "Our goal with these trainings is to empower our nurses and introduce them to communication techniques and resources they can use so they feel less anxious when interacting with families."
Training sessions begin with an educational lecture, followed by the simulation scenarios and subsequent debrief sessions. The training day ends with a discussion panel focused on coping skills and introducing nurses to the Support U Peer Responder Program at UC Davis Health, which provides peer-to-peer support for health care professionals experiencing trauma or stress from an emotionally difficult care experience.
Practicing communication in simulation
During the simulation sessions, nurses take turns playing the role of clinician and family member. They practice giving bad news to a child's loved ones and walking the family through the entire process of withdrawing care. This includes practice dealing with the strong emotional response that often comes from a child's family – and sometimes from within one's own self – while ensuring all steps dictated by hospital policy are completed.
Nurses must explain, in no uncertain terms, what the family should expect at every step of the dying process and how loved ones can be involved. The nursing team practices including social workers and religious and spiritual leaders in end-of-life conversations. They also practice working with the UC Davis Child Life and Creative Arts Therapy Department to help family members honor their child's memory, whether it be by inking handprint and footprint memories, recording a child's heartbeat into a stuffed animal or placing a lock of hair into a special necklace.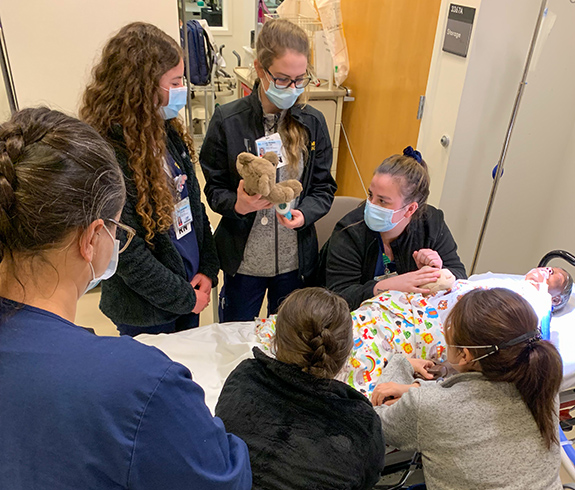 The training sessions are comprehensive and include walking the family through the bereavement resources available, enacting a 60-second pause within the hospital to honor the child's life one they have died, and the logistics and steps involved in preparing the body for transportation to the morgue.
Ian Julie, associate professor of emergency medicine and medical director for the simulation center, said the Children's Hospital is fortunate to have such detailed and thorough training sessions available.
"Simulation provides a safe space for our health care professionals to process their feelings and hone their skills so they feel more prepared to complete all the necessary steps when these emotionally charged and difficult situations arise," Julie said. "We're proud to support these highly valuable and important sessions."
Linenberger said these training sessions will continue for as long as they are needed.
"It's never easy to care for a patient and their family at the end of life, but preparing for it in simulation allows our nurses to visualize and better understand their roles in preparation for real life experiences," Linenberger said.
About the UC Davis Center for Simulation and Education Enhancement
The UC Davis Center for Simulation and Education Enhancement is a state-of-the-art health care simulation center focused on interprofessional medical education and research activities. Since its humble beginnings on the first floor of the UC Davis Medical Center, the simulation Center has grown to include more than 10,000 square feet of dedicated simulation space on the third floor of the UC Davis Center for Health and Technology. In addition to patient simulators with advanced lifelike physiology, the Center features a trauma bay, operating room, inpatient unit, six-bay patient ward area, task training room, technology enhanced classrooms and standardized patient exam rooms. It's accredited as a Comprehensive Education Institute by the American College of Surgeons. For more information, visit health.ucdavis.edu/simulation.