UC Davis Health paper shows how simulation education helps learners spot patient safety hazards
Paper in Pediatric Emergency Care highlights activity's benefits to students, trainees
(SACRAMENTO)
Almost a year before the coronavirus pandemic began, quality improvement leaders at UC Davis Health and educators at the UC Davis Center for Simulation and Education Enhancement created a simulation activity to help health professions students and trainees identify and report patient safety hazards in the emergency department.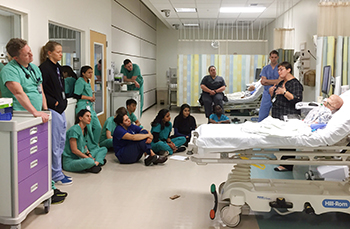 The success of the activity is outlined in a paper recently published in Pediatric Emergency Care, a journal for both pediatricians and emergency physicians focused on publishing clinically relevant information about caring for sick and injured children. The paper, entitled "'Good Catch, Kiddo' – Enhancing Patient Safety in the Pediatric Emergency Department Through Simulation," highlights how simulation is beneficial in helping learners identify and report hazards.
Ian Julie, associate professor of emergency medicine and medical director for the simulation center, said the results show the participants – which included second-year and fourth-year medical students, emergency medicine interns and pediatric interns – identified safety hazards at comparable rates despite having varying levels of education.
"There is great value in this type of training for a wide range of learners," Julie said. "It's one thing to hear about patient safety hazards, but we were able to provide an interactive situation where the potential for hazards can be identified and reported in a true-to-life fashion."
"We saw a significant boost in self-efficacy for all the learners, with the largest increase in second-year medical students starting clinical clerkships," said JoAnne Natale, professor of pediatrics and director for quality and safety at UC Davis Children's Hospital. "It was exciting to see such a marked change."
During the activity, three to five learners went into a simulated pediatric emergency department room for 10 minutes to take note of as many potential hazards to patient safety as they could find, such as a missing patient identification band, choking hazards, incorrect patient discharge paperwork, fall hazards, and an undated intravenous catheter.
Hazards related to situational safety, patient identification, infection risk and treatment errors were identified at the highest frequency. Safety hazards associated with the electronic health record were identified at the lowest frequency and included multiple patient charts and unsigned orders open.
"This activity reinforced how important it is to prioritize training around proper use of the electronic health record so that breaches in privacy and security do not occur," said Ulfat Shaikh, lead author of the paper, professor of pediatrics, and medical director of health care quality at UC Davis Health. "We must continue to foster a culture of transparency by using non-punitive reporting systems to track and prevent medical errors and other safety hazards."
"Our work shows that students and trainees view their clinical environments with fresh eyes and can pick up safety hazards before they result in harm to patients; they can play an integral role on clinical teams to help health systems deliver safe and high-quality care," Shaikh added.
Learners finished the simulation activity by watching an instructional video on reporting errors and near-misses using UC Davis Health's incident reporting system. Through an evaluation survey, instructors found that participants included the demonstration of the system among the most useful parts of the 60-minute training, as well as active, team-based learning with peers.
A virtual version of the training was developed in response to the coronavirus pandemic and is being enhanced this year with the goal of expanding the training to more departments and learners across the health system.
"We'd like to eventually offer this training to frontline clinicians in all health professions and to provide continuing education credits," Shaikh said.
Faculty interested in learning how to transition traditional simulation curriculum to an online environment are encouraged to email hs-simcenter@ucdavis.edu.
The UC Davis Center for Simulation and Education Enhancement is a state-of-the-art health care simulation center focused on interprofessional medical education and research activities. Since its humble beginnings on the first floor of the UC Davis Medical Center, the simulation Center has grown to include more than 10,000 square feet of dedicated simulation space on the third floor of the UC Davis Center for Health and Technology. In addition to patient simulators with advanced lifelike physiology, the Center features a trauma bay, operating room, inpatient unit, six-bay patient ward area, task training room, technology enhanced classrooms and standardized patient exam rooms. It's accredited as a Comprehensive Education Institute by the American College of Surgeons. For more information, visit health.ucdavis.edu/simulation.