UC Davis simulation center gets creative with education during pandemic
Video technology, new methods enable crucial medical instruction to continue
(SACRAMENTO)
When the coronavirus pandemic began and educational courses shifted online, faculty and staff at the UC Davis Center for Simulation and Education Enhancement were faced with quite the dilemma – how to move hands-on simulation classes online.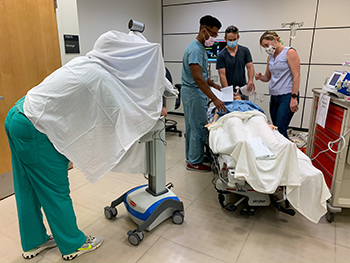 Since building a replica hospital in everyone's living room and sending learners home with a simulation mannequin – which costs as much as a car – aren't the most feasible options, the simulation team strategized how to use the center's existing technological infrastructure and equipment to engage in distance learning.
"We started testing out different camera angles, using Zoom-enabled workstations on wheels and our in-room video cameras, to see how we could incorporate different viewpoints into the online learning experience," said Ian Julie, associate professor of emergency medicine and medical director for the Center. "We've come up with a variety of successful methods for broadcasting and recording simulation scenarios."
New methods in use
On a recent Tuesday morning, the Center hosted the Emergency Medicine Department's Academic Forum – a continuing medical education (CME) opportunity for residents and faculty that frequently utilizes simulation to reenact challenging patient cases and further develop participants' skills. While some participants watched the livestreamed forum sessions online from home, the in-person learners split into smaller groups to promote social distancing.
For one of the scenarios, the learner serving as the team leader positioned themselves behind a Zoom-enabled workstation on wheels and donned a sheet over themselves and everything on the workstation except the video camera. They then wheeled about the room watching their computer screen – the same view that was livestreamed to online learners and those set up with video screens in the adjacent room.
"The people online and in the debrief room are seeing it like they would through a periscope," said instructor Samuel Clarke, associate professor of emergency medicine. "They are seeing a first-person perspective, instead of like watching actors on a stage."
Identifying instructional formats
Clarke is one of the faculty members from a variety of disciplines who partnered with the simulation team to come up with creative and effective plans to deliver simulation education during the pandemic. Out of multiple brainstorm and test sessions, they decided on four main instructional formats that support social distancing and distance learning, including:
Livestreamed simulations – A small group of learners participate in a simulation using high-tech computerized mannequins, while other learners watch the scenario unfold via a live teleconferencing platform, such as Zoom. These learners watch either online from home or from one of the Center's debrief rooms.
Pre-recorded simulation sessions – A group of instructors gather to conduct scenarios demonstrating a patient management situation. The recorded sessions are distributed to learners asynchronously through platforms such as Canvas.
Didactic sessions using simulators – Instructors give a livestreamed lecture using virtual reality trainers that simulate procedures such as cataract and heart surgeries while students watch from home and ask questions via an online chat function. More than 125 medical school students recently participated in one of these sessions.
Task-training demonstration – An instructor at a distant site coaches a learner who is physically present at the Center and using task-training simulators to practice skills such as ultrasound-guided needle placement.
The simulation team created informational documents about the instructional formats and the necessary equipment and staffing needed for each, as well as a technical guide explaining the teleconferencing and video recording technologies available to instructors, such as Panopto, Zoom, the Center's audiovisual system and even a GoPro camera.
William Hammontree, manager for simulation, facilities, and resources, said the Center has made a smooth transition to distance learning and that staff are eager to help more learners.
"We're happy to help faculty educators brainstorm ideas and determine the best way to adapt their traditional, in-person simulation curriculum to an online format," he said.
For more information about transitioning traditional simulation curriculum to an online environment, please email hs-simcenter@ucdavis.edu.
About the UC Davis Center for Simulation and Education Enhancement
The UC Davis Center for Simulation and Education Enhancement is a state-of-the-art health care simulation center focused on interprofessional medical education and research activities. Since its humble beginnings on the first floor of the UC Davis Medical Center, the simulation Center has grown to include more than 10,000 square feet of dedicated simulation space on the third floor of the UC Davis Center for Health and Technology. In addition to patient simulators with advanced lifelike physiology, the Center features a trauma bay, operating room, inpatient unit, six-bay patient ward area, task training room, technology enhanced classrooms and standardized patient exam rooms. It's accredited as a Comprehensive Education Institute by the American College of Surgeons. For more information, visit health.ucdavis.edu/simulation.