Plastic and Reconstructive Surgery Residency



Introduction
Faculty at the UC Davis School of Medicine established a plastic surgery residency in 1978. Much has changed since then. We now have 9 residents spread over both Independent and Integrated tracks. Our program goal is to develop (1) technically skilled and (2) broadly trained residents who will (3) ultimately contribute to the safe, efficacious, and ethical delivery of plastic surgery, in all of its fields, (4) in an environment of collegiality and camaraderie, (5) allowing all to pursue their desired fellowships and future practice. This will be seen by:
Progressive improvement in medical knowledge and clinical skills as measured by all Plastic Surgery Milestones.
High operative volumes for all residents, exceeding recommended minimums, with progressive increasing levels of responsibility (1) where senior residents mentor and guide junior residents through cases (4).
Encouragement of submissions to and presentations at region and national plastic surgery conference every year (3, 5)
Residents receiving interviews with and matching into desired fellowships (5).
Faculty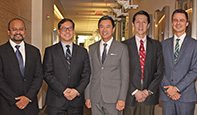 Our faculty includes Granger B. Wong, M.D., D.M.D., Associate Professor and Interim Chief; Michael S. Wong, M.D., Professor and Residency Program Director; Lee L.Q. Pu, M.D., Professor; Clifford Pereira, M.D., Associate Professor; and Chetan Irwin, M.D., Assistant Professor. All are committed to teaching the art and science of plastic surgery.
Education
Residents are taught plastic surgery through broad clinical exposure and formal didactic sessions:
Clinical - Our educational program provides extensive exposure to the entire breadth of clinical plastic surgery. The Division of Plastic Surgery works with the Trauma Surgery Service, in cooperation with the Departments of Otolaryngology and Orthopedics, to provide coverage for all maxillofacial and hand trauma. In addition, our Division provides general and microsurgical reconstructive services for Orthopedic Trauma, Neurosurgery, Urology, Vascular Surgery, Cardiac Surgery, GI Surgery and Surgical Oncology. Plastic surgery faculty members perform pediatric, craniofacial, and complex burn reconstructions. In addition, we educate residents in a range of aesthetic plastic surgical procedures, including body contouring operations for patients who have lost significant weight following bariatric surgery.
Didactic - Four one-hour conferences are held on a weekly basis. These include Plastic Surgery Grand Rounds, Case Conferences, and Friday didactic sessions. Grand round topics are varied, reflecting the scope of plastic surgery, and are given by UCD faculty, plastic surgery residents, guest lecturers, and visiting professors. Case conferences are presented by faculty and residents, often in a format similar to that of the Oral Boards. Friday's didactic conferences are based on the Plastic Surgery Education Network, a comprehensive curriculum covering the topics of plastic surgery, supplemented by Selected Readings in Plastic Surgery and topical In-Service questions. We have a monthly journal club where several articles from the latest issue of Plastic and Reconstructive Surgery are critically discussed. Morbidity and mortality conference meets monthly in conjunction with the Department of Surgery. A yearly Donald P. Hause Memorial Lecture features a prominent visiting professor who augments the education of our residents, faculty, and community plastic surgeons.
Rotations
Residents rotate through five hospitals during their first three years of the Integrated Program. General Surgery is covered at the Veterans Administration Hospital, Kaiser North and Kaiser South. Both acute and reconstructive burn surgery is covered at the Shriners Hospital. The University Hospital is home to plastic surgery, urology, cardiothoracic, vascular, transplant, surgical oncology, dermatology, oculoplastic surgery, urology, otolaryngology, facial plastic surgery, anesthesia, and hand surgery rotations.
Residents rotate through six clinical services during their three formal years of plastic surgery residency. The majority of time is spent on the University Service where the more complex reconstructions and aesthetic surgery is performed. The Shriners Hospital Service provides more in-depth experience with burn reconstruction and pediatric plastic surgery. During the Kaiser (North and South) rotations, each plastic surgery resident has an opportunity to learn management of benign and malignant skin neoplasms as well as breast reconstruction in a managed care setting. The Hand Service gives residents concentrated exposure to the principles and practice of hand surgery with an emphasis on complex congenital, neurologic and arthritic hand problems. Additional experience in managing hand problems, skin neoplasms, and patients requiring other oncologic reconstructions is found at the VA Hospital.
University service
A chief resident, a junior plastic surgery resident, and an intern are on the University Service at all times. Each resident is given increasing responsibility for preoperative and postoperative management of the service patients as their training progresses. Interns are required to attend the Cypress Clinic twice a week and are expected to be involved in the operating room upon completion of other service responsibilities. The plastic surgery residents are required to attend 1 ½ days of clinic, divided between the UC Davis and C Street clinics. Home call is distributed amongst the plastic surgery residents, with trauma call (hand and maxillofacial call) every third night. We adhere strictly to the 80-hour work week and other ACGME work hour guidelines.
Students
Medical student teaching receives considerable attention. Each third year student is assigned a faculty mentor for the rotation. This mentor reviews patient write-ups and focuses on pertinent plastic surgical issues presented. All faculty and residents work with every medical student daily during his/her rotation, involving the student in every aspect of patient care on the wards, in the clinic, and operating room. We hold medical students responsible for selected patients. Students write daily progress notes, and report on patients' progress during rounds. Participation in the operating room is encouraged. Medical students take call with the service intern according to a schedule established by the Surgery Course Director. At the end of the plastic surgery rotation, each student is expected to present on a topic of his/her choice. In addition to third year medical students, we often host visiting fourth year medical students who serve as Acting Interns (AI) over the academic year. The rotation is four weeks in duration; if you have any questions regarding the 4th year AI please contact the Plastic Surgery Residency Coordinator at hs-plasticsurg.residency@ucdavis.edu.
Research
All faculty members are involved in research with Dr. David Sahar serving as our Director of Research and member of the Department's Surgical Bioengineering Laboratory. While there are opportunities for basic science research projects through the Sahar Lab and collaboration within the University, most research performed within our division is clinical. Integrated Residents have up to 12 weeks of protected research time while Independent Residents have up to 6 weeks of protected research time. If a resident is interested in additional dedicated research time, advance notice is necessary. It may be possible to make time for additional research.