Better science through technology
If you were looking for a blueprint of how genetic changes affect health, you couldn't come up with a much better model than cancer.
Complex mutations that occur during cell division - and which, down the road, could lead to carcinogenesis - have implications for immunology, microbiology, genetics, cellular biology, even veterinary medicine.
"Cancer has a lot to teach us, because if you can learn how abnormal cells react, by extrapolation, you can learn how normal ones react," says Regina Gandour-Edwards, a pathologist at UC Davis Medical Center. "It's a powerful model."
This link is one reason why Janine LaSalle, an assistant professor of microbiology and immunology at UC Davis, finds herself studying genetic mutations in human cancer. An immunonologist with a Ph.D. from Harvard University, LaSalle began her research career with a dual interest in genetics and immunology, focusing on pediatric disorders. She was an instructor of pediatrics in the genetics division of Children's Hospital at Harvard Medical School before coming to the medical microbiology and immunology department at UC Davis in 1997.
Home | Table of Contents | To our Readers | Building on Basics
Focusing on Patients | In Translation | First Steps
Campus Connection | Benefactors | News in Brief
UC Davis Health System | © 2000, 2001, 2002 UC Regents. All rights reserved.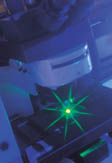 By using cell-staining techniques in conjunction with laser-scanning cytometry, UC Davis researchers hope to create a molecular staging profile for bladder cancer.