How can we improve the early detection of breast cancer and better identify women who have higher risk for an advanced or second breast cancer and who need additional screening? This is the mission of a national research team co-led by UC Davis Professor and Division Chief of Biostatistics Diana Miglioretti. Thanks to a $15 million, five-year grant renewal from the National Cancer Institute (NCI), the team will use artificial intelligence (AI) to make breast cancer screening and surveillance more accurate and equitable.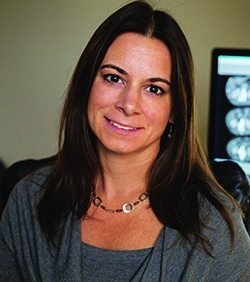 Screening to catch breast cancer early
Despite great strides in diagnosing and treating breast cancer, the disease remains the second leading cause of cancer death for women in the United States. The disease burden varies, with racial and ethnic disparities in breast cancer diagnosis, rates of second breast cancers and even death rates.
Mammogram screening is intended to diagnose breast cancer early — when it's more treatable. Yet, even with regular screening, some women are diagnosed with advanced cancer. Those women might have benefitted from more intensive or accurate screening.
"The U.S. Preventive Services Task Force recommends screening every two years, which is sufficient for most women. But some women could benefit from screening every year or with supplemental imaging," Miglioretti said. "Still, we need to be very careful about the impact of additional screening on women."
Screening comes with the potential harms of false-positive results and overdiagnosis, which occur more frequently with annual versus biennial screening and screening with supplemental imaging, like ultrasound and MRI. The new grant will allow Miglioretti's research program to assess if improvements in breast imaging quality and regularly scheduled screening can lead to more equitable health outcomes for women.
"Screening will be most effective and equitable when all women have access to high-quality risk assessment and breast imaging, and when the strategies are targeted to clinically meaningful outcomes," program co-leader Anna Tosteson said. Tosteson is a professor of community and family medicine and the James J. Carroll professor of oncology in the Geisel School of Medicine at Dartmouth College in New Hampshire.
Artificial intelligence to make more equitable breast cancer risk models
Miglioretti and her team started studying and promoting safer and more personalized breast cancer screening in 2011. Their program has advanced the science of risk-based screening and surveillance in many ways.
The team has already optimized its models based on patient factors, such as age and breast density. Now, the researchers are looking to integrate imaging features (including calcifications) and AI algorithms to improve predicting whether a woman is at risk of breast cancer.
"We're at a point where we've developed risk models for women with or without breast cancer, and we now want to be able to use those models to better select those who need to undergo more intense screening or surveillance," Miglioretti said. "What's exciting about this grant renewal is incorporating artificial intelligence into these models to identify women at high risk of advanced cancer despite regular screening or at risk of second cancer missed by annual mammography."
The grant will fund three new projects.
Project 1: More equitable breast cancer risk models
The first project will use AI to predict which women with no history of breast cancer are at high risk of being diagnosed with advanced cancer. The team will develop advanced breast cancer risk models that include imaging features and will evaluate FDA-approved AI scores from five vendors. They will compare the benefits and harms of mammogram screening frequency with respect to breast cancer mortality, based on varying degrees of cancer risk.
Project 2: Using AI to identify factors contributing to breast cancer screening inequities
The second project seeks to identify factors that drive inequities in breast cancer screening. It will explore whether the use of AI detection scores and other facility-level interventions (such as mobile mammography programs) can improve outcomes, with special attention to health equity.
"We are looking at whether AI algorithms can improve cancer detection, especially for women from marginalized communities who may not have access to highly experienced breast imaging specialists. In fact, a lot of mammograms for women from underserved communities are read by general radiologists," Miglioretti explained.
The team will evaluate whether using AI algorithms can improve breast cancer detection and reduce disparities.
"We anticipate that this program will help show how AI can improve breast cancer detection and risk prediction of advanced breast cancer," said Karla Kerlikowske, professor of medicine, epidemiology and biostatistics at UC San Francisco and program co-leader. "This, in turn, will allow for the development of new, more equitable screening strategies that maximize benefit while minimizing harms."
Project 3: Reducing surveillance failures
In the third project, women who get breast cancer treatment and receive an all-clear are put under surveillance. They are asked to receive a yearly mammogram to help screen for a cancer recurrence or a new cancer. Some of these women are diagnosed with a second breast cancer due to symptoms occurring between the two screens. Such diagnosis of cancer recurrence before their scheduled next screening is considered surveillance failure.
Project 3 seeks to develop a risk-based approach to identify women at higher risk of having such a surveillance failure. It will examine multiple factors that might be linked to these failures and possible ways to prevent them.
"So, for this project, we ask: Based on the women's initial cancer stage and characteristics, and on their personal factors such as age and breast density, what's their chance of their second breast cancer being missed by mammography? Answering this will help us identify those who might benefit from more intense screening with supplemental MRI," Miglioretti said.
What is the Breast Cancer Surveillance Consortium?
This research program leverages the Breast Cancer Surveillance Consortium (BCSC).
BCSC is a nationwide research network with robust, community-based data collection from geographically and socio-demographically diverse settings. It has a long history of evaluating the benefits and harms of different screening approaches.
The research team will use the BCSC database to help improve screening and surveillance. Their findings might contribute to public health activities to promote more balanced risk-based screening and reduce breast cancer disparities.
"We will use the powerful BCSC database to inform population-level simulations in collaboration with CISNET," Tosteson said. "These simulations will project the long-term impact of incorporating risk-based screening into clinical care on mortality."
CISNET is a consortium of NCI-sponsored investigators. They use simulation modeling to understand cancer interventions and their effect on prevention, screening and treatment.