Checkup on Health: Tips for a safe holiday season
Take simple precautions with decorations, foods and unfamiliar homes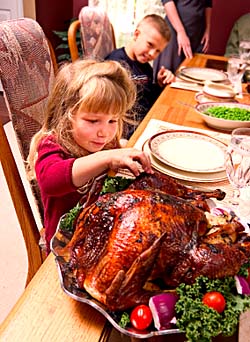 Holidays are great fun for kids, but there are often extra hazards for parents to look out for as well.
No one probably enjoys the holiday season more than children. Taking precautions to avoid sickness or accidents can help make sure their season is healthy and safe, too.
UC Davis pediatrician Kevin Tracy says, "Unfortunately, burns are common injuries around the holidays, but you can take several steps to promote fire safety." Here are some tips:
Check or install smoke detectors on each level of your home, preferably outside each bedroom.


Use a sturdy fireplace screen to keep sparks inside the hearth.


Use the fireplace only when you are at home, and extinguish the fire when you leave the house.


Make sure all extension cords are in good condition. Never run them under a carpet.


"Unsafe food handling is another cause of sickness during the holidays," Tracy says, "but most problems can be easily avoided by following a few guidelines."
Fully cook meats and poultry, and thoroughly wash raw vegetables and fruits. Bacteria are often present in raw foods.


Wash your hands frequently, and make sure children do the same.


Never put a spoon used to taste food back into the pot without washing it.


Keep raw foods and cooked foods separate during preparation, and keep the utensil used to prepare them separate, too.


Thaw meat in the refrigerator, not on the counter.


Never leave meat at room temperature for more than two hours.


"Holiday parties can pose safety hazards for small children," Tracy says. Remember to:
Clean up after your holiday party. A toddler can choke on leftover food or become dangerously ill on alcohol or tobacco.


Leave the sitter the phone number of the home you are visiting in addition to numbers for police, fire, poison control center and your physician.


Remember that not all homes are childproof. Take a survey of the home you are visiting the moment you enter.


For additional holiday safety tips, Tracy suggests that parents check the American Academy of Pediatrics Web site at www.aap.org.