UC Davis investigators to receive NIH New Innovator funding
The National Institutes of Health has announced that two UC Davis Health System researchers will receive NIH Director's New Innovator Awards to support their work on pediatric brain cancer and tuberculosis.
Elva Diaz and Kathy DeRiemer are receiving two of this year's 55 Innovator Awards, which are funded by the NIH Common Fund's Roadmap for Medical Research and encourage investigators to explore bold ideas with the potential to speed the translation of research into improved health.
Elva Diaz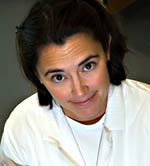 Diaz, an assistant professor of pharmacology, will receive $1.5 million over five years to develop novel therapies for childhood brain cancer. A specialist in neural development, Diaz is focusing on the few cells — called brain tumor stem cells — that have the power to launch central nervous system cancers. Little is known about this cellular population, making it tough to develop medications to stop — or even reverse — their tumor-generating mechanisms. Diaz's research aims to reprogram brain tumor cells to replicate stem cell qualities, allowing her to characterize the molecular processes that support abnormal tissue growth and identify compounds that target those processes.
"Dr. Diaz joined our department in 2003, full of great new ideas and an eagerness to take on novel and challenging research questions of fundamental importance in neuroscience," said Donald Bers, chair of the Department of Pharmacology. "We are extremely proud of her for receiving this well-deserved recognition from the NIH. The substantial research funding associated with this award will allow her to carry out groundbreaking and innovative research to advance the understanding and treatment of brain tumors in children."
Kathy DeRiemer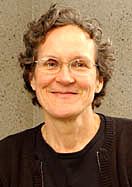 DeRiemer, an assistant professor of public health sciences and medical microbiology and immunology, will also receive $1.5 million over five years for her work in predicting variable disease pathways for tuberculosis, which affects 2 billion people worldwide. Infectious disease and other health-care specialists have been unable to abate the spread of TB infections, primarily because it is unclear why some who are exposed advance to its active form while others do not, and because it spreads quickly and easily in its earliest active stages. Focusing on patients in Shanghai, a city with over 6,000 new TB cases annually, DeRiemer will identify the gene expression patterns in blood and sputum that could distinguish different TB disease states and, ideally, lead to earlier identification and treatment for the disease.
"Dr. DeRiemer is a creative and motivated biomedical researcher whose work will provide new insights into molecular characteristics and transmission capabilities of tuberculosis," said Satya Dandekar, chair of the Department of Medical Microbiology and Immunology. "Her project fits well with our department's current research programs on AIDS, mucosally acquired infections and immunolgy. We are very excited about the potential new discoveries from her investigations that will be applicable not only for the prevention of tuberculosis but also for the management of AIDS-associated tuberculosis."
Ellen Gold, chair of the Department of Public Health Sciences, adds, "Dr. DeRiemer's approach to disease prevention merges the best of population science with the best of molecular science. I am confident that her creative work will make significant strides in containing what is a very large international public health issue."
More information about the New Innovator Awards is available at http://nihroadmap.nih.gov/newinnovator/