Patient thanks the nurses who helped her heal
Posted Dec. 15, 2010
It was a tearful, yet joyful, reunion. Abelina Magana, who was admitted to UC Davis Medical Center in 2007 with injuries from multiple gunshot wounds, returned to the hospital in October – close to the third anniversary of her arrival. She came to say "thank you" to the nurses who helped her defy major obstacles.
When she first arrived three years prior, Magana's medical team, including specialists from plastic surgery, trauma surgery, neurosurgery and orthopaedics, was cautious about her recovery.

Slideshow: use arrows to view next slide. Above: Nurses sign an oversized welcome card for former patient Abelina Magana.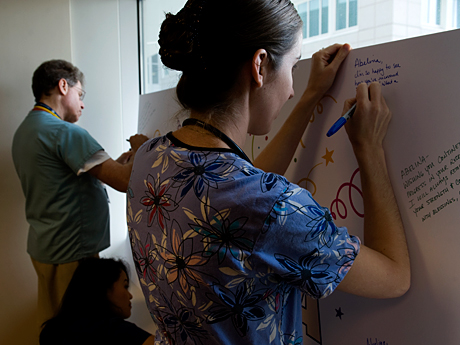 Magana is greeted with a hug from nurse Emily Cameron.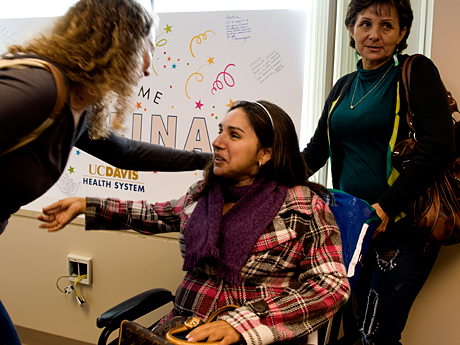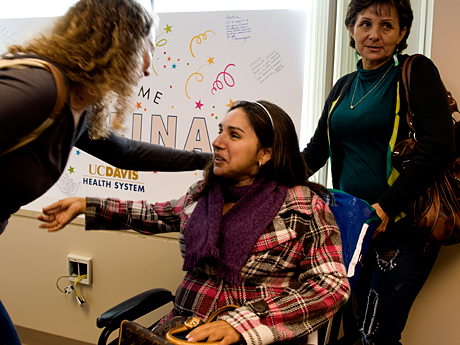 Magana returns to the SICU where she recovered from gunshot wounds.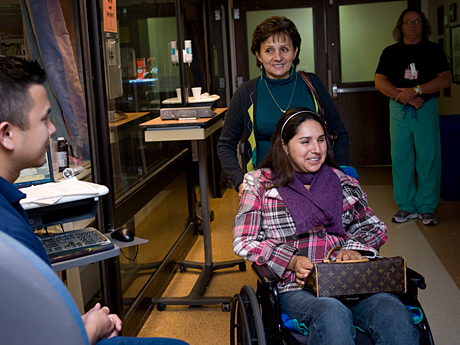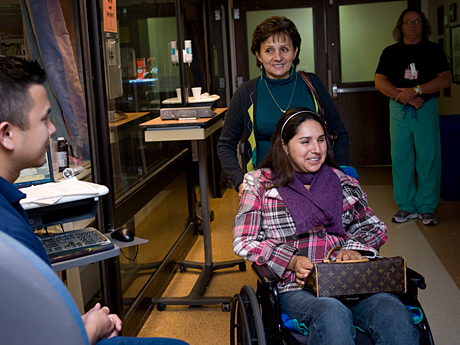 Magana thanks everyone who participated in the reunion.
"She was transferred to us because we had the range of surgical and rehabilitation specialists necessary to treat all of her injuries," said Michael Wong, the UC Davis plastic surgeon responsible for her maxillofacial reconstruction. "She has done amazingly well and her recovery is a testament to her faith and strong spirit.
"Even with the best medical care, it is very hard to overcome injuries like hers. And she has done it."
A new goal
After many surgeries, Magana was quadriplegic, breathing with the help of a machine and could do little for her own care. External hardware helped stabilize her lower jaw. She spent more than five months recovering in the medical center before being transferred to a rehabilitation center.
Today, she lives again in her home town of Novato, Calif., where she has returned to work, is breathing on her own and has recovered some use of her hands. She also has a new goal.
"I want to walk again," she said.
After all she has accomplished, few would doubt her ability to achieve that goal. Her daily life, however, is still challenging. She requires regular physical therapy. She has a caregiver who helps with meals and transportation. She is raising three active teenagers from a wheelchair. Still, Magana's outlook and attitude are positive.
"Things really changed for me when I decided to forgive him," she said, referring to the husband who tried to take her life but then only succeeded in ending his own.
An inspiration to others
At the reunion, nursing teams in the Surgical Intensive Care and Trauma Nursing units greeted Magana with hugs and messages they wrote on an oversized welcome card about her influence on their lives.
"You are such an inspiration! I've taken care of lots of amazing patients, but you will never be forgotten for your strength, inner beauty and positive attitude," said the note from Kimberly Hernandez McNamara.
They reminisced about looking forward to seeing her on their shifts and, in addition to supporting her medical needs, helping her keep up with her manicures. Most used terms like "unforgettable" when describing Magana, which had less to do with her survival than her overall approach to life.
"There is something extra special about you. I feel so lucky to have had the opportunity to care for you," said Emily Cameron.
For Magana, the feeling is mutual.
"You guys are always on my mind and always in my prayers," she said. "I will never, ever forget you."