Avoiding orthopaedic injuries on the ski slopes
Checkup on Health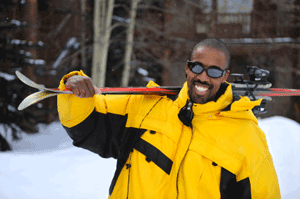 Posted Feb. 8, 2012
With recent weather bringing fresh snow — and people — to Sierra resorts, the occasional skier should be especially careful on the slopes to avoid a sports injury.
It varies, but on average somewhere between two and four skiers are injured per day for every 1,000 skiers on the slopes, said UC Davis sports medicine specialist David Cosca. Injury rates are similar for snowboarding.

"It's easier to turn on a shaped ski, so people tend to learn faster and stay in better control."

—David Cosca, sports medicine specialist
For skiers, the good news is that technological improvements have slightly reduced injury rates. They have also changed the nature of injuries.
Boot-top leg fractures are now less common, but there has been in increase in the percentage of knee sprains, shoulder injuries, and thumb sprains.
"Shaped skis have revolutionized skiing," Cosca said. "It's easier to turn on a shaped ski, so people tend to learn faster and stay in better control."
For snowboarders, injuries to the wrist, shoulder and head are most prevalent because of the different equipment and technique. Snowboarders tend to reach out their hands more during a fall, since both feet are locked onto the board.
Safe skiing tips
Cosca offered these tips to minimize risk of injury and keep returning to the slopes:
Prepare for your trip by adding some ski-specific exercises. Many people use exercises such as wall slides, leg presses and hamstring curls to strengthen their legs, Cosca said. Overall fitness and aerobic exercise also help, and cycling is especially good cross training for skiing. "Quite simply, you'll ski better and enjoy your day more if you are aerobically fit and your legs are strong," Cosca said.
When renting or buying ski equipment, don't overstate your level of skill. Longer skis are more difficult to turn, and bindings set too high for your ability are more likely to cause injury. Cosca said badly adjusted bindings are a particular issue – if you're going to fall, you want the bindings to release. Using ski poles without straps allows you to release the pole during a mishap and prevent snags that can injure thumbs and arms.

UC Davis Sports Medicine Program

UC Davis Sports Medicine is a comprehensive, integrated and multidisciplinary center providing medical, surgical, preventive, rehabilitative and performance improvement services for athletes and individuals pursuing a physically active lifestyle.

Learn more

Gently stretch hamstrings, thigh muscles, hips and calf muscles before and after going on the slopes.
Rest when tired, as most injuries occur after lunchtime when fatigue sets in.
Consider a protective helmet, and add wrist guards if you're snowboarding. Helmets are particularly valuable for high-speed enthusiasts, or those who plan to visit snowboarding parks with their jumps, channels and rails. A helmet also provides protection in the event of a collision with someone who has lost control, Cosca said.
Don't forget to wear layered clothing, sunglasses, goggles and sunscreen.
Even the best skiers fall occasionally. During a fall, Cosca tries to relax and slide on his side with his feet downhill. "That's what I try to do, but it's not always an option," he said.