FEATURE | Posted May 7, 2014
Nursing excellence at a very personal level
One family's very personal story of care
During her summer break this past year, 8-year-old Cadence Stamper experienced something very few children ever do – a stroke. It left her paralyzed on her left side and unable to sit, stand or walk.
That was until she spent the rest of her summer at UC Davis Children's Hospital. Over the course of six weeks, a team that included occupational, physical and speech therapists, physicians and nurses helped the gymnastics enthusiast to regain strength and mobility. When Cadence was discharged, she was able to walk out of the hospital on her own.
Her parents, Amy and Leroy Stamper, were ecstatic.
"Because of UC Davis' doctors, therapists and the best nurses you could ask for, Cadence and our family had the support we needed to stay strong and hopeful," Amy Stamper said. "Most importantly, they helped give Cadence the confidence she needed to walk again, and to know that one day with hard work she will fully recover."
Dedicated nurses
Cadence's nurses were a key to her progress, her mother said. They encouraged her to work hard, praised her efforts, helped her maintain a positive attitude and lifted her spirits, often through high-fives in the hallways.
View video with Amy Stamper on Cadence's care at UC Davis
Children's Hospital
This therapeutic relationship between the nurses and their patients and families is instrumental in exceptional, compassionate health care, and is an important component in the professional practice of nursing. It is also one of the many reasons UC Davis Medical Center was recently honored with the nation's ultimate credential for nursing excellence.
In January UC Davis Medical Center, which includes the children's hospital, earned the much-coveted from the American Nurses Credentialing Center. Only about 7 percent of U.S. health-care organizations gain Magnet status, recognized nationally as the "gold standard" of nursing excellence.
Achieving Magnet Recognition®
Magnet Recognition distinguishes organizations with quality care, nursing excellence and innovations in nursing practice. Organizations must demonstrate that they outperform national benchmarks for patient satisfaction, employee satisfaction and nursesensitive clinical indicators, among other requirements.
As part of the process, the Magnet team at UC Davis detailed several initiatives that use interdisciplinary collaboration to improve patient outcomes, such as an early mobility program for intensive-care patients and a formal collaborative effort to reduce sepsis.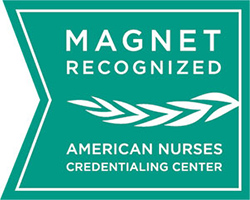 The application highlighted initiatives and outcomes from throughout the health system, including ambulatory care areas, perioperative services and the emergency department.
During a November site visit, four Magnet appraisers validated, verified and amplified what was submitted in the Magnet application. Magnet appraisers heard upbeat, positive stories from many of the more than 1,300 individuals – including nurses, medical and ancillary staff members; patients and their family members, community members; and medical and nursing program leaders at the medical center with whom they met.
For Cadence and her parents, their experience with the care and support she received from the nurses and her entire health-care team is reward enough. Six months after leaving the hospital, Cadence is back doing gymnastics, continuing her journey to full recovery.
Read other feature stories