FEATURE | Posted July 11, 2013
Fun in the sun? Tips to do it safely
Extensive exposure can result in cancer
Whether you're spending a few hours in a pool, watching a ball game or rafting down the river, any sun exposure carries the risk of skin cancer.
Excessive exposure to natural sunlight or artificial ultraviolet (UV) light (tanning beds or UV lamps) are the main causes of skin cancer, including the potentially life-threatening type – melanoma. Avoiding sun exposure and taking precautions while in the sun are first steps in protecting your skin. Establishing good habits early on is crucial, especially for children; severe sunburns at a young age are linked to melanoma later on.
Three main types of skin cancer:
Basal cell carcinoma, the most common skin cancer, affects the deepest layers of skin and rarely spreads to other parts of the body. An estimated 2.8 million cases of basal cell carcinoma are diagnosed in the U.S. each year.
Squamous cell carcinoma, the second most common skin cancer, affects the top few layers of skin and, in rare cases, can be fatal. An estimated 700,000 cases of squamous cell carcinoma are diagnosed each year in the U.S.
Melanoma, the most aggressive skin cancer, is a disease in which skin cells multiply rapidly and form malignant tumors. A projected 76,000 cases of melanoma will be diagnosed in the U.S. in 2013, with more than 8,000 deaths. If detected early, the disease can be cured.

"SPF of at least 30 should be applied year-round as UVA and UVB exposure may be significant during the winter months in the presence of snow, which reflects the sun's rays."
— Dr. Victoria Sharon
Proper use of sunscreen is one of the most important ways you can reduce risk of sun damage and skin cancer. The SPF – or Sun Protection Factor – measures the sunscreen's ability to prevent damage to the skin from UV rays.
"An SPF of 30 is sufficient to block close to 97 percent of damaging sun rays when applied as instructed," says Victoria Sharon, UC Davis assistant professor of dermatology. "SPF of at least 30 should be applied year-round as UVA and UVB exposure may be significant during the winter months in the presence of snow, which reflects the sun's rays."
The sun emits two types, or bands, of UV rays that reach us on earth. UVA, a major player in skin aging, reaches through the top layer of skin and down to the middle layer (the dermis). UVB, the main cause of sunburn or reddening of the skin, reaches just the outer layer of the skin (the epidermis) where most skin cancers occur.
Proper application of sunscreen is important, too. "It must be applied every two hours and reapplied within one hour of exposure to water, toweling or excessive perspiration," says Sharon.
Anyone can sunburn after sun exposure. If you're planning to drive in a car for an extended period, apply sunscreen to arms and hands an hour before to protect them.
Eyes and lips are also susceptible to sunburn and can suffer permanent damage. Here's how to reduce your risk:
Wear 100 percent UV-blocking sunglasses
Wear a wide-brimmed hat
Keep SPF30 lip balm accessible at all times and apply before sun exposure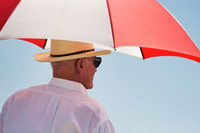 The sun's rays are most harmful from 10 a.m. to 4 p.m. During this period, be sure to wear sun-protective clothing. UV rays can go through white cotton T-shirts and cause skin damage, more so when the T-shirt is wet. Even if you think you'll be too warm, wearing tightly woven or dark-colored clothing helps block harmful UV rays.
Keep a wide-brimmed hat, an umbrella and sunscreen in your car. Also, keep sunscreen in places where you keep lip balm. These are all excellent options for last-minute or unexpected sun exposure.
Summertime offers so many opportunities for fun in the sun. Reducing your risk of cancer by protecting your skin from UV ray exposure will mean you and your family can enjoy these activities for many more summers to come.
Read other feature stories