FEATURE | Posted April 30, 2015
A voice for change
Steinberg advocates for mental-health research and public policy partnership
New Behavioral Health Center seeks to advance mental-health public policy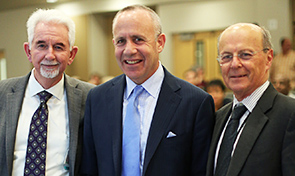 Photograph of Cameron Carter, director, Behavioral Health Center of Excellence at UC Davis; Fred Meyers, vice dean, UC Davis School of Medicine; Darrell Steinberg, director of Policy and Advocacy, Behavioral Health Center of Excellence.
---
Darrell Steinberg's message that leveraging evidence-based mental-health research and treatments should advance public policy is at the core of the new Behavioral Health Center of Excellence at UC Davis' mission, said Center Director Cameron Carter.
"Our big goal is two-fold; the first is to let research inform policy, and the second is to create the kind of research that can help to further policy and move it forward," Carter said.
One arm of the Center is focused on bringing together the tools to evaluate and understand the outcomes that come from research as it is applied into practice, he said. It is led by Joy Melnikow, director of the Center for Healthcare Policy and Research at UC Davis.
That group will work hand-in-glove with the policy and advocacy group led by Steinberg. His comments were echoed by UC Davis School of Medicine Vice Dean Frederick J. Meyers, the Center's founding dean.
"We have been talking for a long time about the importance of public policy and advocacy in changing the health of our communities," Meyers said. "Public policy has changed the face of smoking cessation, of wearing your seatbelt, of helmet laws. I look forward to advancing public policy for behavioral health through this new center."
"This will bring something new and very valuable to medical education and mentorship for UC Davis faculty and trainees," he added. "It is great for UC Davis to engage a true leader in public policy."
The Behavioral Health Center of Excellence at UC Davis is the university's hub for bringing together its wide-ranging research, education, clinical care and community engagement as they relate to neuroscience, mental health and public-health improvement.
It was launched in October 2014 through a $7.5 million grant from the state's Mental Health Services Oversight and Accountability Commission. It complements a similar, $7.5 million center that was established in Southern California at UCLA.
Granted to 16 investigators across UC Davis schools, colleges, departments, centers and programs, in Sacramento and Davis, the awards support projects in the areas of behavioral health public policy, treatment and basic science research. Together, they total approximately $3.7 million.
---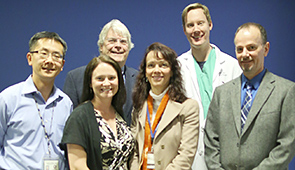 Photograph of recipients of Behavioral Health Center of Excellence pilot awards, from left to right: Glen Xiong, Tara Niendam, Peter Yellowlees, Marjorie Solomon, professors of psychiatry. Back and far right: Ben Waldau, professor of neurological surgery and Anthony Jerant, professor of family and community medicine.
World-class UC Davis research combined with adroit public policy can propel mental-health services in California and beyond forward by innovating and advocating evidence-based treatments that reduce untreated mental illness and its accompanying stigma.
That was the message former California Senate pro tempore Darrell Steinberg delivered during his first two lectures as visiting professor of psychiatry and behavioral sciences and director of Public Policy and Advocacy for the recently launched UC Davis Behavioral Health Center of Excellence.
Steinberg delivered the lectures in April to audiences that included UC Davis faculty, staff and students, as well as members of the general public, addressing the aims of the new behavioral health center (see sidebar) and his ongoing advocacy for the mentally ill.
"We want to combine cutting-edge research, cutting-edge clinical practice and strident advocacy to make funding for mental-health services more accessible for all people in need here in California," Steinberg said. "I believe that it is only validated research, clinical practice and advocacy that ultimately will make a difference."
An early advocate for mental-health treatment
Steinberg, a 1984 graduate of the UC Davis School of Law, has been a prominent champion for the needs of the mentally ill for more than 20 years.
"The question is whether we can understand each other's worlds well enough to internalize that your work is limited without advocacy and action and that our work in politics can only succeed if you help us fuel everything that we do with outcomes and credible data."
— Darrell Steinberg
In his first year in the state Assembly in 1999, Steinberg authored Assembly Bill (AB) 34, which initiated three pilot projects that provided integrated services to the homeless in Stanislaus, Los Angeles and Sacramento counties.
It was so successful in lowering hospitalization, incarceration and homeless episodes that it was expanded to more than 30 counties in late 2000 as AB 2034. Steinberg would go on to author the landmark Mental Health Services Act, Proposition 63, approved by the voters in 2004. Funding generated by the law has provided treatment to hundreds of thousands of Californians.
Termed out in 2014, Steinberg is planning to launch a policy education program with the new Behavioral Health Center of Excellence and the Schools of Health at UC Davis, the University of Pacific McGeorge School Of Law and his own foundation, the Steinberg Institute.
A vexing problem
During his lectures, Steinberg asserted that pervasive untreated mental illness is at the heart of many of the most vexing problems facing society today — yet it has few vocal advocates in government.
"The issues of untreated mental illnesses affect most of the major public policy challenges that my former colleagues and representative governments throughout the country are forced to confront," Steinberg said.
The plight of veterans returning from war with post-traumatic stress disorder; mass incarceration and the criminal justice system; and children falling behind in school because of emotional problems — all are rooted in untreated mental illness, he said.
"In every legislative district there are tens of thousands of people who are dealing with mental illness, living with it themselves, in their own families or among co-workers or friends. But representative government holds mental illness at arm's length," Steinberg said.
"With rare exception, no political leader chooses to make this issue a priority," he said.
Recovery is possible
Certainly, individuals with mental illness face stigma. But there is an even more insidious reason that political leaders do not take up the banner and advocate for the cause.
"The most damaging stigma of all is that, when it comes to issues of mental illness, the public by and large believes that the problem is unsolvable," Steinberg said. "The antidote to that belief is credible, comprehensive data that shows that recovery happens and that the right kinds of interventions work."
The legislative victories of AB 34, AB 2034 and Proposition 63, and the individuals helped, have demonstrated that recovery is possible when treatment is available, he said. Communities using funds from the Mental Health Services Act have reported dramatic reductions in homelessness, incarceration and hospitalizations for mental illness, and increased rates of employment and independent living.
"We must develop a series of analytics that allow us to credibly go to policy makers and say that there are ways that are more humane and more cost-effective to address these problems and change this part of the world," Steinberg said.
"The question is whether we can understand each other's worlds well enough to internalize that your work is limited without advocacy and action," he said to the researchers and professionals in the audience, "and that our work in politics can only succeed if you help us fuel everything that we do with outcomes and credible data."
Initiating change
Steinberg said that the time is now for a mental-health movement in California and the nation, bolstered by leading-edge mental-health research.
"In his famous "Letter from a Birmingham Jail," Dr. Martin Luther King, Jr. said that time itself is neutral. It can be used to set you back, or it can be used to move you forward," Steinberg said. "Movements don't just happen. They happen when a dedicated people decide that there's no time but now."
Read other feature stories