FEATURE | Posted Oct. 10, 2018
Good food is good medicine
How UC Davis Health uses farm-to-fork to benefit its patients and the community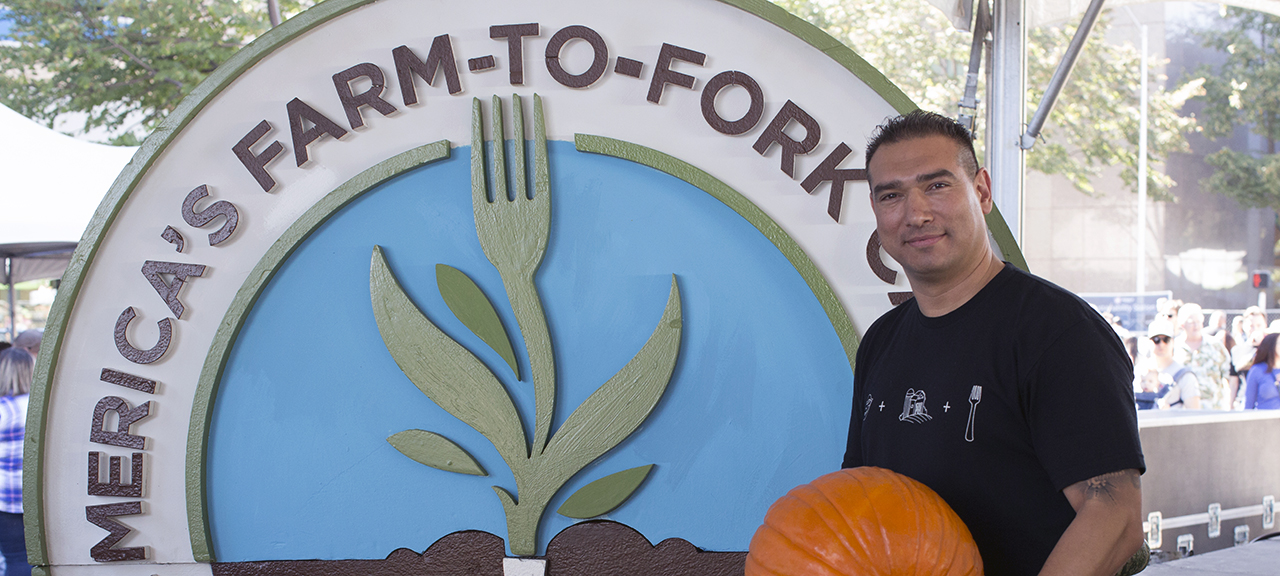 UC Davis Health executive chef Santana Diaz at Sacramento's Farm-to-Fork Festival.

Situated centrally amidst miles of rich farmland, Sacramento has become known as "America's Farm-To-Fork Capital" – a place that gives both locals and visitors a chance to taste all that the region has to offer.
Arguably the most anticipated event of this food movement brings together hundreds of people each year to enjoy delicious foods harvested from across the region at two massive dining tables stretched the length of Sacramento's iconic Tower Bridge.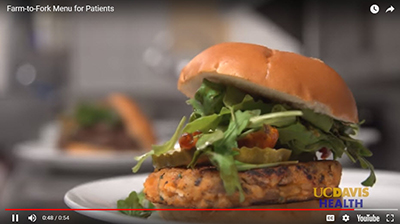 Farm-to-fork patient meal
As part of an intiative to feature locally grown food at UC Davis Medical Center, the first farm-to-fork items for patients have been added to the hospital's menu.

Check out our blog "Good Food is Good Medicine," where we feature all things food-related and how to eat your way to a healthier life.
UC Davis Health's executive chef Santana Diaz was one of a few top chefs selected to prepare dishes for the sixth annual Tower Bridge Dinner.
Having transitioned to UC Davis Health in 2017 from the Golden 1 Center, Diaz has plenty of experience feeding a big crowd – as he was also the executive chef for Super Bowl 50 at Levi's Stadium in Santa Clara.
For Diaz and his team, the prestigious Tower Bridge Dinner was a way to showcase a vision that aims to transform the way that traditional, boring, plastic-wrapped hospital food is prepared – a way to create a healthier and tastier experience for both patients and employees.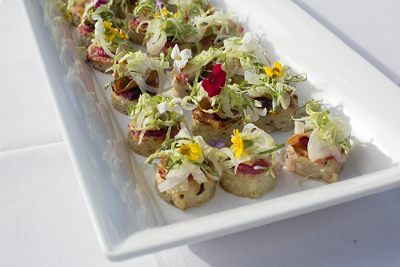 This unique event also symbolized the end of a weekend celebrating locally sourced food as part of the Farm-to-Fork Festival on Sacramento's Capitol Mall.
Thousands of people roamed the streets while vendors showcased their produce, meats, flowers, drinks and other locally made products in a massive farmer's market that stretched for blocks.
Over at the UC Davis Health stage, chefs, food enthusiasts and farmers hosted conversations surrounding key food issues such as the significance of "buying local" to agriculture – that tied in with the health system's revamped approach to hospital food and overall health.
Encouraging health while feeding NorCal's economy
At UC Davis Health, Diaz oversees the largest production kitchen in Sacramento, which serves more than 6,500 meals each day to employees and visitors. Within the next year, Diaz and his colleagues in the health system's Food and Nutrition Services department plan to make locally sourced food available to all patients at the medical center.
It's UC Davis Health's mission to ensure that items consumed at the hospital are grown within 250 miles – a goal made possible by the strong relationships Diaz and his team have developed with Northern and Central California growers and ranchers.
At a forum organized by regional nonprofit Valley Vision and hosted at the UC Davis MIND Institute, a panel of farm-to-fork enthusiasts joined the conversation on how to effectively build this locally sourced effort.
Panelists included Michael Passmore, of Passmore Ranch in eastern Sacramento County; Michael Bosworth, of Rue and Forsman Ranch in Yuba County; Sacramento City Unified School District Nutrition Services Director Diana Flores; and Diaz.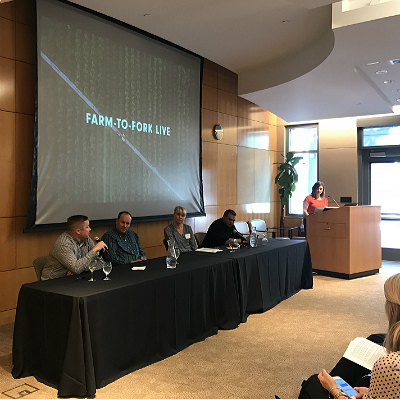 Discussion centered on the fact that institutionalized farm-to-fork concepts can benefit more than just large businesses that buy from farmers and growers; they can also add value to the overall economy and sustainability of the region.
When institutions, like UC Davis Health or school districts, buy large quantities of produce from a local farmer, it allows the farmer to plan on that more definite revenue, and better forecast for the future.
"Let's say we can purchase 25 percent of (the farmer's) potential yield. That ends up bringing the cost per pound down because the risk is gone," Diaz said. "When you think about the farmer's markets, you may think they're expensive. Well, that's the reason – there's still risk involved in that. You're paying for risk, and we can eliminate that risk."
Ranchers like Bosworth, who runs a rice farm in Olivehurst and is a graduate of UC Davis, say that trusted relationships with chefs like Diaz can help keep them in business.
Bosworth's ranch began working with UC Davis 12 years ago and became a UC Davis Health vendor in 2017. The partnership has allowed him to increase his rice assortment to about 20 different varieties.
"UC Davis was my first big institutional customer, and starting right away, the impact was tremendous," Bosworth said. "It's that kind of predictable ordering, the forecasting, the consistency of that customer base that has made a real impact on our business. That trusted relationship between the chefs and us has been what's kept us in business."
Passmore, who owns an 86-acre freshwater fish ranch in Sloughhouse in the Sierra foothills, echoed the reliability and benefits of purchasing from big organizations like UC Davis Health.
In addition, Passmore knows that although these institutions deal with food planning on a much larger scale, they're still looking for high-quality products.
"Some of the benefits go back to (the institution) outside of the nutritional value, that when their cooks get to deal with the same fish that I deliver to places like The French Laundry, it's a moral booster for those cooks there," Passmore said. "So there's a real mutual value."
The accessibility to acres and acres of prime farmland in Northern California gives chefs the ability to bring seasonal, tasty food to their customers while also supporting the region's $7.2 billion agricultural economy.
Getting everyone involved in the farm-to-fork movement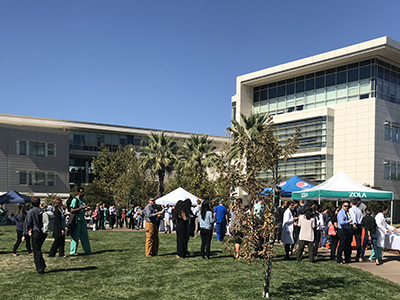 UC Davis Health's mission of bringing locally sourced food to its staff, visitors and patients was brought front-and-center recently at an event hosted by the Food is Medicine Student Interest Group at the UC Davis School of Medicine.
Tying into the farm-to-fork theme at the health system, medical students hosted a fall food festival with the help of several area restaurants. The event featured free, locally sourced options, such as jackfruit – crafted to resemble the taste and texture of pulled pork – and seasonal salads to showcase UC Davis Health's new fall and winter menu.
Tents lined the walkways of the Vanderhoef Commons as hundreds of students and employees queued up for an array of healthy foods, ranging from vegan cupcakes (that tasted very much like real ones), to polenta, to vegetarian sushi.
It was a chance to present the wide variety of food options found in and around the Sacramento region, which are not only satisfying to the taste buds, but also double as good food for the body.
Read other feature stories