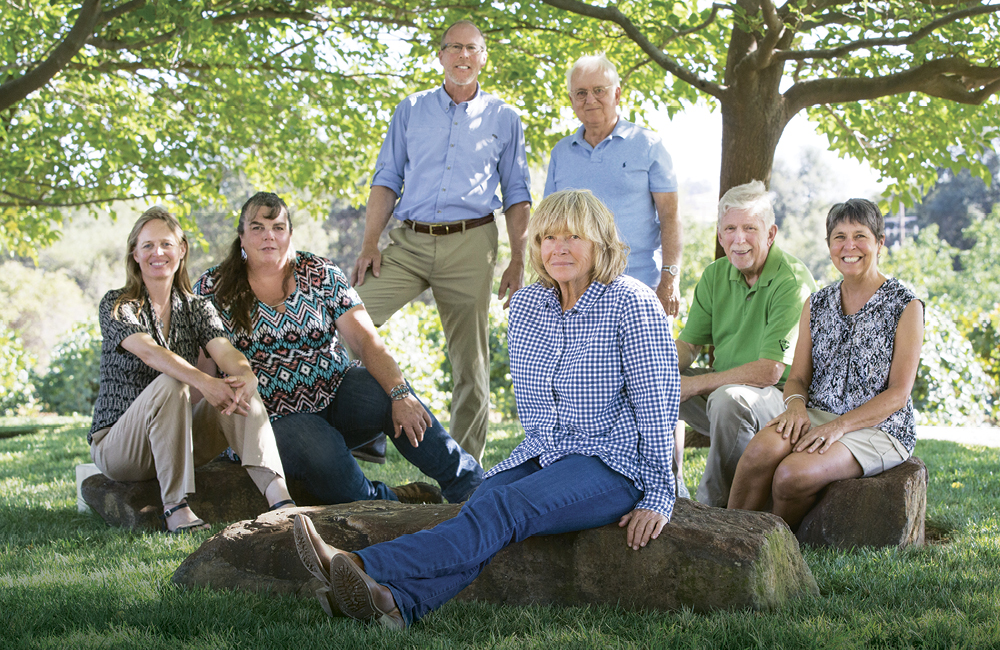 From spaghetti dinner to fundraising powerhouse:
Amador Cancer Research Foundation sets $5.5 million goal
Since its start in 2007, the Amador Cancer Research Foundation (ACRF) has been providing important research support for the UC Davis Comprehensive Cancer Center through their tremendous generosity, hard work, dedication and spaghetti — lots and lots of spaghetti.
Cathy Landgraf, who heads the foundation, is the daughter of Helen and John Landgraf, a couple who started a cancer research endowment in 1973 in memory of their daughter Christine. Today, Landgraf is dedicated to bringing the small Amador County community together to help fight cancer as a continuation of her family's research endowment.
The focal point of this community-based fundraising has been the foundation's Spaghetti Western, a big party held every year at Cooper Vineyards in Plymouth, California. It's a night full of music, dancing, food and drink. The party brings in money through ticket sales, sponsors, live and silent auctions, and donations. The funds raised at the Spaghetti Western have made up the bulk of the foundation's recent support.
"It all came out of Cathy's brain — she knows the people in the county," says ACRF treasurer Jim Schnepp. "Amador has somewhere between 30,000 and 40,000 people. The individuals who support our work support us year after year. She just keeps drawing these people back."
Jim and his wife, Teri (a board member who serves as the foundation's secretary), first got involved with the program when Cathy asked them to volunteer at the Spaghetti Western. Four hundred-plus servings of salad later, they were hooked.
David Logan, a longtime ACRF supporter along with his wife, Diane, said the reason the ACRF is so dedicated to UC Davis is that it has touched so many Amador County residents' lives.
"There are only 47 comprehensive cancer centers recognized by the NCI (National Cancer Institute)," notes Logan. "It's a real blessing for the area. Not many people in Amador County realize what we have."
Teri Schnepp agrees.
"We're a rural county where there aren't many options," Schnepp says. "There have been a lot of people who have directly benefitted from UC Davis. It builds a loyal following because we can directly see what we're doing."
The foundation's grants have been integral to the cancer center's development of research and faculty. Primo "Lucky" Lara, Jr., acting cancer center director, received the grant in 1999 and again in 2007.
This year's recipient is UC Davis Assistant Professor of Radiation Oncology Megan Daly. Her $20,000 grant will support a clinical trial that enrolls patients with metastatic non-small cell lung cancer.
"The money from the Landgraf award will be incredibly helpful in allowing us to open a pilot study evaluating radiation in lung cancer patients who have not responded to immunotherapy," Daly says. "We hope this approach will allow more patients to benefit from these promising new drugs."
The foundation recently began to diversify their funding sources by promoting legacy donations through estate giving. Several Amador County residents decided to commit money to the ACRF through their estate plans, and today the foundation's total committed funds exceed $3.5 million.
The committee also has set a new goal of $5.5 million. This allows for the future establishment of an endowed chair within the cancer center to ensure the pursuit of new knowledge in cancer research. The new chair will create a permanent and significant tie between the Amador Cancer Research Foundation, the Landgraf Family and the UC Davis Health System.
As for the future, Landgraf is confident that the ACRF's expected growth in resources will allow them to play a larger, more meaningful role in the fight against cancer.
"I am very grateful for the board's hard work and grateful for our community's generosity and support," she says. "We are all affected by cancer, and ACRF is dedicated to prevention, better treatments and better outcomes to this disease. We must push on."