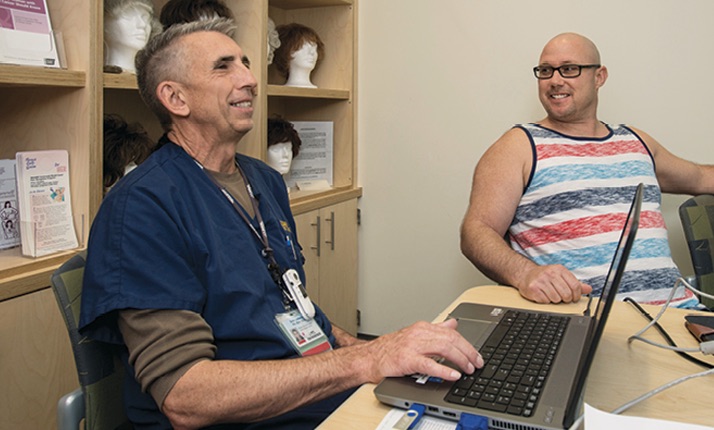 Chemo class eases anxiety
in newly diagnosed cancer patients
Dale Johnson flips through the slides that tackle the many possible side effects of chemotherapy: fatigue nausea, neuropathy, mouth sores, appetite changes.
And hair loss.
"Probably not going to be too big of an issue for you," Johnson jokes with newly diagnosed oral cancer patient Jason Mitchell, who is bald.
"Well, maybe it will be different," Mitchell responds with a laugh. "Maybe it will grow more."
The exchange between the nurse-educator and patient is typical of the UC Davis Comprehensive Cancer's "chemo class," created two years ago to address the good, the bad and the ugly of what many people just diagnosed with cancer fear most: chemotherapy treatment.
"The class came about because patients wanted to know what they were going to go through," says Heidi Wieser, cancer center clinic nurse manager, who oversees the program. "It relieves anxiety. The more educated they are, the more empowered they are."
The class, offered to all chemotherapy patients and always presented by a registered nurse who specializes in medical oncology, provides a primer on chemotherapy, how it works in the body, and what side effects may occur during and after treatment. Patients are given tours of both the infusion areas and the Department of Radiation Oncology, where many chemotherapy patients also receive radiation treatment.
Barbara Riggs, a 76-year-old lung cancer patient, says the chemo class helped her formulate and then get answers to questions she wouldn't have thought of otherwise.
When Johnson explained how chemotherapy can deplete white blood cell counts and increase infection risk, for example, Riggs wondered if it would be safe to cut her toenails during treatment, since she sometimes nicks her toes with the clipper.
"I told him I'd cut them before I started treatment," she says.
Social workers and dieticians also stop by with information to help patients adjust to treatment, cope with the possible emotional toll of a diagnosis, and how to adapt their diet while undergoing chemotherapy.
"We bring in supportive oncology experts to broaden the scope of education for our oncology patients," says Wieser. "We approach oncology care as a team, and there is no better time to initiate these team members into our patient's treatment plan than when they are first diagnosed."
Riggs had been worried how treatment might affect her energy, and the dietician's information convinced her to bring some drinks with electrolytes and an energy bar or two to each chemotherapy session.
Mitchell, diagnosed with tumors in his throat and right tonsil, and expecting to undergo an aggressive chemotherapy and radiation therapy regimen, welcomed the opportunity to learn as much as he could through the class.
"It really came out of the blue like some surreal nightmare," Mitchell says of his diagnosis.
Mitchell, who remains upbeat about his future, admitted that before taking the class he didn't know much about chemotherapy in general, let alone what he would endure as a patient. Afterward, he says he felt better prepared to tackle the challenges in front of him because knowing how sick he'll get is better than being in the dark and wondering if something's wrong.
"I'm glad I went, because now I have a better view on what's going to happen," he says. "I know it will put me where I need to be."