A publication for alumni, donors, faculty and friends of UC Davis Health
Volume 14 • No 2 • Fall 2017
UC Davis School of Medicine Alumni Association happenings
It's been a little over a year since we began this Alumni Association "happenings" page as an opener to our alumni updates section of this magazine. Looking back a few issues, our overarching theme for these messages seems to be pretty consistent:
We want all School of Medicine alumni – whether you received your M.D. degree at UC Davis, did your residency or fellowship here, or a combination – to feel connected to the school and to the School of Medicine Alumni Association. We want to help you be involved with your medical alma mater in some way, shape or form – whatever fit is best for you.
To help serve you, we'd love to know what you feel good about – and what bugs you – when it comes to our efforts to engage you.
How can we best engage you?
What would most entice you to volunteer?
What makes you respond positively to an event invitation, or an appeal to give to our annual fund?
If this idea of connecting or being involved in some way with the school, students or alumni doesn't resonate with you, please feel free to let us know why as well – we'd welcome this information too!
We want to learn from you. Please feel free to email any feedback to mlfarrell@ucdavis.edu, or visit the Alumni Association website and click "Contact Us" to input your thoughts. Or call the Alumni Office at 916-734-9408 any time for a conversation.
Please tell us what we can do to make our School of Medicine alumni program of value to you! Thanks!

Topher Stephenson, M.D.
President, UC Davis School of Medicine Alumni Association

M.L. Farrell
Director, Alumni Engagement
M.D. Alumni
1970s
1976
Jeffrey (Jeff) Hankoff

I completed my family medicine residency in 1979 at Eastern Maine Medical Center and practiced briefly in Orono, Maine before relocating with my wife and two children to Santa Barbara, California in 1981. Our children are now grown and have left the nest, but my wife and I remain in Santa Barbara. After approximately 20 years as a primary care physician, I left medical practice for administrative medicine. I served as medical director for several IPAs in Central and Southern California before joining Cigna in 2003, where I have remained. I am now a National Medical Officer for Cigna with functional oversight over most of the utilization management functions for nearly 15 million lives. I work from home, but travel a great deal. We have no grandchildren but do have two Boston Terriers that keep us very busy.
1977
Neil A. Ramquist
My wife of 28 years and I live in Raleigh, North Carolina. I retired in December 2016 after 35½ years as a radiologist with Rex Hospital in Raleigh. We share six (soon to be seven) grandchildren. The oldest is 18. My wife is a retired special education consultant and volunteers at hospice. I enjoy golf and sculling on the lake at our Virginia home. When retirement gets boring, I'm sure I'll find a passion to pursue. Medical school, and residency in North Carolina, are some of my most cherished memories.
1979
Paul Beninger
I retired from Genzyme after eight years at the FDA and 22 years in the pharmaceutical industry. I'm now working at Tufts University School of Medicine as director of the M.D./M.B.A. program and teaching pharmacoepidemiology in the M.P.H. program, all of which I am thoroughly enjoying. My wife, Betsy, and I celebrated our 37th anniversary in June, and we are enjoying our avocational interests in the Boston area.
1980s
1980
Mike Peterson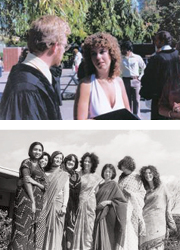 It is with great sadness that we share with you the belated news of the loss of our classmate Suzanne Merrill-Nach. Suzanne was active in the San Diego area as an obstetrician and gynecologist in private practice. After medical school she completed her residency at the U.S. Naval Hospital there in 1985. She was board certified and a fellow of the American Congress of Obstetricians and Gynecologists. Dr. Merrill-Nach was married to Gary Nach and had two adult sons. She was an avid photographer, active in numerous community activities on behalf of women and served on the medical advisory board of the San Diego Chapter of the National Scleroderma Foundation.
Suzy was diagnosed with scleroderma in 1998 but was able to practice her passion – caring for and educating women, and bringing their babies into our world – up until a few years before her passing away from complications of the disease. Suzanne passed away Oct. 29, 2014 in San Diego. Donations in her memory can be made to the National Scleroderma Foundation or to the UC Davis Medical School Alumni Association.
The black and white photo was taken in 1976–77 when we had a visiting Indian medical student, I believe, who persuaded some of the women in our class to dress up in Indian saris, and I was to photograph them. Suzanne is on the far right. In the second photo, taken by my parents, I'm speaking to Suzanne at our graduation in spring 1980.
1981
David J. Manske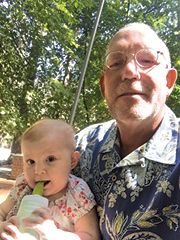 Greetings! I'm still here and still working hard at Kaiser Permanente / South Sacramento as an orthopaedic surgeon. My 31st anniversary with KP was in late July. I'm the last guy in our department with grey hair (what little I have)! The three young surgeons I hired in 1989 all retired before me. LOL! I continue to enjoy teaching residents, medical students, and now NP/PA students from Davis! I have an outpatient practice, leaving the joint replacements and complex fractures to my younger partners, but still do more weekly surgery than any of them! I still greatly enjoy my work, but will punch out in April 2020 at 65. Loving my family, especially my precocious red-headed granddaughter Milena; my friends; my 47' Delta houseboat; and my new home in Gold River. I wish you all the happiness that I have!
1982
Robert B. (Bob) Miller
Still enjoying my solo practice in Davis, but beginning to look into the ideas for an "end game." We ain't getting much younger! Enjoying our regular volunteer surgery trips to Mexico and overseas. It's such a blessing to be able to give back to those who have so few options. Found the woman of my dreams, was married last year, and I couldn't be happier. Life is just SO much better with a trusted partner. We both enjoy traveling, scuba, and have so many similar interests. Indeed, Sonia retired from UC Davis Medical Center and is now the administrator of my practice! I'm lucky, to be sure. Looking forward to seeing everyone at our 35th reunion in October, too. Should be a great weekend!
1983
Randy Reed
See Linda Davis-Reed 1986
1986
Linda Davis-Reed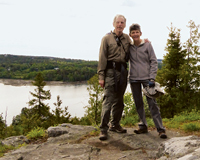 Hi all! I will retire from my dermatology practice in Chico in October, joining Randy Reed (M.D. 1983, retired family practice), in a somewhat more relaxed lifestyle of increased family time, reconnecting and spending more time with old friends, hobbies, and traveling widely. We're doing well in our "senior" years and remain healthy and active. Our son Grant (a UC Davis graduate) is working in the Bay Area and studying programming with the hope of finding a niche in bioinformatics. We look forward to seeing some of you at the Alumni Weekend!
1987
Wayne Inman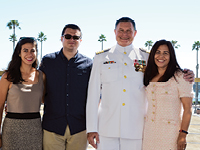 I have reached a new plateau in my career having retired from the U.S. Navy as of July 1 after 30 years. I am taking some time off for now, volunteering back to Naval Hospital Camp Pendleton, and doing some IME/QME contract work. Ideally I would like to return to part time work as a contract orthopaedic surgeon with the military, or the VA, to continue my service. On the family side, my son Brett is an engineer in the IT world in SFO, and getting married next year. My daughter Erin just started her ob/gyn residency at Michigan. So for now, lots of paddle boarding with Madeleine and our young golden retriever, bike riding, and a return to golf.
1990s
1992
Laureen Hill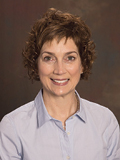 I was recently named senior vice president and chief operating officer of New York-Presbyterian/Columbia University Irving Medical Center, effective the end of October. In my new role I manage and direct daily operations, including the cost, quality and delivery of services, for New York-Presbyterian's centers in northern Manhattan. Our care is provided by physicians from Columbia University Medical Center. I also work closely with colleagues to continue to advance care at the Inwood campus, which is home to the internationally recognized Spine Hospital. I previously served as anesthesiology chair and chief for Emory Healthcare, chaired its IT governance committee, and co-chaired its perioperative governance committee. Prior to joining Emory, I served as vice chair of anesthesiology at Washington University School of Medicine and as a professor of anesthesiology and cardiothoracic surgery.
1995
Michelle A. Thomas
Hi from Fresno! It's been over 20 years since I graduated from medical school. So much has changed – UC Davis Medical Center is expending … WOW! I'm excited to tell you that I have settled in emergency medicine in the Central Valley. I have four beautiful children.
1997
Kim Schrier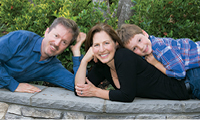 I have deeply enjoyed taking care of children and families in Issaquah, Washington for the past 16 years. This is our hometown community. Because of our current political climate and a now-urgent need to support the lives of children and families on a larger scale, I am taking a leave from the practice I love and running for Congress in Washington's 8th Congressional District. This is a tremendous undertaking, and I'm pursuing it with the most altruistic of goals: to provide affordable, accessible medical care to everybody in this country, to invest in clean energy solutions and slow the warming of our climate, and to support excellent public education in every zip code in our district. This administration's policies run counter to the interests of children and families, and it is time for a woman pediatrician to stand up for them and the generations to follow. DrKimSchrier.com
2000s
2012
Sally Graglia
Hello colleagues! After medical school, I completed emergency medicine residency at UCSF-SFGH in San Francisco. Immediately after residency, I did a one-year fellowship in emergency ultrasound at Massachusetts General Hospital in Boston. With a continued passion for global health/vulnerable populations, education and ultrasound, I am writing this update from Liberia – where I am working as an ultrasound education director, planning to train 10 fellows for the next six months. Come visit! ;)
Resident/Fellowship Alumni
1986
David J. Manske
Orthopaedic Surgery Residency
(See note Class of 1981)
Robert B. (Bob) Miller
Ophthalmology Residency
(See note Class of 1982)
---