A sampling of recent major achievements and developments from UC Davis Health. For more listings and news, please visit our website, follow us on social media, or subscribe to UC Davis Health System news feeds with an RSS reader.
Ranked among America's best
Among america's best medical and nursing schools
U.S. News & World Report ranked UC Davis School of Medicine among the best in the country in its annual list of America's best medical schools for 2018, placing it 45th for research and 18th for primary care training. U.S. News also ranked the Betty Irene Moore School of Nursing at UC Davis among the best in the country for master's-degree nursing programs in its 2018 Best Graduate Schools listings, rating the school's master's-degree leadership program as 52nd. All of the UC Davis Health rankings were ties.
Nationally ranked in 11 adult specialties
U.S. News & World Report ranked UC Davis Medical Center among the nation's top 50 hospitals in 11 adult medical specialties for 2017–18, including:

cancer
cardiology and heart surgery
diabetes and endocrinology
ear, nose and throat
geriatrics
gynecology
nephrology
neurology and neurosurgery
orthopaedics
pulmonology
urology
The hospital also earned "high performing" acknowledgement in gastroenterology and gastrointestinal surgery.
Nationally ranked in five pediatric specialties
U.S. News ranked UC Davis Children's Hospital among the nation's best in five pediatric specialties for 2017–18, including:

neonatology
nephrology
orthopaedics
diabetes and endocrinology
urology
Orthopaedics and urology rankings were received in collaboration with Shriners Hospital for Children — Northern California, UC Davis' longstanding partner in caring for children with burns, spinal cord injuries, orthopaedic disorders and urological issues.
High-performing in multiple common procedures
U.S. News also released ratings for common types of care and procedures, with "high performing" considered the highest level of recognition. UC Davis earned that rating in:

abdominal aortic aneurysm repair
aortic valve surgery
chronic obstructive pulmonary disease
colon cancer surgery
heart bypass surgery
heart failure
lung cancer surgery
The hospital met expected standards of care for hip and knee replacement.
---
Cord blood collection program extended
California political leaders have extended the UC Davis Health-administered statewide umbilical cord blood collection program through 2022. Launched in 2010, the program enables mothers to have their babies' cord blood publicly banked and made available to anyone for lifesaving transplantations. Cord blood is used to treat more than 80 diseases and holds promise as a source of stem cells for potential medical treatments. Interested donors can call 844-734-CORD (2673) or email ucbcp@ucdmc.ucdavis.edu.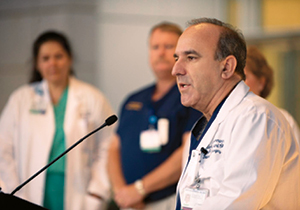 National mentorship award named for Kuppermann
The Society of Academic Emergency Medicine has named a national mentoring award after Nathan Kuppermann, M.D., M.P.H., who holds the Bo Tomas Brofeldt Endowed Chair in Emergency Medicine at UC Davis. Deserving physicians will receive the annual Nathan Kuppermann Award for Mentorship in Pediatric Emergency Medicine Research starting next year. Kuppermann, a member of the National Academy of Medicine, is known internationally for his research and his enthusiasm for mentoring junior faculty and trainees.
For one couple, giving life extends beyond family
When kidney donor Missy Ewing, above, had the chance to meet her organ recipient for the first time at a recent UC Davis Transplant Center celebration, it was the second such act of lifesaving generosity for the Ewing family. Missy's husband Chris, shown here with her before her successful organ harvest procedure, also became a kidney donor three years ago. His act triggered a series of organ swaps between unmatched donor-recipient pairs that ultimately led to four people getting transplants. Seeing the happiness among donors and recipients became an inspiration to Missy, who was later included in a National Geographic magazine article on the science of good and evil. UC Davis was the nation's highest-volume kidney transplant program in 2016.
A leader in lgbtq healthcare equality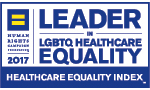 For the seventh year in a row, the Human Rights Campaign Foundation named UC Davis Medical Center a "Leader in LGBTQ Healthcare Equality" for 2017. The foundation is the nation's largest organization for lesbian, gay, bisexual, transgender and queer (LGBTQ) Americans, and produces an index each year that evaluates health care facilities' policies and practices on equity and inclusion of LGBTQ patients, visitors and employees. LGBTQ patients use the index to find facilities with a welcoming and inclusive environment.
New family caregiving institute
The Betty Irene Moore School of Nursing at UC Davis is launching a new Family Caregiving Institute, dedicated to the well-being of those who care for others, with a $5 million grant from the Gordon and Betty Moore Foundation. Nurse leaders will aim to discover and disseminate knowledge through the institute to help improve support systems for caregivers, who provide more than 80 percent of long-term care to older adults but often remain invisible in the health care system. Terri Harvath, associate dean for academics at the School of Nursing, is the institute's lead researcher.
President of american telemedicine association

Peter Yellowlees, M.B.B.S., M.D., a professor of psychiatry and behavioral sciences with an international reputation in telemedicine and the delivery of long distance health and education, has been named president of the American Telemedicine Association. The nonprofit association is based in Washington, D.C. and has a membership network of more than 10,000 industry leaders and health care professionals and 450 companies.
American psychological association career award
Leonard Abbeduto, Ph.D., director of the UC Davis MIND Institute and professor in the Department of Psychiatry and Behavioral Sciences, is the recipient of the 2017 Edgar A. Doll Award from the American Psychological Association. The award honors an individual for substantial contributions to the understanding of intellectual or developmental disabilities throughout their career. Abbeduto, who holds the Tsakopoulos-Vismara endowed chair, researches language development across the lifespan in individuals with neurodevelopmental disorders.
Task force chair for pediatric obesity guideline

Dennis Styne, M.D., a UC Davis professor of pediatrics and Yocha Dehe Endowed Chair in Pediatric Endocrinology, chaired an Endocrine Society task force that developed a new guideline on preventing and treating childhood obesity with lifestyle changes. "Pediatric Obesity – Assessment, Treatment, and Prevention: An Endocrine Society Clinical Practice Guideline" was published online and appeared in the March 2017 issue of The Journal of Clinical Endocrinology & Metabolism.
Cytopathology society's top honor

Lydia Pleotis Howell, M.D., professor and chair of pathology and laboratory medicine at UC Davis Health, has been chosen to receive the American Society of Cytopathology's most prestigious honor, known as the Papanicolaou Award. Howell has pioneered methods for cervical cancer screening, and advocates for high quality screening, early detection and diagnostic services for breast and cervical cancers.
A 'great hospital in america'
UC Davis Medical Center ranks among the 100 Great Hospitals in America for 2017, a distinction by Becker's Hospital Review that recognizes excellence, leadership and innovation in the hospital and health-care industry. The publication reaches a qualified audience of approximately 18,500 health care leaders.
100 percent renewable energy comes to uc davis medical center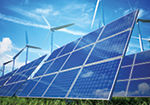 An agreement with the Sacramento Municipal Utility District will allow UC Davis Medical Center to power roughly a fifth of its facilities with 100 percent renewable energy from sources such as solar, wind and biomass. UC Davis Health expects to see an approximate 11.5 percent overall carbon emission reduction through the agreement, which is one of several sustainability measures adopted by UC Davis and part of an overall UC drive to become carbon neutral by 2025.