A publication for alumni, donors, faculty and friends of UC Davis Health
Volume 14 • No 1 • Summer 2017
UC Davis School of Medicine Alumni Association happenings
Step up and participate
This coming academic year, connect with UC Davis School of Medicine students who are eager to meet you and hear from you.
If you're local to the Sacramento area, or if you plan to be in town for a day or two, here are three activities we hope that you'll consider:
Welcome Dinner for MS1s: Host a welcome dinner this fall at your home or a restaurant for a small group of first-year students (MS1s).
Career Conversations: Join a group of medical students on campus one evening for an informal conversation and candid Q&A about your professional (and personal) journey since medical school. We'll provide light dinner fare.
Specialty Nights: Host a group of second- and third-year students (MS2s and MS3s) one evening at your workplace and introduce them to your specialty and office environment.
If you reside out of town, please consider this:
HOST Program for MS4s: Be a resource to fourth-year students (MS4s) interviewing for residency in your area. Whether you can offer a place to spend the night, share a meal or coffee or simply supply your contact information so a student can get your take on the area, it's all a major help to our MS4s – many of whom are juggling 20+ trips over the course of the October – February interview season.
If you're game to participate in any of the above programs, please contact M.L. Farrell at 916-734-9408 or email mlfarrell@ucdavis.edu.
And please join us for Alumni Weekend on Oct. 27–28, 2017! For details, visit ucdmc.ucdavis.edu/medalumni and click the "Events" tab, or contact us using the info above. Thanks!

Topher Stephenson, M.D.
President, UC Davis School of Medicine Alumni Association
M.L. Farrell
Director, Alumni Engagement
M.D. Alumni
1970s
1972
Garrett Lee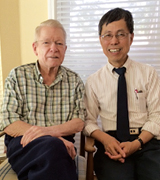 I look forward to coming to the reunion in October. The picture I've included here is of me and my former mentor and colleague, Dr. Dean Mason. Each year I attend the UCD emeriti luncheon and meet the chancellor and former faculty at the Davis campus, and on the way I usually pay a visit to Dr. Mason, whom many of you may remember. To this day, I am still awed by this man's accomplishments in bringing a young medical school rapidly into national prominence. To me, he is a great role model and truly represents that shining star on the UCD emblem, and the rays that illuminate us are embodied in his truth, warmth, core ethical values, knowledge and excellence.
Geoffrey A. Smith
In addition to my consulting, teaching and volunteer work in Southeast Asia, I help out as a volunteer for the junior gemologist program at the Gemologic Institute of America (GIA), where elementary school kids can learn about earth science.
Randall (Randy) Stenson
Hard to believe that this June is 45 years since we were the first Davis graduating medical school class. Seems just like yesterday in some ways and eons in others. We were a class of 48 with over 90 faculty – how could we help but learn? Though medicine has changed in many ways, the underlying constant is that UC Davis School of Medicine prides itself in producing M.D.s who are committed to the best health care for the next generation. We have had Davis students rotate through our clinic the last few years providing nutritional counseling along with sound medical guidance to our opioid-addicted patients. The opioid addiction epidemic is real and I, we (CORE), are still in downtown Sacramento doing our best to offer the very best evidence-based treatment for this population.
1976
Alan J. Cohen
My wife and I love retirement, but I hadn't intended to retire when I did; changes in the VA led to it years early. A few thoughts: When we went to Davis, there was genuine effort to promote primary care to improve lives. I now believe the value of medicine to our society may have declined. It now costs 20–40 times what it did then for training. When one leaves residency and starts a practice, s/he is just as unprepared; and relative pay is just as inappropriate. But now half our time is devoted to data entry to help assure profits for pharmaceutical and insurance firms. We remain more focused on pathophysiology than on epidemiology; on diagnosis and treatment than on prevention.
I suppose we need some Napoleon or Gandhi or FDR of primary care to get things right way round. In the meantime, I'll finish reading Quatrevingt-treize and we'll see a play. I hope you are all well and thriving.
Margarita (Marga) Leon-Holtzclaw
Steve (Holtzclaw – class of '77) and I are now celebrating our 40th year of trials and tribulations of marriage, medical careers, and now the bliss of retirement. We have had a blessed and great life. We have two children who have given us seven grandchildren and allowed us to become the super grandparents we were made to be. We will not be attending the reunion, but do send our good wishes and blessings to all in the class of 1977.
Theresa Loya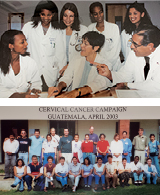 I have worn many hats throughout my medical career but the work I am most proud of is my cervical cancer screening, education and treatment campaigns I had in Guatemala and in Belize. In the Guatemala campaign, which lasted over five years, well over 5,000 women were educated and screened and many men were also educated about the disease.
I have very fond memories of my medical school training and what I hold most dear are the lessons I learned about the importance of listening to my patients. A good history can never take second place to any new development in technology.
I have sent two photos: one with Dr. Bala at Drew university with five medical students and another group photo of my cervical cancer campaign in Guatemala with all my volunteers. They came from Germany, the East Coast, Mexico, Arizona, Southern California and Drew university.
1977
Neil Ernst and Margaret (Peggy) Philp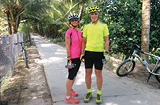 Hello. We are 1977 graduates from UC Davis, Margaret (Peggy) Philp, and T. Neil Ernst. We were married before med school and, yep, we still are! We spent the first 22 years of our practicing life in Merced, as clinical professors with the family practice training program there and doing all things pediatrics with the county: running the county peds clinic, the level II inpatient nursery, CCS.... In 2002, kids off to college so we decided on something new and moved to central Oregon, joining a family practice group there to provide some pediatric expertise and again doing a lot of county care. We ended our work almost two years ago and have been playing and traveling since. We have two great boys (literally, one is 6′8″!) and three little, precious grandkids. Life right now is good!
Steve Holtzclaw
See 1976, Margarita Leon-Holtzclaw
1978
Michael Soman
Retired for a couple of years now. Sara and I spend lots of time in Baja every winter on the Sea of Cortez. Play guitar daily, do climate and sustainability work both in Washington and in Baja, swim plenty, read, play with our new puppy, and enjoy our two grandsons, Boone and Benjamin, as much as possible. Son Nick lives in Sausalito with his wife Anna and their two sons. Kristina is completing fourth year of D.O. school and starts residency in a few months.
Feel great about my careers both as a physician and as a medical leader, yet I have to say retirement is also a wonderful gift. We have relatively good health and feel blessed in many ways.
1980s
1982
Becky (Rebecca) Klint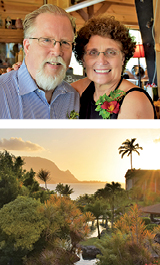 Hello, all! Scott (Townsend) and I are in Union City, married 13 years and looking in the next few to our "next chapter" (not sure we believe in retirement)! I'm in my ninth year with Kaiser pediatrics in Fremont. Scott has owned Blue Gecko Software since 2010 and recently joined a startup.
We enjoy time with nieces/nephews, love the big island, and I try to practice photography anywhere we go! We're also enjoying volunteer work with Pathlight, a philanthropic and educational organization in Belize (www.pathlight.org).
A tibial plateau fracture offered me an unplanned but needed sabbatical. It has been valuable to refocus on life's priorities, catch up with friends and projects, and walk (not even thinking about my snowboard yet). My mind can't seem to grasp my real age, though my body feels it. Anyway, I'm just grateful there's more to life than the brief time we have here… . Looking forward to catching up with you all!
Nancy Griffith

I am looking forward to seeing you all at the reunion. Four years ago I left my group family practice to start my own solo concierge practice in Torrance. I wish I had done it sooner. I love my practice and my patients. I really enjoy being a physician. Life is good. My husband, Rick, still has his solo oral surgery practice. We grow a lot of our own vegetables and enjoy the challenge of finding new delicious ways to eat them. We like to experiment with seasonings from around the world. We enjoy the Los Angeles music, art and movie scene.
If anyone is thinking of transitioning to a concierge practice I am very happy to talk to you. If you can't make the reunion and will be in Los Angeles please give me a call.
1986
Angeli Agatep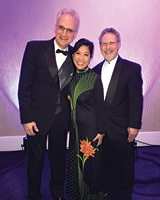 This is a picture from the Kaiser West L.A. 2016 gala in December 2016, at which Dr. Tumani Leatherwood and I were honored. I retired after 27 years. Dr. Leatherwood retired after 32 years.
1987
Robert L. Berkowitz
My story about my search for my mother's lost love made it to the front page of the Boston Globe on Sunday, January 8, 2017. Here's a picture: An online version (same as the print version) that included extra photos and a couple of videos can be seen here. It's not every day one gets to appear on the front page of the Sunday edition of a major newspaper!
I'm scheduled to play in a recital in Washington, D.C., at the home of the Romanian ambassador. It is called the "Winners Gran Prix" recital and is hosted by a piano group there. They invite all the recent amateur competition winners to perform. I'm also scheduled to fulfill my prize obligations by performing with the California Chamber Orchestra. The link has been recently updated.
Jim Creighton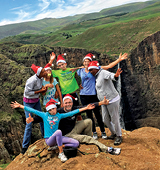 I'm now enjoying more than 17 years living and working in Africa. Currently, I'm living with my amazing family in Rwanda and have just started a production company. We have finished a TV series pilot called "Mutoni" which is about a modern Kigali nurse who rediscovers her Rwanda heritage while working with Community Health Workers. Watch online at Mutoni.TV and let me know what you think! I can be reached at jim@doctor.com.
Glenn DelCarmen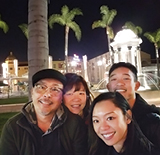 UC Davis School of Medicine Class of 1987
Family Medicine Internship/Residency UCSD '87 –'90
La Jolla Village Family Medical Group '90 – '01
Hawaii Permanente Medical Group '01 – present
To my longtime friends and colleagues from med school, "...where did the time go!?...still have fond memories of those yesteryears...will be planning to attend the reunion activities this fall...hope to see many familiar faces and catch up!"
Dawn Motyka

I have lived for 27 years in the beautiful Monterey Bay area and have a hybridized family medicine, functional medicine and acupuncture direct pay practice in Santa Cruz. I also teach nationally for the Institute for Functional Medicine. My husband Charley and I still travel abroad quite a bit. I continue to be an active radio personality and my podcast "AskDrDawn" is in its 12th year. I am also a sculptress, specializing in the human form in bronze and ceramic. I'll be in the Petaluma Art Center's "Neu Politic" show and have a show at the Felix Kulpa gallery in Santa Cruz. And oh yes, OOPS, I forgot to have children.
Robert (Bobby) Sloan
I finally picked up and moved my family from Hawaii to the mainland – Minnesota. Two little guys left of our 5 and they love hockey, ice fishing and skiing, all of which were harder to do in Hawaii. Love my new employed position. Yes, I gave up on private practice and we are happy we did. Minneapolis is one of the great American cities, and we like it even more than expected, from theatre to music to food. I am sad to not be able to meet Prince :( RIP
Linda Wedemeyer
Living in Rancho Palos Verdes. In the picture, left to right: Lowell – mostly retired, moved law office to home, enjoys volunteering for city committees and hiking in the nature preserve; Linda – dual boarded now in ophthalmology and clinical informatics, working on clinical decision support for the VA EHR modernization effort, just 1/2 day/week in the clinic now attending residents; Greg Beal – married to Rebecca; Rebecca – 34, commercial construction project manager; Loretta – 31, R.N. in the stroke unit at UCLA; Michelle – 36, third- year neurosurgery resident at USC; Puya Yazdi, engaged to Michelle.
1989
Vernon Lin
I am now serving as a professor of medicine in the Department of Physical Medicine and Rehabilitation (PM&R), Cleveland Clinic Lerner College of Medicine, Case Western Reserve University, and as a staff physician at the VA; will be moving to University of Mississippi, starting a new department in PM&R later this year; working on the third edition of Spinal Cord Medicine; enjoying family and church life; children: Sarah 21, Daniel 17, and Rebecca 14. Miss you all! Go Aggies & Cavs!
1990s
1990
Ramon Guerrero
2016 was a year of great news for the Guerrero Family. Our oldest daughter, Dahlia, matched in radiology in New York and became engaged to Dr. Karl Zate. Esteban is now in his second year of medical school at Meharry Medical College. Our youngest son, Daniel, joined the Air Force as a civil engineer and is awaiting news on pilot candidate selection. Sandra and I continue our efforts in making great wine at Meadowlark Vineyards in Santa Barbara. Meadowlark Vineyards was selected as Central Coast Cabernet Winery of the Year in 2016 by the New York International Wine Competition.
1992
Sarah "Sally" Zweber
Residency in Internal Medicine at OHSU 1992–95
Private practice — Portland 1996–2008
Home with kids 2008–2012
Since 2012 I have a second career as a medical liaison with Novo Nordisk – diabetes division. Living the dream in Portland. Married to Ken for 27 years and kids are Katie, 24, who is a labor and delivery nurse in San Francisco, and Matt, 21, who is a junior at Santa Clara University (my alma mater) studying biomedical engineering. Would love to connect with old classmates – cell 503-348-8086 or email SZE@novonordisk.com.
Finally I have more time for friends!
2000s
2001
Jeff Sharman
I am living in Eugene Oregon where I practice hematology/oncology. I particularly enjoy clinical research in non-Hodgkin lymphoma and chronic lymphocytic leukemia. To that end, I serve as the medical director of hematology research for the US Oncology network. We've had a lot of fun helping to develop several drugs that have now been approved by the FDA including ibrutinib, idelalisib, obinutuzumab and others. Family life is good. My wife and I have three kids (ages 10, 7, 2) and we are doing all the things you do with young kiddos. My older two enjoy skiing this time of year and we get up to Mt. Bachelor every weekend to play in the snow. I got to pass through Davis a few months ago and stopped in on Mishka's coffee and other favorite study hangouts. Many good memories. I hope you are all doing well.
2007
Fred Lai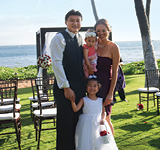 I finished my Internal Medicine residency at UCSD in 2010 and nephrology fellowship at Cedars-Sinai in 2012. Started working full time at Kaiser Fontana/Ontario, coming up to five years in July 2017! My wife, Noelle, and I will be celebrating our seven-year anniversary this year. During this time, we have been blessed with wonderful children. Striving for a successful professional career requires just as much love and support from family and friends, and it is them who continue to motivate me every day.
RESIDENT/FELLOWSHIP ALUMNI
1972
John M. Osborn
Surgery Residency
Recently retired from performing surgery after 40 years, I am still on the VCF at UC Davis as a clinical professor in the Division of Plastic Surgery and have been teaching anatomy to first-year medical students in the cadaver lab during the last four years. I am continuing to do some med-legal evaluations for attorneys. I was honored with the Distinguished Alumni Award in 2011 from the UC Davis Alumni Association, and I am V.P. on the UC Davis School of Medicine Alumni Association Board. Presently attempting to learn how to use computers, keep from falling down while playing tennis, deal with emails, and be helpful to my wife, Katie, around the house.
1975
Arthur (Art) Dublin
Radiology Residency
Currently clinical professor emeritus in the Department of Radiology at UC Davis Medical Center, recalled. Recent President Western Neuroradiological Society. Guest editor (2016) for a special issue on skull base trauma for the Journal of Neurosurgery, highlighting accomplishments of a variety of medical specialties at UC Davis Medical Center.
---