A sampling of recent major achievements and developments from UC Davis Health. For more listings and news, please visit our website, follow us on social media, or subscribe to UC Davis Health System news feeds with an RSS reader.
Interim vice chancellor and dean appointed
UC Davis named Thomas S. Nesbitt, M.D., M.P.H., as interim vice chancellor for Human Health Sciences and Lars Berglund, M.D., Ph.D., as interim dean of the UC Davis School of Medicine, effective May 1. They succeed Julie A. Freischlag, M.D., who departed UC Davis Health at the end of April for a position as president and chief executive officer at Wake Forest Baptist Medical Center.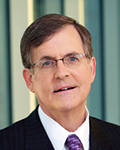 Nesbitt previously served as associate vice chancellor for Strategic Technologies and Alliances, where he oversaw efforts to advance clinical outreach and technology-enabled models of care. He is internationally known as a pioneer in using telecommunications technology to deliver care and health education in rural areas, and has played significant roles in developing UC Davis' clinical telehealth network, Cancer Care Network, PRIME medical education programs and Center for Virtual Care.
Berglund previously served as associate vice chancellor for Biomedical Research and vice dean for Research for the School of Medicine, where he oversaw all aspects of the school's nationally prominent research portfolio. He directed UC Davis' Clinical and Translational Science Center (CTSC), which helps incubate and support translational research, and served as a principal investigator for major training programs that cultivate and advance promising pre-doctoral and junior-faculty researchers.
Businesswoman of the Year
UC Davis Medical Center Chief Executive Officer Ann Madden Rice was recently honored as Businesswoman of the Year by the Sacramento Metro Chamber at the organization's 122nd annual celebration of exceptional community leaders. The Businesswoman of the Year award recognizes significant contributions to business development and the region's economy.
Named to National Academy of Inventors
Distinguished professor of biomedical engineering Simon Cherry, Ph.D., was bestowed with fellowship status to the National Academy of Inventors. The appointment recognizes his work on medical imaging technology, especially positron emission tomography (PET) scanning and computed tomography. The academy accords fellowship status to "academic inventors who have demonstrated a prolific spirit of innovation in creating or facilitating outstanding inventions that have made a tangible impact on quality of life, economic development and the welfare of society."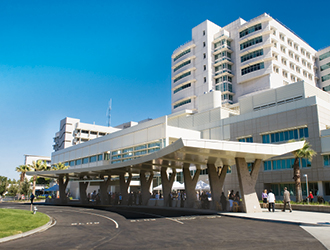 Rated by consumers as region's best

UC Davis Medical Center earned its 17th Consumer Choice Award for overall image and reputation in 2016 from the National Research Corporation. UC Davis received the highest composite score out of 17 Sacramento-region hospitals based on its ratings in consumer surveys in each of four areas: best overall quality, best image and reputation, best doctors, and best nurses.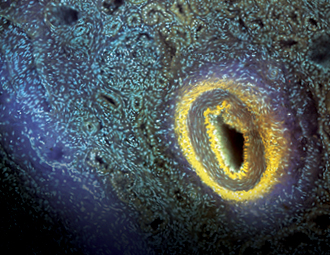 A starry night?
Whorls and luminescence mildly suggestive of Van Gogh's famous painting actually depict a kidney vessel and tissue, imaged with novel technology being developed at UC Davis. Microscopy with ultraviolet surface excitation or "MUSE" uses UV LED light to generate diagnostic-quality images of tissue samples in minutes, eliminating need for time-consuming preparation of samples and glass slides. UC Davis technology-transfer funding helped pathology vice chair Richard Levenson, M.D., and his research team create the MUSE prototype and launch a startup company, and he recently earned a $1.3 million federal grant to further explore oncology applications for the technology. MUSE-sourced images adorn covers of Nature Reviews Clinical Oncology and Nature Reviews Nephrology for the 2017 year.
UC Davis Health System is now UC Davis Health
UC Davis Health System officially changed its name to UC Davis Health in January to better capture the institution's focus on the health and well-being of its patients and community. Research and discussion with both internal and external stakeholders helped to inform the new name, which was selected to help emphasize healing and wellness and to convey the warmth and accessibility of patient-centered care models. The UC Davis Medical Center, UC Davis Children's Hospital, UC Davis School of Medicine, UC Davis Medical Group and the Betty Irene Moore School of Nursing at UC Davis remain components of the UC Davis Health brand, and are not affected by the change.
New strategic plan available
UC Davis Health launched a new 2017–2020 strategic plan in January after a yearlong process to gather input and insights from hundreds of health system leaders, employees, and external friends and partners. The new guiding document's six overarching goals include leading person-centered care; reimagining education; accelerating innovative research; improving population health; transforming the health system's culture; and promoting sustainability. Plan documents are available for review here.
Bennet Omalu receives American Medical Association's highest honor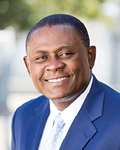 For his groundbreaking work on chronic traumatic encephalopathy (CTE), associate clinical pathology professor Bennet Omalu, M.D., M.B.A., M.P.H., received the Distinguished Service Award from the American Medical Association. Omalu first diagnosed CTE in 2002 in a National Football League player, and the story of his research and the pressure he faced from the NFL inspired the 2015 film Concussion.
Eye Center's principal optometrist receives mentoring award
Melissa Barnett, principal optometrist at the UC Davis Eye Center, received the Mentoring Award from Women in Optometry as one of six optometrists recognized for excellence in leadership, mentorship, education and innovation. Barnett is the current president of the Scleral Lens Society and serves on a number of other boards. Women in Optometry received more than 160 nominations for this group of awards.
New chief nursing and patient care services officer
Toby Marsh, R.N., M.S.A., M.S.N., has been named chief nursing and patient care services officer at UC Davis Medical Center following an extensive national search. Marsh, who had been serving as interim chief, will oversee more than 1,800 nurses and nurse practitioners who provide care for more than 200,000 patient visits every year at the 627-bed hospital and affiliated primary- and specialty-care clinics.
Honored for international humanitarian efforts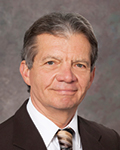 Chief of cardiothoracic surgery J. Nilas Young, M.D. received a 2016 College of Surgeons/Pfizer International Volunteerism Award for his work in developing heart surgery programs in Russia and South America. The award is the highest honor for fellows of the American College of Surgeons (ACS) who provide volunteer care to medically underserved populations.
Excellence in Nursing 2017 Rising Star

Nurse manager Emily Torres, R.N., M.S., was named one of six rising stars by Modern Healthcare as part of its 2017 Excellence in Nursing Awards. Torres was selected from a pool of more than 120 nominations for her efforts to improve patient safety and outcomes by reducing ventilator-associated pneumonia. Torres is a master's-degree leadership graduate of the Betty Irene Moore School of Nursing at UC Davis.
National Magnet Nurse of the Year
Christi DeLemos, R.N., M.S.N., received a 2016 National Magnet Nurse of the Year Award from the American Nurses Credentialing Center (ANCC). The nurse practitioner, who works in the neurological surgery department, was one of five nurses recognized during the ANCC's National Magnet Conference for innovation consultation, leadership and professional risk-taking. DeLemos' award was in the category of "new knowledge, innovations and improvements" for developing the Neuroscience Nurse Mobile Application.
UC Davis Health welcomes Beijing medical company
At a January ceremony at the U.S. Embassy in Beijing, UC Davis Health entered into a 10-year agreement with Top Grade Healthcare to establish a translational research and development center to advance the treatment of patients with cancer. The partnership will allow the Chinese company nearly 8,000 square feet of space in the Institute for Regenerative Cures building on the Sacramento campus. Top Grade will collaborate with faculty in radiation oncology and radiology, among others. The company also has a subsidiary in Sweden.