Message from the Director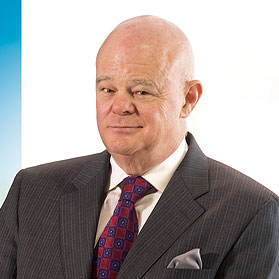 This has been a momentous year for the UC Davis Comprehensive Cancer Center, beginning with our exciting "comprehensive" designation by the National Cancer Institute this spring, and now, with the opening of our long-anticipated — and beautiful — building expansion. This issue of Synthesis will introduce our vastly expanded center and enhanced services for our patients, as well as explore some of the opportunities the expansion provides for additional clinical trials, research, outreach and integration of our programs.
As you will learn, all of our patients, including the pediatric patients who have been seen in other health system facilities, will now be seen in the expanded cancer center. We are excited about the co-location of our pediatric and adult programs, which we believe will provide better continuity of care for our patients and survivors as they transition from childhood to adolescence and adulthood.
Our new building also gives us an opportunity to showcase the talent of several local artists, whose imaginative paintings, tiles and photographs were commissioned specifically for both the pediatric and adult patient-care areas. You will meet three of them in this issue of Synthesis. You will also meet four health system employees who have answered the call to make significant financial contributions to the Cancer Center expansion. Their generosity helps us offer patients a comfortable environment, as well as top-tier care informed by expert research from laboratories throughout UC Davis and beyond.
This fall/winter issue of Synthesis also explores our team approach to tackling pediatric leukemia at its very core so that we find new ways of delivering drugs, create less toxic treatments and improve outcomes. And, finally, we hope you enjoy our profile of patient Albert Plante, now cured of lymphoma, and enjoying life to its fullest.
Please send your comments or suggestions about this and future editions of Synthesis to the editor at Dorsey.Griffith@ucdmc.ucdavis.edu.
Ralph de Vere White
Director, UC Davis Comprehensive Cancer Center
Associate Dean for Cancer Programs
Distinguished Professor, Department of Urology