Meet our bile duct and liver cancer team
Cancers of the bile duct and liver are tackled by a collaborative, multidisciplinary team of experts at UC Davis Comprehensive Cancer Center. Together they provide state-of-the-art treatments using a range of approaches that include medical oncology, interventional radiology, radiation therapy and surgery.
Catherine Vu is chief of Vascular and Interventional Radiology. She provides non-surgical options for primary tumors and for cancers that have spread to the liver. These include selective internal radiation therapy (SIRT), trans-arterial chemoembolization (TACE) and percutaneous ablations. SIRT combines embolization and radiation therapy to directly target lesions in the liver, offering a high dose of radiation to the tumor while mostly sparing normal liver tissue.
"Interventional radiology treatments are relatively new to oncology, and some providers are unaware of the innovative treatments we offer," Vu says. "When I meet patients in the clinic to discuss these therapies, they regain hope, and that alone makes my job worthwhile."
Steven Colquhoun is director of the hepatobiliary program and a surgical oncologist who has more than 25 years of experience treating patients with hepatobiliary cancer. Colquhoun, who began his career at UC Davis in 1993, specializes in liver transplantation and most recently was director of the Liver Transplant and Pancreaticobiliary Surgery Program at Cedars-Sinai in Los Angeles.
"I am here to reinitiate the liver transplant program at UC Davis and bring back the full complement of treatments available for patients with liver tumors, which includes liver transplantation," he says.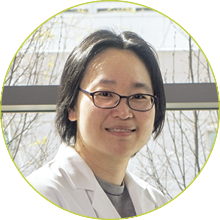 Kit Tam is an assistant professor in the Division of Hematology and Oncology. A clinical oncologist, she is active in ensuring that patients with gastrointestinal malignancies have access to clinical trials of novel treatments and other therapeutic approaches.
Arta Monjazeb is a radiation oncologist who specializes in therapy for and research on gastrointestinal cancers. Much of his work focuses on cancers of the hepatobiliary system. He helped design novel treatment strategies now being tested in clinical trials for primary liver cancers and liver metastases. He also has implemented stereotactic ablative radiotherapy for cancers of the liver and pancreas.
"Hepatobiliary cancers are very common in our patient population," he says, "and I am proud to be part of a team of experts that provides world-class care to our patients."
Sepideh Gholami is board certified in hepatopancreatobiliary (cancers of the liver, pancreas and biliary tree) and surgical oncology, and recently completed her dual fellowship at Memorial Sloan Kettering Cancer Center. She is working to build a multidisciplinary liver surgery program with a focus on molecular genetics and immunopathology in liver malignancies. Gholami hopes to develop new systemic and targeted therapies, and she is part of the gastrointestinal immuno-oncology group studying the tumor microenvironment, pathways of therapeutic resistance and immune profiling to design early-phase neoadjuvant clinical trials.
"I am also establishing a new regional treatment program for colorectal cancer that has spread to the liver with the introduction of the hepatic artery infusion chemotherapy pump program," she says. The pump program is designed to deliver chemotherapy through the hepatic artery to more directly target the tumor.
Edward Kim (not pictured above) is a medical oncologist and scientist who specializes in the medical treatment of gastrointestinal malignancies, including pancreatic, hepatocellular, biliary, esophageal, gastric and colorectal cancers. An advocate for and expert in developing clinical trials, Kim currently conducts several hepatobiliary cancer trials that com-bine standard chemotherapies with immunotherapies and newer agents that target known genetic mutations.
"It's a pivotal point for patients with hepatobiliary cancers," he says. "In just the past couple of years, several new options have emerged with up to five different approved treatments for hepatocellular (liver) cancer. So it's more important than ever for these patients to be managed by a multidisciplinary team to guide them through the complex options to tailor a sequence of therapy for each individual patient.
"Biliary cancers, including intra-hepatic and extrahepatic cholangio-carcinoma and gallbladder cancers, remain very challenging with a single, FDA-approved line of therapy. Genomic profiling of these tumors has revealed that each of these three biliary cancers is distinct. My goal is to profile patients' tumors early in the course of therapy to gain insight into unique genomic alterations that may allow for a precision-medicine approach to their care."
May Cho (not pictured above) is a medical oncologist who specializes in the medical treatment of gastrointestinal malignancies, including esophageal, gastric, pancreatic, hepatobiliary and colorectal cancers. She is a strong advocate for providing patients with comprehensive care that includes profiling for genetic mutations, regional therapies, clinical trials and supportive care.
"In the era of personalized genomic medicine and immunotherapy, the treatment paradigm for cancer is changing," she says. "Innovation and clinical trials are important — not only to aim for a cure, but also to reduce side effects of therapy and disease, and to enhance quality of life."
Cho says she understands that a cancer diagnosis is frightening for patients and their family, and that trying to beat cancer can be exhausting and frustrating. "It is my pleasure and humble privilege to be part of these journeys and help patients and families make informed decisions to make their paths smoother."