Message from the Director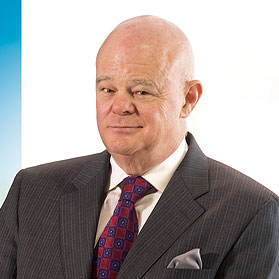 Welcome to this special issue of Synthesis, in which we celebrate our new designation by the National Cancer Institute (NCI) as a "Comprehensive Cancer Center."
As you will learn in these pages, our new name – the UC Davis Comprehensive Cancer Center – reflects recognition by the NCI of the comprehensive environment in which our patients receive care and for which our donors have shown generous and consistent support.
Ours is an environment permeated by a robust and innovative research enterprise. Giving our patients the best hope for a cure is what drives these research efforts, which extend from the College of Biomedical Engineering and School of Veterinary Medicine in Davis, to the investigator-initiated clinical trials on our Sacramento campus and the scientific research labs at Lawrence Livermore National Laboratory and The Jackson Laboratory.
As you will learn, our comprehensive research and clinical enterprises were developed through the collaboration of an inspired group of innovators beginning 20 years ago. Many of these visionaries are still carrying out and expanding our mission throughout Northern California, and are featured in this issue.
Evidence of the integration of our science and clinical care is depicted in the story about treatment for sarcoma. And in our story about cancer health disparities research and outreach, you will learn about our ever-broadening efforts to make sure all populations benefit from life-saving cancer screenings so that everyone has the best hope for a cure.
As the NCI has certified, we have come a long way since we opened our doors more than 20 years ago. Our commitment is stronger than ever to comprehensively move the science forward to benefit our patients and break barriers to beat cancer.
We hope you enjoy this issue of Synthesis. And we invite you to send your comments, thoughts or suggestions to the editor at Dorsey.Griffith@ucdmc.ucdavis.edu.
Ralph de Vere White
Director, UC Davis Comprehensive Cancer Center
Associate Dean for Cancer Programs
Distinguished Professor, Department of Urology