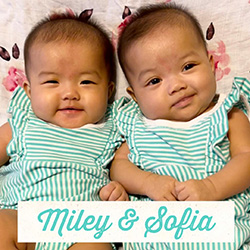 "I had complications during my pregnancy and my care was transferred to UC Davis. I was diagnosed with placenta accreta and placenta previa. On top of that, I was having twins. My twins and I were facing some serious health issues, but the doctors were great at keeping me educated and informed. If the doctors weren't as diligent as they were with my pregnancy, I probably wouldn't be alive and I could have possibly lost my daughter, too.
I gave birth to my daughters via emergency cesarean at 31 weeks. Almost two weeks later, my daughter Sofia developed necrotizing enterocolitis (NEC). It was a scary and difficult time for our family. The staff tried their best to help educate us on Sofia's health issues, and still giving excellent care to her sister, Miley. They were all compassionate, caring, and never too busy to answer our questions. Miley got to go home after three weeks from the NICU. Sofia continued her hospitalization. When we called or visited, they never delayed giving us updates and support.
After Sofia's surgeries were successful, it was time to move her from the NICU to the pediatric floor. We were nervous about it. In the NICU, she always had a nurse by her side. When she would get moved to the pediatric floor, we knew she would not have that luxury. Because they knew we were so uneasy about her move, they placed her right in front of the nurses' station. It was reassuring for me and her father knowing someone would always be aware of her needs because they could see and hear her when we were not able to be at her bedside. We ended up liking the pediatric staff a lot and we were able to spend nights with Sofia, which was a plus.
We live an hour away from UC Davis Medical Center, so it was not always feasible for us to visit. They really helped us feel at ease knowing our child would be cared for by calling us every day to give us updates on her progress or just to say "she's having a good day." To receive timely updates, I also used MyChart. I love using MyChart and the staff documented everything in such great detail that I never felt lost in the process with my medical care or my daughter's medical care.
Sofia ended up being hospitalized for five months. When it was finally time to go home, they provided us with as much education as possible in order to safely care for her at home. Even so, Sofia's journey is not quite over. Since going home, she has returned to the hospital twice. Every time we have gone back, we are welcomed with open arms of concern, compassion, patience and tender care.
We are and will continue to be so grateful for the way UC Davis staff have taken care of us and we believe they will continue to provide phenomenal care for us and others in the future. We are so happy to be able to share our story."
– Testimonial submitted by Youa Her, mother of Miley and Sofia Yang