Medical center kitchen team prepares meals for people experiencing homelessness
UC Davis Health donates daily food service to WellSpace Health care transition center
(SACRAMENTO)
The nutritious, award-winning meals enjoyed by UC Davis Medical Center patients are now being served at a local nonprofit health care center to people who are experiencing homelessness.
The daily meal service is provided by UC Davis Health at no cost to the newly opened WellSpace Health Gregory Bunker Care Transitions Center of Excellence. The building is a dormitory-like setting in South Sacramento where people experiencing homelessness recover from illness after being discharged from area hospitals.
About 15,000 meals have been provided since the service began in March.
The arrangement is yet another facet of UC Davis Health's longstanding commitment to improving the health of the community. WellSpace Health is a rapidly growing Federally Qualified Health Center that runs a network of facilities that provide integrated care to underserved populations in and around Sacramento.
UC Davis Health, Sutter Health, Dignity Health and Kaiser Permanente have supported WellSpace for years, particularly its interim care program, which coordinates the placement of people who are homeless and need additional care after leaving the hospital.
The program had operated in homeless shelters and transitioned this spring to a new, stand-alone site on Stockton Boulevard with dozens of beds.
Collectively, in just the past few years, the four major health systems have contributed more than $14 million to support both the former interim care program and now the new Gregory Bunker Care Transitions Center.
Meal service saves WellSpace Health at least $1 million annually
During planning for the Bunker Center, UC Davis Health leaders offered to prepare and deliver three meals a day, seven days a week, which saves WellSpace at least $1 million a year in food costs alone.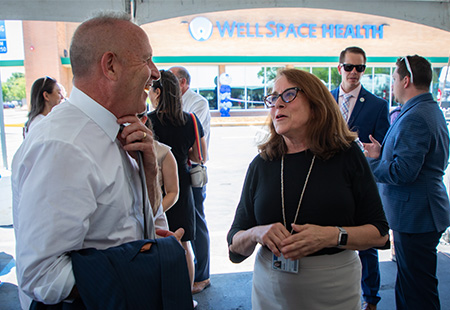 "By UC Davis being an expert in providing nutritious food to patients, it lets us focus our energies on what we do best," said WellSpace Health CEO Jonathan Porteus, "which is serving people in a care transition environment, the motivational work, therapy, engagement with health, behavioral health services (and) housing."
The food is prepared in the medical center's massive kitchen under the direction of Executive Chef Santana Diaz whose team embraces the farm-to-fork principle of purchasing food from local growers. UC Davis Health's hospital café has received a prestigious designation from The James Beard Foundation as a Smart Catch Leader in 2019 and 2020.
"Locally sourced food tends to retain its nutrients much better," said UC Davis Health CEO David Lubarsky. "Now we're going to be able to extend that great culinary capability to the care transition center where we can provide that same nutritious, wholesome, healthy, local food to those who are recovering in that center."
WellSpace Health clients eat the same meals served to medical center patients on any given day. Once the food is prepared, kitchen staff place it in warmers, then onto a truck for delivery at WellSpace Health, which is a short drive from the hospital.
The food is then transferred into WellSpace Health's own warmers and served hot on cafeteria trays.
Because the service is run similarly to a catering operation, WellSpace Health doesn't have to equip a full kitchen or hire workers beyond a chef.
Last week, representatives of the four major health care systems, elected officials, WellSpace Health leaders and community members gathered under a big tent to celebrate the opening of the Gregory Bunker Care Transition Center.
Susan Murin, interim dean of the UC Davis School of Medicine, received applause from the audience of more than 100 people as she announced that Bunker Center clients are treated to the same healthy cuisine that hospital patients, employees and visitors eat daily.
"We are the first hospital in the country to receive a James Beard Award," she said, proudly.