Point of View: A Message from Fiona Scott, MD'18, PGY2
Greetings Fellow Alumni,
Gosh, it feels so good—albeit a little strange to say that. Even though I graduated medical school 1 year ago, I'm not sure it has quite sunk in that I am a School of Medicine alumna. My diploma is still unframed on my desk, barely rescued from this mornings spilled coffee. In the middle of the night, I sometimes wake up and check it's still there, all of this really happened, and it wasn't just a dream. I really did finish medical school.
I am now an anesthesia resident here at Davis, fresh from my intern year (which is why I haven't written for a while). Intern year does tend to keep one busy with rounds, orders and constant, incessant pages. Nothing gives me as much hope as seeing people like you. People who have made it. On my last day of intern year, a hospital employee asked me when I was going to become a real doctor. "I'm not sure," I told her, which is my very honest answer. So I look to you, my fellow UC Davis SOM graduates, people who have survived grueling and often thankless training, you warriors who show up for patients and their families on their worst days in spite of insurance companies and health care politics. You are the ones who have become real.
As a new alumna, I can't tell you how wonderful it has been to meet some of you in person. Thank you for reminding us there is an end in sight to our training, and that you've come out of it the other side. Maybe a little worse for wear, but a whole lot wiser. I hope you'll enjoy this post about living well in the hospital. My hope is that you may think back to the long days you spent "residing" within hospital walls.
Cheers,
Fi
HOUSE RULES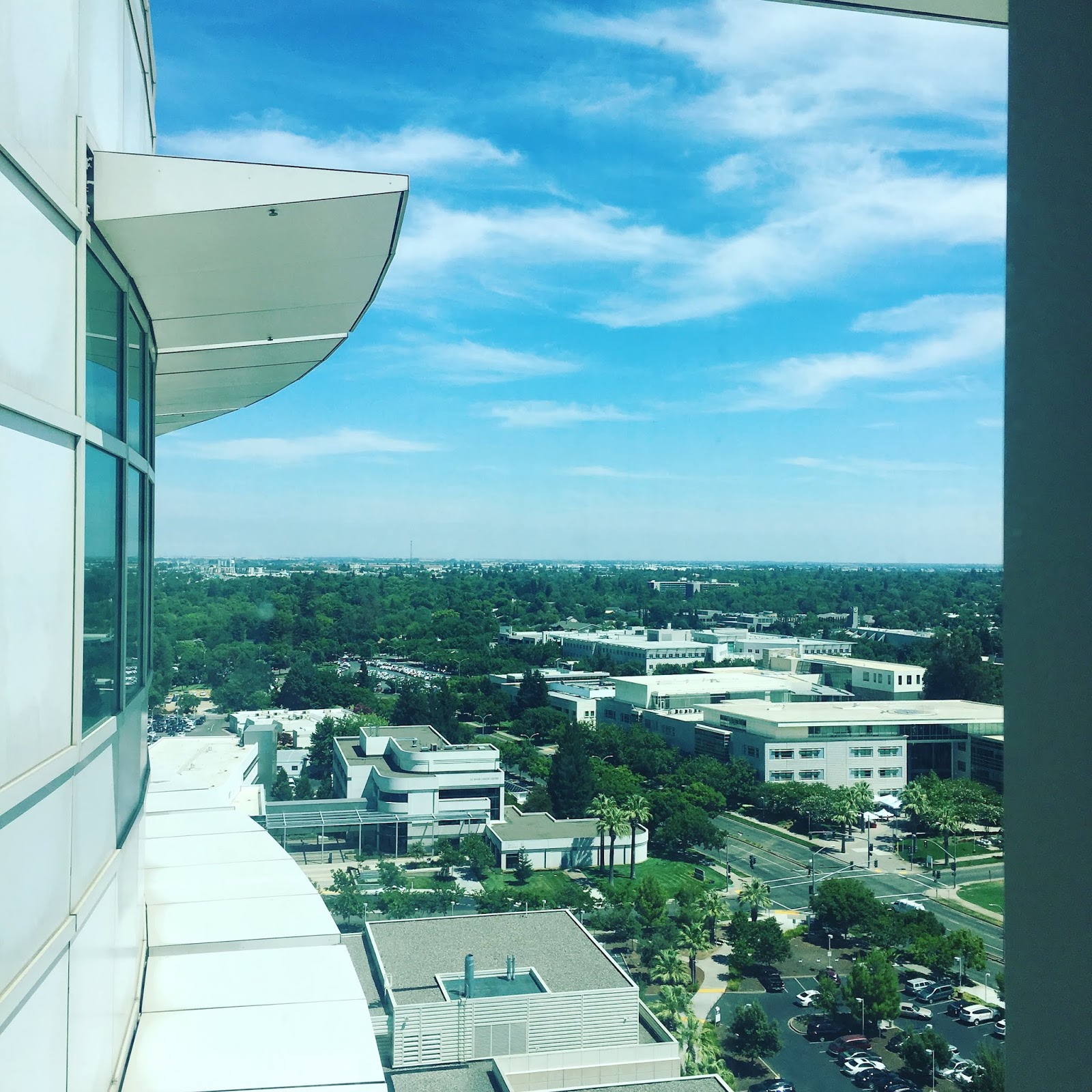 I've taken Karyn hostage in the elevator.
"We're going to the 14th floor," I tell her. And I slam my fist on the button before anyone else from the lunch time rush can join us.
"I knew you were going to do that," she quips. "I could see it in your eyes."
"I don't know what you mean," I say
Our banter stops as the elevator doors open. The hallway is golden with the sunlight streaming in. It's so quiet up here.
We look out the huge windows lining the hallway. You can see all the way to downtown, the Ziggurat, miles of trees and endless, sun drenched sky.
I am reminded of when we were first-year medical students. We had a trivia night in one of the lecture halls and one of the questions was, "Sacramento is the city of ______."
My dear friend Lawrence exclaimed, "Trains! Sacramento is the city of trains!" No one really had the heart to break it to him that Sacramento is, in fact, the city of trees—it just doesn't seem like it if you happen to live in the four blocks surrounding the med center.
"We should go," Karyn says pulling my arm.
"Just one more minute," I beg, knowing full well its only a matter of minutes before one of the five pagers we are carrying between us goes off.
Pro tip—the more pagers you have the tighter you have to tie your scrub pants in a vice grip. Also, if I had to choose between losing my pants or losing my notes before rounds... Well, let's just say I know all of the places to get new pants in the hospital.
Moments to catch our breath are desperately difficult to come by in the hospital in general and the ICU in particular. That's why we have to eek them out of our 13 hour days.
So much chaos. So many things that beep. Incessant beeping.
During a quick "lunch" in the courtyard--or, as I like to think of it, 'see how fast the interns can shove food in their mouths before their pagers go off again' meal--one of the residents said, "I'm just going to pretend we're at lunch."
"We are at lunch" someone else said.
"No, I know we are," he replied, "I mean out to lunch, we're are just a group of friends, who decided to go out to lunch and we're at a cute little café along the French Riviera."
And every lunch since then we've taken turns dreaming up where we are. We've been to Greece, a swim up bar in Costa Rica, the Point Reyes lighthouse and someone's grandparent's backyard—complete with hammock and croquet of course.
Moments of joy, reflection and escape help us get through the long days.
One early morning, at the crack of dawn (or as Karyn corrects me—well before the crack of dawn), my co-anesthesia intern asks me if I have a song I play in the morning to "get pumped."
Duh. Walking on Broken Glass by Annie Lennox, and we play it on repeat in the work room.
They call us residents for a reason. We live here now. And while we care for the lives of patients within this building, we also care for the lives of each other.
And we must find those rare moments to live well within these walls.
Race you to the 14th floor.