New book provides guidance with lower extremity repairs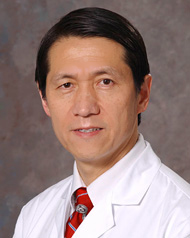 Lee L. Q. Pu, a UC Davis professor of surgery, is the leading editor of a new comprehensive textbook in plastic surgery titled Atlas of Contemporary Aesthetic Breast Surgery: A Comprehensive Approach.
Intended to help physicians confronted by challenging lower extremity deformities and conditions, the two-volume text covers surgical treatment techniques and case examples in a practical, easy-to-access format.
Some of the topics covered in the book's 80 chapters include:
Imaging studies for preoperative evaluation
Major nerve injuries
Composite bony tissue defects
Psychosocial impact of lower-extremity disfigurement
Chronic osteomyelitis
Vascular anomalies
Congenital pseudarthrosis
Combat and other traumatic injuries
Pu is a plastic surgeon who specializes in complex soft tissue reconstruction and cosmetic surgery. His research focuses on techniques for preserving adipose tissues, improving fat grafting options and applying stem cell technologies in reconstructive surgery.
The new text includes two educational DVDs and is published by Quality Medical Publishing. For purchasing information, visit CRC Press.