UC Davis plastic surgeon testing high-tech camera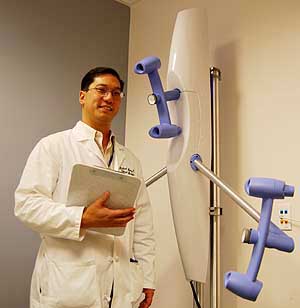 Dr. Michael Wong standing alongside his 3-D camera.
In the world of surgery, precision is as important as patient safety. For Michael Wong, enhancing outcomes and providing a better surgical experience for patients is the reason he's assessing a new high-tech camera that offers three-dimensional imaging. An associate professor of plastic surgery, Wong recently began using the camera mainly with breast reconstruction and augmentation patients to gauge its usefulness and level of patient satisfaction.
People want to know what they might look like after plastic surgery," said Wong. "This technology may be a good addition to, or even replace, the use of sports bras and sizers to help patients visualize their surgical outcomes. It may also be a useful addition in the operating room to help the surgeon choose the most appropriate breast implant."
The device, with its praying mantis-like arms and multiple lenses, works by taking a series of photos simultaneously from different angles and using computer software to merge these multiple images into a three-dimensional rendering of the breasts. The camera aims to provide both patient and surgeon with highly realistic simulations of various implant sizes and shapes.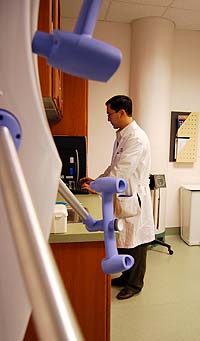 Wong reviews a 3-D breast image on his computer.
With the nation's plastic surgeons performing nearly 350,000 cosmetic augmentation procedures last year, in addition to approximately 57,000 breast reconstruction surgeries in cases of disease and injury, the demand for this type of medical information is on the rise. Wong says 3-D pictures help create more realistic expectations of surgical outcomes and more satisfied patients.
"So far, patients seem to really appreciate the technology," said Wong. "The camera provides a great way for patients to visualize the differences between each breast in terms of shape, size and nipple position. A patient who can see the changes prior to surgery better appreciates the results afterwards and will be much more satisfied."
To more rigorously assess its value as a surgical tool, Wong recently began a clinical trial using the new camera. He also says it may eventually be used in cases involving patients who have lost significant amounts of weight following bariatric surgery. With the development of new tools, the 3-D images may allow surgeons to more accurately evaluate the volume of excess tissue in one area of the body so they can better estimate the tissue volumes available for reconstruction of other areas.
"When patients lose weight, they don't just lose it in the front," said Wong, "They lose it all the way around. That excess tissue from a patient's upper body could be used in a breast lift procedure to restore volume lost with weight loss."
Patients interested in breast surgery and the new 3-D camera should call the Plastic Surgery clinic at
916-734-7844 for more information or an appointment.