Our Mission
"Lead in conceptualizing and building Precision Medicine, and promoting innovations in health care quality, value, and patient experience to improve human health" - Dr. Frederick J. Meyers

What is Precision Medicine?
Precision medicine and precision public health is a multi-dimensional approach that takes advantage of the many individualized advances of the past few decades and synthesizes a new paradigm, a new model that will be the driving research link to clinical excellence, that more rapidly improves healthcare quality and value. Precision Medicine is a revolutionary new paradigm advancing health and wellness, knowledge, and health care delivery to maximize the quality of life for all over a lifetime. It brings together innovations in genomics, metabolomics, mobile health, biomedical data sciences, imaging, social engagement and networking, communication, and environmental sciences to make diagnostics, therapeutics, and prevention more individualized, proactive, predictive, and precise.
More than any other academic institution, UC Davis is poised to be a global leader in Precision Medicine. We not only focus on Precision Medicine, but also on Precision Public Health. This includes building collaborative, interdisciplinary teams and using new tools and data sources to maximize individual and population health and well-being. These highly inclusive teams would involve providers, members of the communities we serve, and other domain experts (e.g., environmental experts, urban planners, data scientists, etc.). With these teams we are increasingly capable of providing highly specialized care to patients and to solve pressing problems in public health. Another goal is to deliver empathetic and relationship-based care across the lifespan of the patient and throughout the community, utilizing the diverse skills and expertise of transdisciplinary teams. Finally, we aim to reflect core values of equity, compassion, and respect using strong ethical principles in treatment decisions.
At UC Davis, we have developed a unique model of highlighting the various domains to understand the populations we serve: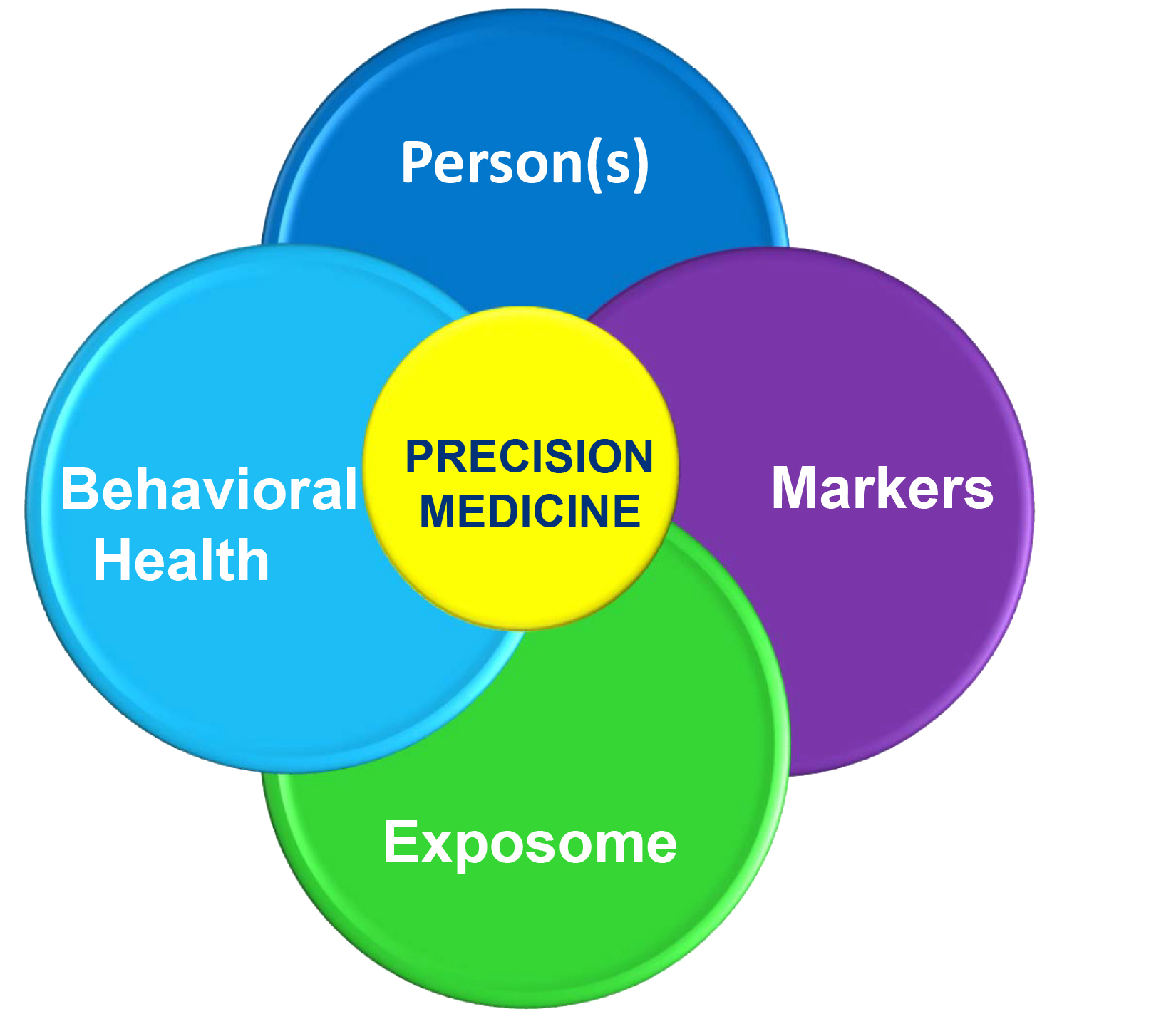 Person(s) – These are the people we serve, the patients, the population. We look at factors which include gender, age, and demographic data from our electronic health record.
Markers – We focus on the Markers of health and illness. These can include the genetics, genomics, metabolomics, phenomics, pharmacogenomics, and other –omic platforms.
Environment – We focus on the environmental influences on persons and populations. We look at the internal environment (the microbiome; the gut/brain interaction) and the external environment (zip codes; socio-economic factors; agriculture, food quality and diet).
Behavioral Health – We focus on behavioral issues, which can affect the persons and populations. These can include factors like exercise, self-care, addiction, anxiety, and numerous life choices.
At its core, Precision Medicine is the intersection between persons, their environment, and the changes in their markers of health and illness, social and behavioral factors over time. Our goal is to unite our breadth of expertise to make individual and population health more proactive, predictive and precise, to empower individuals and communities as partners in their own wellness, and to train the next generation of data-fluent and multi-disciplinary health professionals.
The Ultimate Team Science
We at UC Davis are committed to creating effective multidisciplinary teams by convening partners from all fields.
A perfect example of the multidisciplinary team approach would be NASA. At NASA, each different team of engineers and physicians work together to focus on the astronaut's safety. Like NASA, the teams we convene use their own unique skills to focus on creating the best preventative and treatment plans for the individual and community. In bringing together diverse disciplines and targeting a specific health problem by looking at it from multiple perspectives, we can make much more rapid and accurate advances in finding precise solutions.
Precisely Navigating Healthcare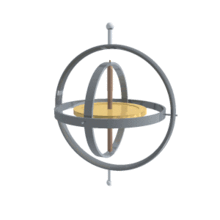 At UC Davis Precision Medicine, our goal is to not only convene teams, but to navigate through difficult, more complex challenges in health and health care. An ideal symbol for Precision Medicine is a gyroscope. A gyroscope is a remarkable instrument that helps with accurate and accelerated navigation, which is the essence of Precision Medicine. We aim to navigate through complex health problems accurately and with a trajectory faster than current practices. By bringing in multi-disciplinary teams focusing on a specific health problem, we can not only accurately provide prevention and treatment plans targeted to individuals and communities, but also focus on other factors like disparities, policy, and community health.
More Accurately Predicting the Future
At UC Davis we see Precision Medicine as predicting responses to therapy, thereby making it easier to choose effective therapies. With the use of Big Data, we can develop data sets based on multiple domains to assist us in creating a preventative treatment plan for individuals and communities. We aim to use these data sets to predict:
Risk to wellness
Risk to progression (prognosis)
Prediction of response or resistance to therapy
At UC Davis, our goals for Precision Medicine are as follows:
Unite UC Davis' and our partners' breadth of expertise to make individual and population health more proactive, predictive and precise. The teams are the Innovation.
Empower individuals and communities as partners in their own wellness. Dissemination of our model.
Train the next generation of data-fluent and multi-disciplinary professionals to maintain the Sustainability of our model.
Governance
At UC Davis we have a wide range of resources within our Institution, which makes us poised to be a global leader in Precision Medicine. We have unique resources that include our Level 1 Trauma Center, the UC Davis Comprehensive Cancer Center, School of Veterinary Medicine, California National Primate Research Center, Mouse Biology Program, robust community outreach programs reaching out to various communities, Global Health program, and proximity to the California State Capital, to name a few.