Outreach: Younger cancer patients face higher hurdles for healing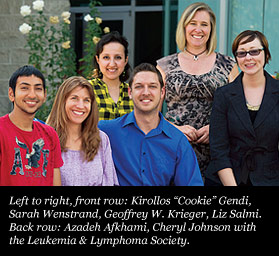 "It makes it much easier to know that there is someone out there who you can lean on for support – who themselves have been faced with a similar experience
or challenge."

~ Azadeh Afkhami
It is a time for hubris, adventure, maybe even rebellion. So how does a cancer diagnosis fit into this period of life? Not well, according to researchers, patients and the health-care professionals who treat young adult cancer patients.
Adolescent and young adult (AYA) cancer patients – those between ages 15 and 39 – have shown little or no improvement in cancer survival rates for several decades, even while other age groups have shown marked improvement. Researchers and health-care professionals theorize that several reasons contribute to the cancer-survival disparity, including late diagnosis, poor treatment compliance, the aggressiveness of cancer in patients in this age group and low health-insurance rates.
The lack of compliance often can be the most frustrating factor for physicians.
"It's tough enough to be a teenager and want to be independent, and then you have someone say, 'You have to take this medicine,'" says Jonathan Ducore, professor of clinical pediatrics, hematology/oncology and principal investigator for the Children's Oncology Group at UC Davis Cancer Center. "It's harder to make an 18-year-old take his meds than it is an 8-year-old."
People of this age also often feel invincible. The notion of mortality is alien – or at least something that applies to other, older people – not to them.
"They say – 'I don't want to take my medication,'" says Ducore. "We say, 'Well, if you don't take your medication you could die.' It's sort of like they shrug their shoulders, and you know that on a deeper level, they don't believe it. It's why they make such great soldiers – they think they are not going to get shot."
This period of life also is a time to explore one's sexuality, search for a partner and generally dive headlong into the dating world. Appearance is key to the mating dance, making AYA patients even more reluctant to comply with chemotherapy, which may cause hair loss, or to take medications that could cause unseemly bloating.
"Oftentimes the treatment means you are going to have a different feeling about your body or about sex," says Marlene von Friederichs-Fitzwater, assistant professor of hematology and oncology at UC Davis and director of outreach programs for UC Davis Cancer Center. "It's something they can't deal with, so they stop treatment."
How does the medical community turn the tide on these poor outcomes for AYA patients? Advocates such as von Friederichs-Fitzwater and others believe education and mentoring by other cancer survivors are key. The WeCARE! Peer Navigator Program, run by von Friederichs-Fitzwater, is a new program designed to link AYA cancer survivors with patients of similar age who are going through treatment.
"They will have a role model of someone who survived this," says von Friederichs-Fitzwater, who also serves on The LIVESTRONG Cancer Center Working Group of the Lance Armstrong Foundation, which is working with AYA patients and the general public to increase awareness of treatment and diagnosis challenges for this age group.
Azadeh Afkhami is an AYA cancer survivor who mentors cancer patients her age through the Peer Navigator program. She likes to send the message to others struggling through treatment that they can survive if they push through treatment and stick with it.
"It's scary to be faced with the challenge of having to go through cancer and even scarier to think you are all alone in this journey," says Afkhami. "It makes it much easier to know that there is someone out there who you can lean on for support – who themselves have faced a similar experience or challenge."
In addition to patient compliance problems, physicians, too, play a role. AYA cancer patients tend to be more frequently misdiagnosed or diagnosed late, possibly because doctors themselves don't want to believe that symptoms in an otherwise strong adolescent or young adult could be signs of cancer. In reality, adolescents and young adults represent 6 percent of all new cancer diagnoses each year, according to a landmark study on AYA cancer done in 2005–2006 by the Lance Armstrong Foundation and the National Cancer Institute.
"A lot of times, by the time the cancer gets diagnosed, it is stage IV," says von Friederichs-Fitzwater, who herself was diagnosed with cancer at age 38.
AYA patients also tend to wait longer to see a physician if they have unexplainable medical symptoms. Danny Cocke, 29, of Sacramento, did not get diagnosed with testicular cancer until it reached stage IV. He attributes the late diagnosis to the fact that he was young – 22 at the time it was diagnosed – and feeling somewhat invincible. He also was focused like a laser on his music career. The idea of a health problem, let alone cancer, never entered his mind. Horrific back pain ultimately sent him to the emergency room.
"I was in treatment the next day," Cocke says, adding that he remembers the emergency room physician telling him the cancer had spread throughout his body.
Ducore says that patients with cancer in this age group also tend to need more aggressive treatment. Compounding the problem is that this age group tends to suffer higher levels of toxicity from treatments (researchers aren't sure why), causing some physicians and patients to pull back on therapy. And since these young adults often have not yet had children, physicians need to proceed cautiously and weigh treatment outcomes with the risk of infertility.
"What might not sterilize a 6-year-old will sterilize a 16-year-old," says Ducore, adding that teenage girls who receive chest irradiation tend to have higher rates of breast cancer later in life. And while the risks must be weighed, Ducore stresses, the cancer still needs to be treated aggressively.
"Our experience is, if you push hard, you get cures," he adds.
On top of all this, AYA patients rarely opt to participate in clinical trials, as do younger pediatric patients and older adults, says von Friederichs-Fitzwater. Their reluctance robs them of the would-be benefits of new drugs and therapies, and potentially contribute to their poorer outcomes.
AYA patients also tend to be more mobile, making it difficult to track them after treatment, so there is less data on treatment outcomes.
One area of promise in treatment compliance for AYA patients is the development of smart phone applications that allow patients to test their blood for white blood cell counts or other data at home and send the data to a medical office to be read by professionals. These apps allow patients more autonomy and independence, so they don't have to trek into doctors' offices so frequently to have their blood work done.
Afkhami, for her part, advocates perseverance. "Sometimes we can be our own obstacle and hold ourselves back," she says, adding that her cancer battle gave her the kind of inner strength she hopes to pass on to others.