Welcome to the Winter 2019 edition of Synthesis magazine. This issue showcases some ways in which the work of the UC Davis Comprehensive Cancer Center extends well beyond the boundaries of our Sacramento campus.
In our cover story you will meet Butch Bromley, who lost his home, business and his cancer clinical trial medication in the Camp Fire last year in Paradise, California. Because of quick action by our extended network of cancer programs in communities around Northern California, Mr. Bromley kept his care and life-saving trial medication.
We also will take you to the beautiful Napa Valley, where we teamed with ZD Wines to produce the Crush Challenge, a bike riding, wine and food event that benefits our research through the deLeuze Family Charitable Foundation. The ride drew more than 50 UC Davis Health employees and patients, who rode up to 50 miles through the rolling hills to raise awareness and funds for the work of oncologist Joe Tuscano, who is working to find a non-toxic treatment for lymphoma.
We also update you here on a project that UC Davis researchers started in their laboratories in Davis and Sacramento and have now delivered to patients — the world's first total-body PET scanner. Called EXPLORER, the scanner already has helped doctors pinpoint cancer stage in dozens of patients and will soon be used in 11 different research studies.
EXPLORER and other UC Davis innovations require teamwork across disciplines — scientists and clinicians with the same goal: to improve outcomes for people with cancer. Check out the brief profiles of four of our young cancer scientists from distinct departments who are doing just that.
Finally, you will meet two of our patients whose cancer journeys have come with severe pain but who refuse to become dependent on addictive opioid drugs for relief. Pain specialist David Copenhaver is finding new ways to address cancer pain like theirs without prescribing excessive opioid medicines.
We hope you enjoy these stories in this issue of Synthesis. If you have suggestions for future editions, please contact our editor, Dorsey Griffith, at dgriffith@ucdavis.edu.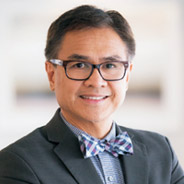 Primo "Lucky" Lara
Director, UC Davis Comprehensive Cancer Center