EXPLORER is unlike conventional PET scanners because it can scan the entire body in 3D simultaneously. Its first images stunned radiologists around the world. But how would EXPLORER work in the everyday practice of medicine? And what could EXPLORER do that no other PET scanner could?
Medical experts — from radiologists to oncologists and technologists — are beginning to find out.
The EXPLORER team at UC Davis Health already has scanned dozens of patients, most of whom have been diagnosed with cancer. They include Magdalena Gonzalez, who has large B-cell lymphoma, and Ms. Ebony Brown, who has breast cancer.
And they have 11 research projects in the pipeline — all designed to increase understanding about how to maximize the potential of EXPLORER to refine a diagnosis, track a disease course and monitor treatment effects. One study, launched this fall, brings over $3 million in National Cancer Institute funds to demonstrate how much better EXPLORER is at finding tumors in the body in comparison to a conventional PET scanner.
"We already have a wide range of research projects approved or under way," said Cherry, distinguished professor in the Department of Biomedical Engineering. "These cover a diverse number of disease areas including cancer, cardiovascular disease, liver disease and multi-organ inflammation, as well as studies in healthy, normal subjects that establish important baseline data on this new technology."
Magdalena Gonzalez, of Napa, is experiencing her second bout with cancer. She was treated for thyroid cancer nine years ago. During a tonsillectomy more recently, surgeons discovered she had another cancer, which turned out to be advanced B-cell lymphoma. The tumors were so large that they obstructed her airway and esophagus. Her UC Davis Health oncologist, Merin Stephen, thought Gonzalez might be a good candidate for EXPLORER to better stage her lymphoma and determine the best course of treatment.
"We will have to see how this develops in different diseases, but it's likely to be more sensitive and specific," Stephen said of EXPLORER's potential. "I am excited about what I think is going to be a higher-quality imaging study."
Gonzalez, a 49-year-old mother of seven, became the first clinical patient in the world to be scanned on EXPLORER at the new EXPLORER Molecular Imaging Center on Folsom Blvd. in Sacramento. Badawi, professor and vice-chair for research in the Department of Radiology, and chief of nuclear medicine, was there to meet her. "I hope this will find out what is going on with me," Gonzalez told him in Spanish before the start of the scan. "I am happy I was selected for this experience."
EXPLORER also produces much higher-quality images, allowing physicians to see smaller tumors and other diseases earlier in the development process. It can be set to run much faster than conventional scanners, which can make it more tolerable and comfortable than conventional PET scanners for patients, especially young children who have trouble lying still. Or it can be set up to use much less radiation, which is safer, especially for children and for research participants who may need numerous scans over time.
Brown, 44, was diagnosed with breast cancer in 2016. The mother of four had a lumpectomy and surgery to remove 20 lymph nodes, plus chemotherapy and radiation treatment. But during chemotherapy treatment doctors found something new under her arm. A biopsy suggested it was more cancer, and her doctors recommended more surgery. She rejected the idea, fearing likely side effects. She opted instead for radiation treatment and continued drug treatment, including immunotherapy.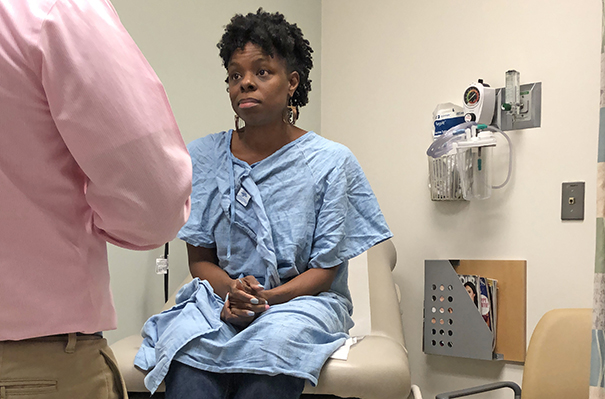 A subsequent PET scan in February 2019 appeared to show that the radiation treatment had worked, but was not definitive. When the time came for another PET scan, in September, her oncologist thought she'd be a good candidate for EXPLORER.
While Brown's 13-year-old son, Mekaiah, played video games in the lobby, she had her scan. Technologists gave her a dose of a radioactive drug that circulated throughout her body for 50 minutes. She was then led into the EXPLORER imaging room, where she lay on the scanner bed quietly for 20 minutes while it worked to find signals of potential tumors in her body. The scan was repeated later in the hour.
Within two days, Brown had her results. Lorenzo Nardo, a radiologist, said the new scan gave her and her doctors the news they'd hoped for.
"This is a much clearer image," Nardo said. "We can say with 99% certainty that this is negative for cancer."
Nardo stressed that because EXPLORER is so sensitive, it also can pick up artifacts that may not be cancer at all, a common problem with any advanced imaging system. But he said the department works with oncologists and other specialists to make sure that patients undergo additional studies to confirm or rule out a false positive result.
"I feel really good," Brown said afterward. "I am terribly relieved."
The scan for Gonzalez, EXPLORER's first patient, showed several tumors in her neck. Based on the results her oncologist determined that her disease was at stage II, meaning that it had not spread to distant organs.
Gonzalez is now undergoing chemotherapy for the lymphoma and also may have radiation treatment.
Stephen reported that the treatment already seemed to be working because the lymph nodes had shrunk. And the patient's outlook? "The aim is cure," she said.