Department of Biomedical Engineering
Emilie Roncali, associate project scientist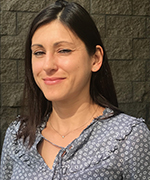 Emilie Roncali was fresh out of her Ph.D. training in biomedical engineering in Gif-sur-Yvette, France, when she attended a conference in the coastal city of Nice. Simon Cherry, a renowned biomedical engineer at UC Davis, happened to be at the podium talking about the very same thing she'd been working on: fluorescence imaging for small animals.
"I didn't know him," she said of that day in 2009. "I didn't have an agenda. I just wanted to ask my question."
Her question, about optical tomography profiling, led to a postdoctoral position in Cherry's lab, working on a new kind of silicon photomultiplier that would replace old detectors in all PET scanners.
Roncali now works on developing a tool to help plan internal radiation therapy for cancer patients. Working with colleagues in interventional radiology at the medical center, she obtains angiographic images from liver cancer patients who will receive a radiation dose injected through a special catheter. She then applies her modeling technique to see where the radiation dose will be delivered and how it will be distributed. These patients then have a PET scan to study whether the treatment reached its target. She is using this kind of work to help physicians plan radiation treatment.
"The field of radionuclide therapy is exploding," she said. "So is the imaging that is required to do it. The approach can improve a patient's quality of life, preserve liver function, lower the toxicity of treatment and deliver a higher dose of radiation to the tumor because it's more targeted."
Roncali enjoys working at the intersection of so many disciplines. "UC Davis has everything — engineering, a hospital, a research-oriented radiology department, medical school and cancer center," she said. "You don't find that in many places."
---
Clinical Dermatology and Pathology
Maija Kiuru, assistant professor of clinical dermatology and pathology
Maija Kiuru was working in a laboratory and on her Ph.D. dissertation at the University of Helsinki in her native Finland when the team with which she was working made a groundbreaking discovery: a gene mutation that causes a rare form of familial kidney cancer, along with growths on the skin and in the uterus. The syndrome had never been described before.
"The work by us and other scientists enabled genetic testing, genetic counseling and tumor screening in the affected patients and their family members, making a difference in the lives of these individuals and families," said Kiuru.
A dermatologist and dermatopathologist at UC Davis, where she has served as an assistant professor of clinical dermatology and pathology since 2014, Kiuru now focuses on familial skin diseases and cancer, including melanoma. Melanoma is the deadliest of the common skin cancers, and its incidence is increasing in the U.S. She hopes to clarify why some moles such as melanocytic nevi — growths or spots on the skin that are typically brown — turn into melanoma. She also hopes to find markers of early melanoma to help improve the outcomes of patients diagnosed with this disease.
Kiuru, who grew up 100 miles from the Arctic Circle, moved to the U.S. in 2005 after completing her M.D.-Ph.D. degree at the University of Helsinki. She did her dermatology residency at Cornell University, her dermatopathology fellowship at Memorial Sloan Kettering Cancer Center and her postdoctoral research fellowship training at Columbia University.
---
Molecular Biology
Janai Carr-Ascher, assistant professor of molecular biology
Janai Carr-Ascher was educated and did research in the fields of breast and prostate cancers. But it was the challenges presented by the lesser-known sarcoma that sparked what would become her passion.
"Both breast cancer and prostate cancer are very common, and a lot of research went into studying them," she said. "The same can't be said about sarcoma, and, we don't have a good way of studying it."
An assistant professor of medicine in the Division of Hematology/Oncology and part of the Cancer Center's molecular biology group, Carr-Ascher is focused on developing models that represent sarcoma so scientists can better understand how the disease works and clinicians can have more options to treat it.
The sarcoma field has very limited mouse models and patient samples needed to study the disease. The animal models don't well match the disease in humans.
"I want to understand the cell mechanisms of sarcoma, how it develops and what pushes it to continue growing," she said.
Carr-Ascher began to focus on sarcoma during her residency at UC San Francisco when she realized that most sarcoma patients are young and otherwise healthy people who suddenly face a very aggressive disease.
Every year, sarcoma affects an estimated 12,000 new patients in the U.S., compared to 150,000 breast cancer cases. It is believed to arise from connective tissues such as smooth muscles or fat cells. The field of sarcoma research has been slow to develop because there are about 70 to 90 different types of the disease, making research more challenging.
Carr-Ascher is a basic scientist whose work is driven by molecular biology. She starts with the cells that might give rise to sarcoma and then tries to turn them into sarcoma as a means of understanding the disease better so that ultimately, new treatments can be developed against it.
Carr-Ascher grew up in California's Central Valley and studied general biology at UC San Diego. She then attended the University of Illinois at Chicago for the Medical Scientist Training Program, in which she focused on researching and understanding aggressive breast cancers. Later, Carr-Ascher took a hematology oncology fellowship at UCLA studying prostate cancer. She joined UC Davis in September 2019.
---
Department of Microbiology and Molecular Genetics
Jacqueline Barlow, assistant professor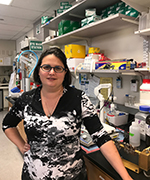 Growing up in Texas, Jacqueline Barlow had a lot of questions about what she saw in the world around her. "How do things grow?" she wondered. "Why do insects act that way?" In college, her curiosity led her to a summer research program at Baylor University where she studied factors influencing fertility in mice.
But it was the publication of the human genome in the journal Nature in 2001 when Barlow was just 22 that set her scientific heart afire. She was working for Nature Biotechnology journal at the time.
"I knew it was a big deal because they brought crates of the Nature issue into the office and passed them out to everybody. I didn't know much, but I knew enough to understand that this changed everything. That's why I wanted to study genetics."
In Barlow's lab at UC Davis, where she's been since 2014, she and her team study DNA, the blueprint of all living things that, when damaged, can lead to cancer. Barlow wants to know how a person can keep their DNA healthy.
"There's wear and tear on DNA just like with anything else. No matter what we do, it will get damaged from use or lack of use," she said. "How does it get maintained?"
One focus of her laboratory's scientific inquiry is understanding why cells become damaged and the consequences of that damage. In particular, the scientists want to know how chromosomes glue themselves together in abnormal ways, which can lead to cell death or the formation of tumors, both harmless and cancerous.
"Why does a cell turn into cancer vs. dying or turning into a benign cell?" she asked. "How does that occur? Is it random bad luck from the gene it affects? Or are there other things involved in DNA repair to make that happen? Can we find a way to tell the cells to choose another pathway?"
Barlow is still asking the big questions and working hard every day looking for answers so that fewer people get cancer and those who do can live better, longer lives.