When granted their wishes, Carlo Sandoval and Saul Dominguez opted to give them away — Saul to the Cancer Center and Carlo to the UC Davis MIND Institute — to help make the lives of other children better.
Carlo's Calming Station
Thanks to Carlo's wish to help kids with autism, the UC Davis MIND Institute obtained a calming station valued at more than $5,000. This sensory-friendly machine helps kids cope with difficult procedures like blood draws and is great for patients of all ages — from infancy through adulthood — who have developmental disabilities.
"I burst into tears because I was so proud," said Carlo's mom, Rhonda Sandoval, of her son's decision to fulfill a longtime wish of the MIND Institute — instead of taking one for himself.
The calming station is used in clinic waiting areas, quiet spaces throughout the building, and at Family Time at the MIND events. It has the potential to reach thousands of patients and families annually.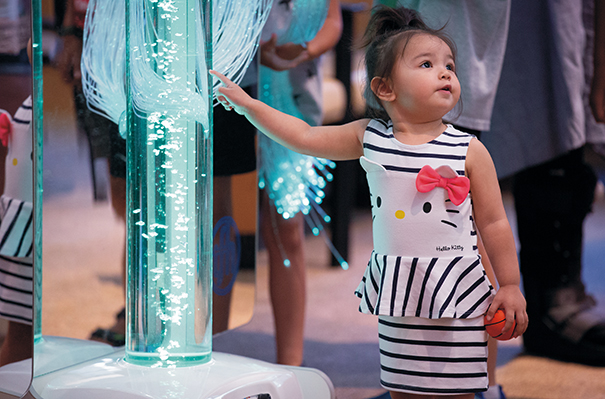 "We are so thankful for this gift," said Leonard Abbeduto, director of the MIND Institute. "The generosity of this young man and his commitment to help others is truly inspirational. He's a role model for all of us."
The calming station features durable, hospital-grade material and long-lasting, non-breakable mirrors that create interesting illusions, a bubble-producing tube that changes colors, 100 fiber-optic strands for braiding and other play, an aromatherapy diffuser, a projector that can display a variety of realistic and abstract scenes, and an MP3 compatible stereo.
"Every child and parent is mesmerized by it," said Erin Roseborough, a child life specialist at the MIND Institute. "We've used the calming station almost hourly since it was first unveiled."
Carlo, 16, has overcome many obstacles in life. The youngest among 11 siblings, he was diagnosed with autism and cerebral palsy as a child, and in May 2018 was diagnosed with acute lymphoblastic leukemia. Despite these hardships, he chooses to focus on others and shies away from the spotlight.
"One year, he asked for money for his birthday," Rhonda Sandoval said. "He used it to purchase socks and pizza for the homeless."
Carlo's gift, known as Carlo's Calming Station, is significant to his entire family. He has six nieces and nephews, one of whom has autism.
"A mom shared with me that the calming station completely changed her son's experience in the clinic," Roseborough said. "She was touched and grateful for Carlo's donation."
Carlo credits his parents for inspiring his own generosity because they are active volunteers in their community. He hopes to volunteer at the MIND Institute when he finishes treatment and his immune system is strong.
"This is Carlo's character. This is who he is," Rhonda Sandoval said. "Cancer hasn't changed that."
Helping fellow patients
"I felt like I could always do something for myself another time," said Saul, 19, about paying it forward with his wish. "It was an opportunity to do something good that I wouldn't be able to do alone. It felt like the right thing to do."
Thanks to his selfless act, the waiting area in the Pediatric Infusion Center, where Saul and his family spent countless hours, received $8,000 worth of items including two literature racks; a "Meet Your Team" board with physician, nurse and staff photos; a touch table pre-loaded with puzzles and games; a mobile device charging station; and a security box to safely store gaming equipment.
"The upgrades have made a huge impact on the dozens of patients and families who come through every day," said Jenny Belke, a child life specialist at the Cancer Center. "Children have more opportunities for entertainment and socialization during long waits."
UC Davis Health surgical oncologist Steven Thorpe and musculoskeletal radiologist Dillon Chen diagnosed Saul in February 2018 with a non-cancerous giant cell tumor in his left hip. He received infusion therapy to stop the tumor from growing and to help preserve his hip joint. UC Davis Health pediatric oncologists Noriko Satake and Marcio Malogolowkin treated Saul in the Pediatric Infusion Center every two weeks for three months.
As Saul continued on his medical journey, Satake encouraged him to apply to Make-A-Wish. She was thrilled to hear his good news and inspired by his generosity.
The infusion treatment worked, allowing surgery to move forward. The complex procedure required surgeon Holly Leshikar to carefully dislocate Saul's hip so that Thorpe could successfully remove the aggressive tumor. Still, the treatment left its mark on Saul's body. He walks slower than before and gets physical therapy to improve his mobility.
Saul admits his experience was hard both physically and mentally.
"But I'm really stubborn," he said, a personality trait that got him through surgery and helped him graduate from high school while working two part-time jobs. "I try to make the most of life."