Laura Fejerman – Co-director of LUCHA Initiative and co-director of the Women's Cancer Care Program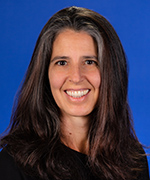 Laura Fejerman focuses research on genetic and non-genetic factors contributing to breast cancer risk and prognosis in Latinas. Her past work established a relationship between genetic ancestry and breast cancer risk, in which U.S. and Mexican Latinas with more European ancestors were at increased risk of breast cancer as compared to women with more Indigenous American ancestors.
Fejerman earned her doctorate in biological anthropology and master's in human biology at the University of Oxford, England. She completed her undergraduate degree in social anthropology at the University of Buenos Aires, Argentina.
Originally from Buenos Aires, Fejerman left Argentina in 1998 to study in England. She and her husband, a fellow Argentine, have two teenagers. Her husband is a political economy professor at UC Berkeley.
---
Shehnaz Hussain – Associate director of population sciences

Shehnaz Hussain's research explores the intersection of infection and cancer. As a molecular epidemiologist, she looks at public health impacts while researching cancer etiology, pathogenesis, chemoprevention and early detection.
Her current research examines the disease continuum from non-alcoholic fatty liver disease to liver cancer. She is focusing on the potential biological basis for disparities in liver cancer, which disproportionately affects Latinos.
Hussain earned a master's in epidemiology from Johns Hopkins University and a doctorate in epidemiology from the University of Washington. She completed a first postdoctoral fellowship in genetic epidemiology at the Karolinska Institute in Sweden and a second fellowship in cancer prevention and control at UCLA.
Along with science, Hussain enjoys outdoor adventuring with her two young sons and her husband, an emergency room physician.