Prestigious young investigator award
Sepideh Gholami, M.D., F.A.C.S.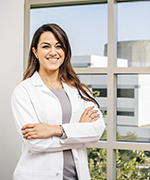 UC Davis Health surgeon and cancer researcher Sepideh Gholami was recently honored with the 2020 Society of Surgical Oncologists Young Investigator Award, which was created in 2016 to promote translational research, bringing new discoveries from scientific labs to clinic settings. Gholami is the fifth person to receive the award.
The $25,000 grant will provide seed funding to support the assistant professor of surgery's innovative efforts to improve cancer care. Gholami investigates new tools to treat patients with metastatic colorectal and liver cancer.
By studying the body's immune response to tumors, she hopes to develop more effective immunotherapeutic strategies.
Gholami says she is honored to receive the award and is grateful to Steven George, UC Davis professor and chair of biomedical engineering, and many others who were instrumental in advancing this critical research.
"I'm very excited about this project and tremendously grateful of my mentors, who have expertise in bioengineering, immunology, molecular biology and surgical oncology," she said. "One of the unique aspects about this research experience is that we truly work as a team and learn from each other's experience and perspective."
Gholami says she finds that by using this multidisciplinary approach, the UC Davis team's research is providing the most comprehensive approach for the best patient outcomes.
---
Advancing pancreatic cancer treatments while taking new leadership role
Julie Sutcliffe, Ph.D.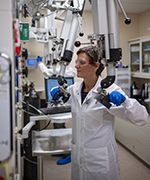 Professor of Biomedical Engineering and Hematology/Oncology Julie Sutcliffe is making a difference in the pancreatic cancer fight while taking a new leadership role in the molecular imaging field.
As part of its New Therapies Challenge Grants program, the Pancreatic Cancer Collective awarded her research team up to $4 million in additional funding to support their work on peptide receptor radionuclide therapy (PRRT). The team is co-led by Richard Bold, physician in-chief of the UC Davis Comprehensive Cancer Center. This new grant builds on a previous $1 million grant from the Collective.
To advance their PRRT work, the research team developed two peptides (pieces of proteins) that focus on αvβ6, a cell surface receptor commonly found in pancreatic cancer cells, and deliver radioactive isotopes to the tumor. One peptide/isotope combination helps identify the patients who are most likely to benefit from PRRT. The other is designed to help kill tumor cells. Promising preclinical results led to the second grant, which is supporting an early-stage human clinical trial to test safety and efficacy.
In another recognition of her cancer research leadership, Sutcliffe was elected 2020 president of the World Molecular Imaging Society (WMIS). As president, she is working to strengthen alliances between academia and industry, improve education, and engage patients and advocates to help scientists better understand the issues they face.
"It's an honor to be elected president of WMIS," said Sutcliffe. "I'm excited to work with all stakeholders to advance our field."
---
Hyundai Hope On Wheels grant to study childhood cancer
Elysia Alvarez, M.D., M.P.H.

Elysia Alvarez, assistant professor of clinical pediatrics, received a $50,000 Hyundai Hope On Wheels grant to advance her work with childhood cancer. Alvarez seeks to understand how the facilities where pediatric cancer patients receive care affect their survival. Because care location can be changed, this research could have a profound impact on cancer care.
Specifically, Alvarez is studying whether a group of pediatric and young adult patients receiving care at specialized cancer centers have better outcomes. Her initial work focused on patients with rare non-rhabdomyosarcoma soft-tissue sarcomas.
Alvarez's efforts provide important data to better understand how care disparities affect survival, particularly in cancers that require complex care, such as non-Hodgkin's lymphoma and acute myeloid leukemia.
In addition to this study, support from Hyundai Hope On Wheels has funded efforts to develop the pediatric, adolescent and young adult oncology programs at UC Davis Health.
---
2020 Innovators of the Year
Ramsey Badawi, Ph.D., and Simon Cherry, Ph.D.

Ramsey Badawi and Simon Cherry were honored at the 2020 Chancellor's Innovation Awards as Innovators of the Year for their efforts to revolutionize how cancers and other diseases are studied and diagnosed after developing EXPLORER, a total body scanning technology that provides comprehensive images of the entire body in seconds.
Badawi, professor and vice chair of research in the Department of Radiology, and Cherry, distinguished professor in the Department of Biomedical Engineering, will receive $10,000, which they plan to use to fund pilot studies for new investigators using the EXPLORER system.
EXPLORER can image the entire body simultaneously, providing new insights into how different systems interact in real time. This approach is an improvement over traditional positron emission tomography (PET) scanners. Typical PET scanners use short-lived radioactive tracers to illuminate how organs and tissues function and can scan only 20-centimeter segments at a time. EXPLORER can also produce much higher quality images than other PET scanners and can significantly reduce patients' radiation exposure.
The Food and Drug Administration approved EXPLORER in late 2018 and, soon after, UC Davis Health opened its EXPLORER Molecular Imaging Center in Sacramento, the first combined research and clinical total-body PET center in the world.
The technology has been used in groundbreaking studies to help patients with latent states of HIV not responding to conventional treatments; to measure cancer metabolism in the body; and to investigate systemic inflammatory responses in patients to assist with staging and to measure response to treatment. More than 600 research and clinical cases were completed in the center's first 18 months of operation.