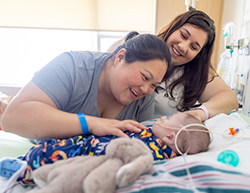 Carter Vincent is living proof that a unique approach by doctors at UC Davis Children's Hospital could successfully stave off major cardiac surgery just days after his birth.
Carter was born with a single ventricle defect in his heart, which caused too much blood flow to his lungs and risked inadequate blood flow to his body.
At any other hospital, his surgical path might have gone the way of decades of congenital heart patients before him. At only a couple of days old, he would have received the Norwood procedure, his first open-heart surgery in a three-stage procedure to rebuild his heart and restore proper circulation of oxygen-rich blood to his body.
But instead, the UC Davis Children's Hospital team innovated to buy some time for this newborn to adjust to post-fetal life, grow and develop more, before moving forward with an open-heart surgery.
"We wanted to try rerouting his blood flow so he could go home and adjust to the world in his first days of life instead of recovering from open-heart surgery," said Frank Ing, interventional cardiologist, chief of pediatric cardiology and co-director of the UC Davis Pediatric Heart Center. "I am not sure any other center on the West Coast is doing this."