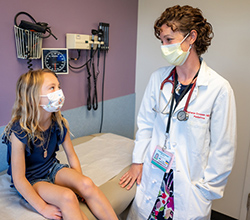 Angela Hershey had no indication that anything was wrong with her baby during pregnancy. But just hours after birth, her daughter Scarlett's blood sugar dropped so dramatically that her health care team thought there was something wrong with their glucose monitor.
An MRI was ordered. Five days after birth, Scarlett was transferred from Sutter Roseville to UC Davis Children's Hospital via ambulance. UC Davis was the only nearby facility with the capability to perform an MRI on an infant.
The scan confirmed that Scarlett had panhypopituitarism, a rare condition in which the pituitary gland stops producing all or most hormones. Internationally, there are 4.2 cases of panhypopituitarism per 100,000 people per year.
"After Scarlett's diagnosis, I remember being a scared and desperate new mother when I met Dr. Styne for the first time in the UC Davis Neonatal Intensive Care Unit (NICU). He said, 'Don't worry. We can fix everything,'" recalled Hershey. "I remember him specifically saying she'll someday be able to play basketball, if she wants to, and that she can even be helped to have children of her own. This memory makes me cry every time!"
Pediatric endocrinologist Dr. Dennis Styne and the UC Davis pediatric endocrinology team equipped Angela with training and parent education so she would know how to best care for Scarlett at home.
Scarlett takes growth hormone, cortisol and thyroid hormones – all of which are essential for growth. The team continues to monitor her.
"Thanks to the commitment and dedication of her mother, Scarlett is developing beautifully and is taller than the average girl her age," Styne said.
Scarlett now lives a very normal life as an active and healthy 6-year-old, just as Styne promised.
"The pediatric endocrinology team is truly responsible for giving Scarlett the life she has today. We just have so much gratitude. It is priceless for a mother to feel such confidence in the medical care that her child receives. If you're lucky enough to pair with this team, they will become family!" Hershey said.