"They didn't just save Ashley, they saved my family too."
2016 was wrapping up to be a memorable year for Ashley, my 16-year-old daughter. It started off with a successful club volleyball season which resulted in her being heavily recruited during the summer. In the fall, her high school volleyball team made it to the State Championship tournament. She excelled at swimming too and was named MVP of the high school swim team and broke a 17-year-old record in the back stroke. Just before the start of her junior year, she committed to Syracuse with a full scholarship for volleyball. She was on top of the world realizing that all of her hard work was paying off.
In early December, Ashley developed a persistent cough, typical for that time of year. On December 13, she woke up dizzy and lightheaded and had trouble seeing. She went to the emergency room where they diagnosed her with pneumonia. She was intubated and put in a medically induced coma that night. After running tests, she was accurately diagnosed with a rare auto-immune disease. The specialist at Kaiser knew that her condition was so severe that she needed to be transferred to UC Davis Children's Hospital where there was the technology, equipment, and expertise to care and treat her condition. She arrived at UC Davis Children's Hospital on December 15, 2016 and didn't go home until March 10, 2017.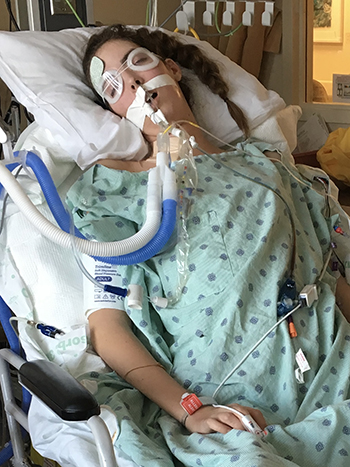 My husband and I, along with Ashley's older two brothers were at her bedside while she lay in a medically induced coma until February 7th. Her critical care required that she have two nurses per shift. We cannot imagine getting through those long days and nights without their support. They helped us mentally face the challenge of knowing that it could take months for her to get better with their optimism, kindness, knowledge, professionalism, and humanity. The genuine love and concern we saw in their care, just as if she was their own daughter, gave us reassurance and hope through all the procedures and her arduous rehabilitation. We knew that it was their goal too, to get her back to her life, back to sports and the people that love her.
Happily, Ashley has made a miraculous recovery. She completed high school on time, 7th in her class and with a GPA of 4.45. Finally, this winter 2021, she is playing D1 volleyball, as a starting setter at San Diego State. The nurses are like family to us. We still visit and will always keep in touch.
– Testimonial submitted by Anne Vanderpan, mother of Ashley